Harley Davidson Marketing Strategy
Remember! This is just a sample.
You can get your custom paper by one of our expert writers.
Get custom essay
95 writers online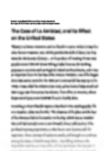 1. Executive Summary
Harley Davidson is an American motorcycle company founded in 1903 by William S. Harley and Arthur Davidson. In the following 108 years of business, the Harley Davidson business has endured the peaks and troughs of economies to be recognised as an iconic brand in the motorcycle industry. After breaking records on the race track, Harley Davidson secures contracts to supply 60000 motorcycles American military during World War II, exposing thousands of servicemen to the Harley Davidson brand. Through clever marketing and positioning, Harley Davidson has shed the bearded biker image, and now appeals to people from varying backgrounds all over the globe. The following report will provide a situational analysis of the Harley Davidson Motorcycle Company and discuss some of the marketing strategies that have enabled Harley Davidson to adapt to its market place and create customer loyalty rarely seen in today's business environment.
Oliver as cited in Sorce (2002) discusses the aspects of developing customer loyalty, and four elements that are necessary in order to do this; 1. The product must be perceived as superior by a large enough segment of the firm's customers in order to be profitable. 2. The product must be subject to adoration (or focused commitment). 3. The product must have the ability to be embedded in a social network. 4. The firm must be willing to expend resources to create the village (Sorce, 2002). The discussions in the following report will establish without doubt that Harley Davidson has in fact achieved a remarkable level of customer loyalty. By creating this loyalty Harley Davidson engages their customers and enables them to focus on developing long term relationships with them. It would be easy to say that Harley Davidson is a company that sells motorcycles. In reality they are not just selling motorcycles, they are creating images of a lifestyle; the motorcycle is merely a representation of this image. The motorcycle does not project the image; it fills the image. (Fırat, Dholakia & Venkatesh, 1995)
2. Situational Analysis
2a.Strengths
Harley Davidson is fortunate to hold a market position that boasts multiple strengths and opportunities that potentially outweigh their threats and weaknesses. In 2010 Harley Davidson gained approximately 55% of the heavy weight motorcycle market in the USA, a marginal increase from 2009 and substantially higher than 2008 (Harley Davidson, 2011). This is a promising trend in economically uncertain times. The brand recognition of Harley Davidson continues and remains a distinct advantage over its competition, especially in the American market. In recent years, Harley Davidson has made a concerted effort in targeting a wider range of customers with their range of motorcycles. By the end of 2010 Harley Davidson has also become the number 1 seller of heavy weight motorcycles to women, Hispanics and African-Americans.
Another success has been in a market of which they had been previously criticised for not targeting well, young adults between the ages 18-34; as of 2010 they now hold that number 1 position as well (HD, 2011). There is little doubt that the real success in target marketing has been the development of the Harley Owners Group (HOG). HOG membership is given with all purchases of a new Harley Davidson motorcycle; affording the members benefits such as roadside assistance, HOG magazine, Fly and ride rental deals, touring information and event information. The HOG group sums it up well on their website; "the Harley Owners Group is more than just a motorcycle organisation. It is one million people around the world united by a common passion: making the Harley-Davidson dream a way of life" (HD, 2011). 2b.Weaknesses
Although the USA market is very strong for Harley Davidson, they are making slow progress in gaining market share in the international market. The customer loyalty that Harley Davidson enjoys in the USA is challenged internationally by rival heavy weight manufacturers such as BMW, Triumph,
Honda and Kawasaki. Internationally, Europe has the largest demand for heavy weight motorcycles; in which Harley Davidson has only managed to acquire less than 13% of this lucrative market (HD, 2011).
2c.Opportunities
One of Harley Davidson biggest opportunities is intrinsically linked to its major weakness. Internationally there is a large bit of a very big pie that Harley Davidson has not managed to attain. Although Harley Davidson has less than 13% of the heavy weight motorcycle sales in Europe, they manage to hold the number 2 ranking in this market. This ranking indicates that no one competitor owns the heavy weight market in Europe and suggests that the customer loyalty amongst the competitors is far from what Harley Davidson enjoys in the USA. Having achieved the number one ranking for sales to women, Harley Davidson still have a large potential customer base in attracting more women riders. Since 2007 Harley Davidson has doubled its marketing spend and released bikes more suited to women riders, who now account for 12% of Harley Davidson sales in the USA (Clothier, 2010). 2d.Threats
Aside from the usual threats posed by competitors in the heavyweight market, Harley Davidson will face the same threat that looms for most manufacturers…economic uncertainty. Although the current economic situation in the USA is unlikely to threaten the current Harley Davidson market share in its core market; it may certainly threaten its financial stability. The loyal customers in the USA may not turn away from Harley Davidson, but they will be more likely to delay their planned upgrades and apparel purchases. The economic threats in the international market may pose a more serious threat to Harley Davidson. Not only are there financial pressures present in all international markets, but they are more susceptible to fluctuations in foreign exchange rates. If these pressures cause Harley Davidson dealers to close their doors it can lead to a downward pressure on motorcycle prices, reduced retail coverage, reduced servicing capabilities and a general negative impression on Harley Davidson as a brand. (HD, 2011)
3. Analysis of Harley Davidson Case Study
Joanne Bischmann, VP of Marketing for Harley-Davidson identifies the company's value proposition by stating "We fulfil dreams inspired by the many roads of the world by providing extraordinary motorcycles and customer experiences. We fuel the passion for freedom in our customers to express their own individuality" (Pearson Prentice Hall,2011). The viewer is left with a clear understanding that Harley Davidson is not just about selling motorcycles; they are selling visions and lifestyles. It is interesting to note that even Joanne Bischmann has been sold on this; she explains bluntly that she would rather give up most other things than her Harley. It is also customary for other Harley Davidson executives to attend HOG rallies, enabling them to not only get a feel for their product, but develop an understanding of the people that purchase their product. (Berry, 2002) There is little doubt that one of Harley Davidson's greatest successes in its marketing strategies has been the conception of the Harley Owners Group (H.O.G). H.O.G has given Harley Davidson continued and authorised access to their customers and helped the company to create a definite brand community.
By establishing this brand community, H.O.G has nurtured a relationship between the customer and the company, the brand, the company's products and importantly, fellow customers. The rallies and functions organised by H.O.G has brought customers and groups together unrelated in any way other than the mutual appreciation of a Harley Davidson product (MacAlexander, Schouten & Keoning, 2002). In doing this Harley Davidson has managed to deliver on the promises of benefits in their value proposition, making it a reality rather than just words. Harley Davidson has developed a customer loyalty that would make most manufacturers envious. Through clever strategic marketing Harley Davidson has established a quality product that provides the loyal consumer with exactly what they are seeking. In essence they have created a following of "True Friends" as described by Armstrong and Kotler (2011); The firm wants to make continuous relationship investments to delight these customers and nurture, retain, and grow them. It wants to turn true friends into true believers who come back regularly and tell others about their experience with the company. It would be difficult to match the above definition any closer than H.O.G manages to do so.
They bring together passionate individuals and groups who are fiercely loyal to the Harley Davidson brand. It would be difficult to believe that the members do not wax lyrical about their adventures and travels with H.O.G delivering a whole new range of potential customers to Harley Davidson. When considering the Harley Davidson brand community it seems likely that the groups Armstrong and Kotler (2011) term Strangers or Barnacles would account for a minimal share of their customer base. With the presence of so many "True Friends", Harley Davidson has undoubtedly established a customer equity base of considerable proportion. It is not only the fact that a Harley owner is a loyal fan; approximately 75% of them are repeat buyers. The customers have bought in to the romance and lifestyle of the brand supporting the idea that "investment in a Harley is more than financial and the role of the bike is more than functional" (Schembri, 2008). In addition to the customer equity, this principle may in turn lead to actual financial equity as indicated by MacAlexander et al. (2002) many loyal customers have a tendency to invest in the company's stock, their emotional investment in the welfare of the company and a desire to contribute to the success of the company.
Although the customer loyalty factor no doubt accounts for substantial customer equity for Harley Davidson, the fact that they manufacture a quality product is of even more importance. If the product was not first rate, no amount of marketing would be able to attract new buyers and convince current consumers to repurchase motorcycles. Harley Davidson has made changes to its product range in order to meet the demands of what they call their outreach customers. By introducing a range of motorcycles that are more suited to women buyers they have been able to attain the number 1 status in that market. Some models of their Sportster range have had the seats lowered and weights reduced by 150lbs in order to appeal to the woman rider (HD, 2011). 4. Recommendations
Harley Davidson USA and Europe are the key business regions for the company, accounting for 83% of the new motorcycle sales in 2010 (HD, 2011). It will be difficult to significantly grow the business in the USA due to their already large market share and the continuing unsettled economic conditions. 36 Harley Davidson dealers in the USA closed during 2010 with more stores expected to close during 2011 (HD, 2011). If any business growth is to be seen in the USA market, the outreach customers will be the likely sector that can contribute towards this. Harley Davidson needs to keep focusing on the outreach customers and target their marketing to this group. There is still significant room for growth in the international market for Harley Davidson. The major risk factor associated with this market will also be the uncertainty in the economic conditions. Europe financial instability will be of concern to any company wishing to grow any business in non-essential items. It may be prudent of Harley Davidson to wait and see how the European markets recover from recent stresses. With Europe being the largest international market of heavy weight vehicles (HD, 2011), Harley Davidson need to keep a strong presence in the region. In particular, there seems to be good potential in targeting the outreach customers in this region. Harley Davidson Finance also has some potential to grow in the near future. Internal finance options for buyers is important the business and the likelihood that financing options for buyers will be made easier due to this option.
5. References
Armstrong, Gary and Kotler, Philip 2011, Marketing: an introduction, 10th edition (pp. 50-51), Pearson Prentice Hall, USA. Oliver, Richard L. (1999). Whence Consumer Loyalty? Journal of Marketing, 63, 33-44 Sorce, P. (2002). Relationship marketing: A research monograph of the printing industry center at RIT. New York, USA: Rochester Institute of Technology Firat, F., Dholakia, N. & Venkatesh, A. (1995). Marketing in a postmodern world. European Journal of Marketing, 29, (1) 40-46 Harley Davidson Inc. (2011). Harley Davidson Inc. 2010 annual report. Retrieved from http://www.harley-davidson.com/en_US/Content/Pages/home.html Clothier, M. (2010, September 30). Why Harley is showing its feminine side. Bloomberg Business Week. Retrieved from: www.businessweek.com Pearson Prentice Hall (Producer). (2011). Creating & capturing customer value [Video]. USA. Berry, L. (2002). Relationship marketing of services – perspectives from 1983 and 2000. Journal of Relationship Marketing, 1, (1) 59-77 MacAlexander, J., Schouten, J. & Koening, H. (2002). Building brand community. Journal of Marketing, 66, 38-54 Schembri, S. (2008). Reframing brand experience: The experiential meaning of Harley–Davidson. Journal of Business Research. doi: 10.1016/j.jbusres.2008.11.004