Harvard Case : BMW of North America: Dream it. Build it. Drive it.
Remember! This is just a sample.
You can get your custom paper by one of our expert writers.
Get custom essay
80 writers online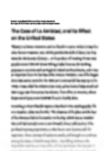 Brief Description: Set in 2011, this case describes how BMW, the leading luxury car manufacturer in the U.S., successfully implemented a new marketing initiative based on its online video services and increased sales of customized vehicles. The case addresses the challenges of catering to the North American consumer, where most car buyers want or have become conditioned towards immediate gratification with their purchases.
Main Learning Objectives:
To underscore the importance of consumer behavior in strategic planning To illustrate the complexity of strategically managing the supply chain for a modern manufacturing company and the implications effects of 'mass customization' on supply (value) chain
Preparation & Analysis
For Wednesday's class (10/9/13):
1. Go online, research and take down a few notes on a strategic marketing concept called "mass customization" for in-class discussion. The process of delivering wide-market goods and services that are modified to satisfy a specific customer need. Is a marketing and manufacturing technique that combines the flexibility and personalization of custom-made with the low unit cost associated with mass production Sometimes called made-to-order or built to order. Enabling a customer to decide the exact specification of a product or service, and have that product or service supplied to them at a price close to that for an ordinary mass produced alternative.
2. Read the case study.
3. Review the following videos which directly pertain to the case
Martha Stewart customizes a BMW X3 http://www.youtube.com/watch?v=8Ddq6O_QAz0
Understanding Robots – Mass Customization http://www.youtube.com/watch?v=HJzzPXeDdX8 BMW X3 Ad http://www.youtube.com/watch?v=KpLutmBkyZ4
BMW X3 Build Video http://www.youtube.com/watch?v=VH1gtBYNPOA
Individual Assignment: After spending time researching the concept of mass customization,viewing the above videos, and reading the case answerand provide your rationale for each of the following questions in an overall1-2 page brief essay format.
1. Assuming that most modern cars share very similar characteristics, what do customers really buy – a product or an experience? In your opinion, what drives car-buying decisions? Years after years, the customer's perceptions towards cars has been changing. People value more on their needs these days than their wants. People started looking for products/vehicles that give more value to them; they want cars for real use not for showing off. I think customers buys products with experience from which they can get value out of it.
The car buying decision is not an easy task and would drive various aspects before buying. In my opinion the most important factor is gender. In most cases gender plays a vital role in buying a car. Price can be another important factor that might drive the buying decision. Fuel efficiency, affordable, reliable, effective and efficient are various factors for car buying decisions.
2. Do you think customers really need "millions of combinations" for their car? Can they be happy with available standard options? What are the upsides and downsides of mass customization from both the consumer and manufacturer's perspective?
It depends on the customer needs that if they really need "millions of combinations" for their car or not. Most of the customers are happy with the standard options but if we dig little deeper, not all the features available in the standard versions are important or useful for a particular customer and what they want may not be in the specific model. In my opinion, that is the main reason mass customization is being used by various car companies to carter the specific needs of their customers.
Mass customization is the process of delivering products that are modified to satisfy a specific customer needs. This enables a customer to decide the exact specification of a product or services. Mass customization allowed manufacturers to customize products at lower costs, reduced overheads, and produced higher margins. For customers, they get benefited of finding exactly what they wanted without paying a premium price. The downside of mass customization from manufacturer's perspectives are the major operational challenges faced in supply chain to manage the supply, maintain lead time and maintain various parts and products within a very little timeframe. The downside of mass customization from the customer's perspectives is they won't be able to compare and contrast the product with the competitors and sometime the price might be high with certain customizations. With various choices and lack of expertise some customers might chose unwanted and unnecessary parts for the product.
3. Put yourself in Josef Weirda's shoes. What would your decision be regarding using video streaming technology for other models such as the X5 or X1? In effect, would you apply a similar "Dream It. Build It. Drive It." program for the launch of the X4 in 2014? What is the basis for your decision?
"Dream It. Build It. Drive It." was a success for X3 models. My decision for streaming technology for other models will be yes. This is because of the success factors the X3 models received, and almost 50% of the customers enrolled in it, accessed and shared the video. I think it is a better value for customers to see how their customized vehicle has been manufactured and be more in touch with it before it actually gets delivered.
Based on the success result and the stats available from X3, I will apply a similar "Dream It. Build It. Drive It." program for the launch of the X4 and do aggressive marketing like it was done for X3. But will not only stick with this mass customization, I will also encourage for the standard models at the dealers. Customization can be one of the features for those customers who want to customize their cars. I think with the success of the X3, the customer will try to see some kind of similar features in the new launch and also this will give more value to the vehicle. Based on the numbers and records from the case, for now the mass customization concept should be based on US market only.