Healing Hospital-A Daring Paradigm
Remember! This is just a sample.
You can get your custom paper by one of our expert writers.
Get custom essay
72 writers online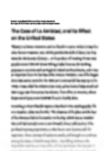 Introduction
In today's society, technological advancements in healthcare has changed the way hospitals provide care and support a comforting environment. Technology has taken over our lives, to the point where many have become dependent on the use of these devices; including healthcare environments. With the use of bedside continuous monitoring, computerized charting, robotics in operating rooms, and many more technological aids throughout the hospital, we as heath care providers are guilty of this too. Until recently, a "healing environment" was not on the top of the list when considering the construction of a new hospital, clinic, or long-term care facility. The purpose of this paper is to discuss the concepts of healing in relation to spirituality. The necessary components that surround creating a "healing environment" despite the challenges and barriers we face with the advancements of todays society will be identified, as well as the importance of including this essential image of 'healing' within our healthcare facilities.
Creating a Healing Environment
Hospitals are very large and complex systems requiring a wide range of skill and knowledge; when a new hospital is planned, there are certain phases of construction that must take place. The first priority when building any new structure is cost and location, and a hospital is no exception. For a hospital another very important priority is services; hospitals consist of various specialties, several departments and multiple levels of services. Identifying and deciding on which services is important in the design phase; focusing on how many bed each department will house, where each department will be located, and how many employees will be needed to operate the hospital safely (Eberst, 2008). While all these things are very important, none address the true purpose of a Hospital. A Hospital is a place where people come to receive help for a multitude of issues; mental and medical illnesses, diseases, and many other reasons, but whats more important is people come to a Hospital to heal.
Importance of a Healing Environment
When a patient enters the hospital their priority is to get better, and to do so the patient needs an environment that contributes to their healing. In 2006 a new hospital in Gilbert Arizona opened; during their pre-construction and planing phase for their new hospital, the most important aspect to their plans for the hospital was to "ensure the facility was built to reflect, in every way possible, a healing environment" (Eberst, 2008). The Baptist Healing Trust referred to Mercy Gilbert Hospital as "the epitome of the Healing Hospital" (Chapman, 2009).
Being in a hospital can be quite stressful; new environments, new faces, new sounds, new smells, new information being presented daily, as well as a busy working environment with an abundance of staff moving about. When people are sick, the last thing they want is to feel like they are a burden, like they are guest in their own room, and to feel tired. As health care providers we need to understand and recognize patients have spoken and unspoken needs. By offering and supporting the needs of a patients whole being rather than just the illness or disease itself, Hospitals can fulfill their ultimate purpose of healing.
Challenges of a Healing Environment in Today's Society
Loud noises, strange smells, cold walls, long hallways along with the many technological advancements of todays healthcare facilities are some of the many reasons hospitals are not an ideal place for a person to heal. It is true technology has enabled Physicians, Nurses, and other Health Care Providers to offer new and innovative ways to diagnose and treat illnesses, however the machines flashing lights and alarms do not take into consideration the patients feelings, their needs, or experiences. The use of bedside monitors, and computers have enabled providers to improve the efficiency of health care in general, on the other hand the use of computers and the associated requirements has taken away time providers spend at the bedside with the patients. Laurie Eberest CEO of Mercy Gilbert Hospital stated, "For a Hospital to promote Healing, it needs to provide a quiet environment that allows patients to sleep. Patients' bodies perform the most repair during sleep" (Eberest, 2009). Creating a home like environment, to allow patients to rest and feel of the comforts of home will support the healing of the overall being.
Spirituality in Healthcare
Every situation is unique and personal. Health care is no exception. Spirituality has been defined as "a quality that goes beyond religious affiliations, that strives for inspiration, reverence, awe, meaning and purpose, even in those who do not believe in God. The Spiritual dimension tries to be in harmony with the universe, strives for answers about the infinite, and comes essentially into focus in times of emotional stress, physical (and mental) illness, loss, bereavement and death" (Georgetown University, n.d). Like different situations and experiences, spirituality is also personal and unique to every individual. When a person falls ill, it is not only their body that becomes effected but rather their entire being: body, mind, and spirit. Healthcare providers need not only focus on the signs and symptoms of the illness, but rather the whole person. Taking into consideration the patients feelings good and bad, interpretations of events, and allowing them to 'heal' their entire being they way they prefer.
Joint Commission's Standards include assessing how a person's spiritual outlook affects his or her interpretation of health, treatment, and response to care. In Gelatians 6:10 (The New American Version), the bible states " so then, while we have opportunity, let us do good to all men, and especially to those who are of the household of faith". When patients come to the hospital, they are manifesting their faith in the providers. Everyday healthcare providers have the opportunity to reach out, to encourage and make an extra effort to show compassion, love, and kindness to those around them. Following the examples of Christ as he offered a healing hand to all.
Conclusion
Health care facilities are designed to offer care and support to the ill. Support of not only the illness, but the entire being. Technology has enabled the new age to diagnose, treat, and care for the sick in ways that were never imagined, improving the efficiency and quality of care being provided. As a trusted health care provider, patients are offering their
faith and allowing us to be a part of one of the most stressful experiences a person can endure; by offering a 'healing environment' new age Healing Hospitals can offer a more supportive, compassionate, and loving environment to help our patients heal.
References
Eberst, L. (2008). Arizona medical center shows how to be a 'healing hospital'. Health Progress, 89(2), 77-79. Retrieved from http://search.proquest.com/docview/274635012?accountid=7374 Chaman, E. (2009). Days 102-104 – top ten healing hospital list & ceo of the year. Radical Loving Care – The Journal Of Sacred Work, Retrieved from http://journalofsacredwork.typepad.com/journal_of_sacred_work/2009/04/days-102103.html Georgetown University. (n.d) Definitions and Discussion of Spirituality and Religion. National Center for Cultural Competence: Body/Mind/Spirit. Retrieved from http://nccc.georgetown.edu/body_mind_spirit/definitions_spirituality_religion.html