Health and safety in a care home
Published:
21 February 2016
Remember! This is just a sample.
You can get your custom paper by one of our expert writers.
Get custom essay
90 writers online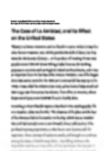 I have gained my A-Level qualifications at City Of Westminster College (Maida Vale) I have studied the following subjects English Literature, Psychology and Media Studies. I have also accomplished certificates at College Of North West London (Kilburn) in IT, English and Math's. Therefore it is fair to say that I know how to use various Microsoft Office programs i.e. Words, Excel, and PowerPoint, I have gained my GCSE's overseas in India, New Delhi as an international student following subjects included: Math's, English, Social Science, Hindi and Science. I believe that I have gained valuable learning skills throughout my educational experience which has set a clear stepping stone into furthering my career. Not do I only learn in educational establishments but also I have learned a great deal on actual jobs that I have done previously. I have gained great skills such as being able to communicate with people from all walks of life, taking responsibilities for my duties, being able to prioritize my work and take initiative. I have a positive outlook overall on life and believe that I can do anything if I set my mind to it.I have a friendly approach and a positive attitude towards work, I have always been keen on excelling my targets and to constantly perfect myself in any way that I can. I therefore find feedback very important as it allows me to keep improving the quality of the work I do and review myself through someone's opinion. As a Market research Interviewer (IPSOS) I spoke to participants from all walks of life about various important issues, this role required me to listen attentively to respondent, be empathetic, accurately input gained responses into the database and reach set targets on a daily basis. I find it important to always be up to date about the latest information, product knowledge and offer someone a service that will leave them with no further questions. I am a keen learner, and at the same time I like to motivate others to benefit from the opportunities they have available for them. Communication is very important and my main aim is always to articulate my ideas appropriately and in a way that is understood by everyone.
During my time working for Beethoven Community Center as a community worker I have learned to multitask through taking up various duties i.e. by providing educational information for those that sought advice, interpret when needed for elderly residents whom could not speak English, help organize events and trips for local youth. I have gained strong organizational skills, being able to prioritize workload and have always taken full responsibility for all tasks. Having strong administration skills is essential as I had to maintain the database, input clients data acquired during sessions and provide fellow colleagues with up to date information. Being able to liaise with clients and fellow colleagues thus ensuring that everything went as agreed. I have good people skills as I have picked this up early on from working as a Social worker at Caxton Youth Club, I have developed a thorough understanding working with vulnerable people, assist youth with learning difficulties and provide them with the right tools enabling them to better themselves. I am self motivated and have high level of energy which is a must when you're working in any sector , as you are constantly on your feet assisting elderly and ensuring that their needs are met at all times. I am very tolerant and flexible to different situations mainly because working with people is always unpredictable. Therefore I find this no problem at all as I am able to adjust myself to different levels from young children to elderly people. I am a good team player as I listen carefully to others when they are speaking and can assimilate the messages into one vision.
For example, if my colleague is part of a project team, I'll listen to the ideas and concerns of others. I am also patient and respectful to the voice of other team members and understand that to be a team player; I have to have an open mind to other points of view. I am quite flexible in terms of hours/days. I know that working in this field can be both stressful and rewarding however I am fully prepared for all the ups and downs. I can take ownership of projects and make sure that all boxes are ticked upon completion; I take my work at all times seriously. I am the type of person that likes to go the extra mile.
I always ensure that I keep myself updated on the actual role I am fulfilling i.e. maintaining administration in the most efficient manner and ensure to being organized at all times. Being open for suggestions for example take negative feedback and transform that into something positive. I am fully aware of my surroundings and easily adaptable to environment and fellow colleagues. I am a quick learner and I want to help make a difference towards other people's lives. I have gathered early on during my work experiences that I get a great satisfaction from seeing others improve from services provided by me. I have always completed training programs and I am someone whom sees her targets through and I hope that you provide me with the opportunity to prove this to you. I am an open-minded person and take suggestions on board that will help me better my work at all times analytical/logical approach to tasks and the ability to work under pressure. I am able to work well both on my own initiative and as part of a team. My main strengths are adaptability, dependability and the determination to get a job done as proven by my varied work experiences. I try to learn something new from every experience because I believe there is always room for self-improvement both personally and professionally.