Health and Social Care Setting
Remember! This is just a sample.
You can get your custom paper by one of our expert writers.
Get custom essay
77 writers online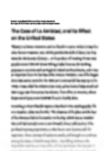 Everyone is an individual and when they need to use the health and social care services it is import they have access to the setting which precisely meets their needs, different setting are designed to do just that and the trained staff within those settings have the skills and knowledge to meet those particular needs. Key elements: If everyone who needed support turned up at the same place, things would become rather crowded; more importantly, not everyone would receive the support that they really needed. Health and social care services are designed to meet particular needs and are staffed by professionals who know how to do this. Hospitals: Hospitals provide support for people who have an illness or who are recovering from one. Many hospitals provide support for a variant of conditions and illness and are staffed by people who are trained to do this. Some hospitals provide support for particular conditions such as ophthalmic eye care), maternity (care for the mother and baby during pregnancy and birth) and paediatric (children). Hospices: Hospices are normally much smaller than many hospitals and provide support for individuals who have a terminal illness. Some hospices provide respite care which means that an individual may come for a few days to give their career a brake. The staff receives special training in order to provide the people in the hospices the right support. Domiciliary support: Domiciliary support is provide in an individual's own home and can be either health or social care.
For example, community nurses will visit a person at home and give them nursing care: sometimes this could be removing stitches after surgery or changing a dressing. Community care assistants may help an older person with their personal care if they can no longer do so themselves. Domiciliary can enable people to either retune to or remain in their own home and provide a choice. Residential homes: Residential homes are designed to meet the needs of individuals who cannot take care of themselves. Many older people who can no longer meet their own personal needs, or who are lonely following the death of a partner, may prefer to live in residential home rather than remain in their own homes. Residential homes provide the companionship which people are missing, and staff will deliver the personal support if this is needed, in any way which preserves the dignity of the older person whilst safeguards. Other residential settings provide a home for younger people who have physical need and cannot live independently. The staff in both residential usually includes an activity coordinator who arranges events and activities designed to encourage the use of skills such as memory and physical mobility. Day centres: Day centres are designed to provide a social space for people who would otherwise spend most of their time alone. Many day centres provide companionship and midday meals for older people, enabling them to meet with people of a similar age and receive support from trained staff. Many day centres have regular visits from health and social care professionals such as counsellors, chiropodists and even opticians. They may also provide other servicer such as hairdressing and nail care. There are also day centres for young people who have a form of physical disability. Fostering arrangements: For a variety of reasons some children cannot be care for in their own homes. When this happens social services may arrange for the child to be looked after by foster careers who will have received training in order to provide a suitable, temporary home for a child. This can either be short -team arrangement, for example if both parents were ill and there was no other relatives available to provide a home for the child, or long-team if there is thought necessary. Foster careers do receive some financial support, but main reward is seeing the children thrive.