Holland Enterprises
Remember! This is just a sample.
You can get your custom paper by one of our expert writers.
Get custom essay
89 writers online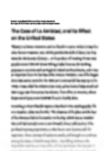 Holland Enterprises
Most recently the firm Holland Enterprises has retained an hr consultant to review analyze and revise the current compensation and benefit structure. We have seen since 2007 a 25% decrease in the workforce due to a lack of the benefits system that is in place. My team is committed to analyze and potentially change the perception that Holland's benefit system is unfair and uncompetitive in the marketplace. We will find that organizations excel and remain competitive when they have consistent human resource practices that align with the companies organizational goals. Increasing organizational productivity is important to any organization. "Managers know that simply paying employees more will not result in increased output and improved quality. They frequently find that employees who are overpaid or highly paid relative to others doing comparable work are sometimes less productive than their lower-paid peers or counterparts…Organizations realize that if they are to be more competitive, they must change this "I'm owed it" mentality to an "I earned it" mentality. A major opportunity available to organizations to bring about this change in attitude is to reduce the fixed part of compensation packages and increase the variable part. The variable components consist of all short- and long-term incentives and awards.
The kind and amount of incentives and awards must be linked directly to desired employee behaviors, contributions, or results achieved. These incentives and awards comprise a pay-for-performance program "(Henderson, 2006). In other words Holland needs to have a system in place that rewards employees fairly while exciting them to provide the very best customer service to meet the demand of the business. " Through the use of a fair and stimulating compensation system, Holland Enterprises can motivate their employees to complete their assigned tasks at the standards expected and in return the employee is compensated with a wage/salary, wage/salary add-ons, incentive payments and/or other benefits and services" (Henderson, 2006). In order to promote positive change and make the compensation strategy fair for all the organization must, "improve cost and quality competitiveness and where information overload is a problem facing all organizations and their employees, information regarding work requirements, performance standards, and organizational recognition and rewards programs must be readily
available, complete, and accepted. The compensation system, therefore, must be able to transmit a message that is understood and accepted by all employees that they are valued contributors to organizational success and that the organization is willing to share the revenues from its products in an equitable manner with all members" (Henderson, 2006). In order to create some harmony and renew the faith of the people the company has decided to change the compensation and the benefit structure to become more competitive and become more in line with the companies organizational effectiveness and plan.
The new plan should have a more competitive edge, one that will motivate the employees and should be in line with the organizations strategy. Organizational leaders, including those occupying the executive suites and those in charge of human resources and compensation practices, must be able to recognize and integrate the long-term strategic objectives of the organization with its short-term tactical requirements. An understanding of how organizational strategy and its related tactics interact and become integrated is becoming increasingly important to managers at all levels performing various organizational assignments. Compensation takes on many forms in any organization, this may include the obvious pay/wages, health care/insurance other fringe benefits such as paid time off, disability, bonuses and other monetary stipends. Pay may be adjusted based on how hard the employee chooses to work or what type of lifestyle the employee has. "Proper and acceptable performance of different kinds of jobs requires different kinds and amounts of employee knowledge and skills, which vary significantly among individuals. In the course of their lives, many individuals acquire various kinds and levels of knowledge that organizations value. Additionally, through education, experience, training, and natural predisposition, some individuals are able to demonstrate different and greater skills than others. The worth to the organization of the individually acquired and job-required knowledge and skills is identified through job rates of pay" (Henderson, 2006).
In order to construct a new pay structure and benefit system we must first look at the five major components that will factor into our decisions. These components are compensation and benefit philosophy, pay grades, ratio of base pay to incentive pay, external equity and internal equity and other types of benefits such as deferred compensation, health insurance vacation and sick leave. "There are a number of components that need to be addressed when developing your compensation systems to ensure they align with your organizational strategy and objectives. One key to remember is that your compensation strategy must help to create the work culture you want. How you structure your systems and manage the internal and external equity issues, will directly inform the culture of your organization…"A compensation philosophy is developed to guide the design and complexity of your compensation programs; this is done by identifying your goals and objectives, considering your competitiveness in attracting and retaining employees, your emphasis on internal and/or external equity, and whether performance is tied to increases. Understanding what balance you want to achieve between direct salary and indirect benefit is critical in developing your overall total compensation approach.
A consistent philosophy provides a strong foundation for both the organization and the employee. Without a philosophy, leaders often find themselves unsure of what to offer as a starting salary for a new employee. This can lead to offering too high a total compensation package for a new employee in relation to existing employees, or being unable to successfully hire because the total compensation offer is too low to be competitive" (hrcouncil.com). Using the five components will allow Holland to remain competitive within the industry. Pay grades are a fair way to help determine the amount of pay a person will receive. The general characteristics of a pay grade system set forth by the federal government include that there should be 15 pay grades with 10 steps within each grade; there should be a 25 to 30 percent increase from minimum to the maximum pay within each grade (Henderson, 2006). "When an organization is establishing its wage policy, it must maintain external competitiveness. In other words, wages need to be high enough to attract, motivate and retain talent; but, wages shouldn't be so high that they drive labor costs beyond those of competitors in the product market. Salary surveys help to determine the pay rates of various positions" (erieri.com, 2013). "Each organization must develop its own pay policy line, which is a trend line or line of best fit that best represents the middle pay value of jobs that have been evaluated or classified to have particular worth.
A line of best fit produces a trend line by minimizing the sum of the squares of the vertical deviations around the line. A line of best fit can be a straight or curved line. In either case, it is one that best represents the middle pay value of all jobs or the benchmark jobs used to establish a pay policy line"(Henderson, 2006). The ratio of base pay would be to identify the lowest and highest rate of pay is a basic step in establishing a pay policy line. After identification, the next step is to establish" what management expects to be the average or central tendency value paid to the lowest-rated job and the average pay rate of the highest-rated job. These highest and lowest average values should be the midpoint of the pay for those jobs assigned this rate when a range of pay is available for each category. When only one rate of pay is assigned to a job or group of jobs, normally the average or midpoint value is the single rate. The midpoint value is normally the market or going rate" (Henderson, 2006). Internal equity compares different jobs inside a single organization in terms of their "relative contributions to the organization's objectives, whereas external equity refers to how an employer positions its pay relative to what competitors are paying.
Equity reviews are completed to ensure that salaries for positions are internally consistent and remain externally competitive.External equity reviews are warranted if significant discrepancies exist between a position's salary and prevailing salaries positions in other companies or institutions within the same geographic area. Difficulties in recruitment and retention support the need for an external equity review. Every effort must be made to ensure that equity exists and the concept of equal pay for equal work is embraced" (Henderson, 2006). Holland Enterprises need to understand that the cost of human capital is high when you are losing staff because of salary issues and benefit problems. And lastly employee benefits are a very important portion of the employee's tenure with the organization. Most compensation components included within employee benefits are made available through some type of insurance plan. "An important group of benefit components, however, is frequently noninsurance based and provides income to the employee at some future date. Employee benefits can be further classified under these seven major groups: (1) disability income continuation, (2) loss-of-job income continuation, (3) deferred income, (4) spouse or family income continuation, (5) health and accident protection, (6) property and liability protection, and (7) a special group of benefits and services called perquisites. Each of these groups contains a number of compensation components, which may have a variety of features that may be made available only to certain employees or certain groups of employees" (Henderson, 2006).
The organizations that supply the benefits and compensation play a huge role in the success of the business. Security for families is key for any employee and they rely on the specific benefits and compensation that they receive and the employers rely on superior employees that will be attracted to their company. This is the exact reason why Holland should take much care when analyzing the benefits and compensation packages in the future as they must remain competitive if they would like to stay in business. The way to motivate employees is to provide a fair, competitive and secure place to work. This may be attained if Holland Enterprises will be on board with paying the workers the incentives they deserve and in turn will receive the hard work in return and keep Holland Enterprise just as profitable as ever.
References
Henderson, R. (2006). Compensation management in a knowledge-based world. (10th ed.). Upper Saddle River: Pearson Prentice Hall. ISBN: 0131494791 Retrieved from: http://www.hrcouncil.ca/hr-toolkit/compensation-systems.cfm Retrieved from: Retrieved from:http://www.erieri.com/tutorials/sa/index.html?lesson_2.htm Retrieved from: http://www.stonybrook.edu/hr/employmentservices/classification/equity_review.shtml