How employee engagement has been forgotten by many andor remembered by few
Published:
4 November 2015
Remember! This is just a sample.
You can get your custom paper by one of our expert writers.
Get custom essay
78 writers online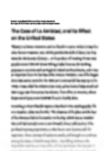 How employee engagement has been forgotten by many and/or remembered by few
Introduction
            It is believed that any company which unlocks the secrets of engaging their employees is likely to get very high profits. However, this has never been the case. There are always challenges and confusions which leads to misdirection hence the failure of the employee engagement. The main cause of this is the lack of congruity when talking about the definition and also measurement of the employee engagement. Furthermore, there is also lack of clear distinction between employee engagement and other closely related concepts. This paper's aim is to conduct an in depth analysis on the importance of engaging employees in any activities of a business activity. It will also give recommendations where the importance found from the managers who practice this will be given.
            Lack of clear definition is one of the glaring issues that concern the concept of employee engagement. Different categories of individuals ranging academic researchers, corporations, practitioners and many more have extensive variations on how they give meanings. The harnessing of an organization's member's selves with aim of making them work their role; in engagement, people always express themselves physically, emotionally and cognitively during their role performance (Kahn, 1990).
            An organization which is always widely associated with employee engagement because of their best-selling book, First, Break all the Rules, The Gallup Organization, have a different definition. They define engaged employee as one who works with passion and feel a profound connection to the company he or she is working for and have a drive innovation to move the organization forward. Employee engagement may also be defined as a process through which an organization aims to increase commitment of its employees as well as continuation to aid in the achievement of superior results. This definition is according to the International Survey Research. This definition however looks at employees' commitment in three different ways. They may include affective, cognitive, and lastly behavioural which incorporates actions, feelings and thoughts.
            The last definition that is taken into consideration by this paper is the process of translating the employees' potentials into the employee performance as well as business success.
            This as a result changes the ways in which employees perform their duty through utilizing the tools found within the armory of internal communication professional (Shaw, 2005).
            Before indulging further into the issue of employee engagement, it's prudent a proper understanding of how employee engagement measurement is done. There are reliable metrics that are used to measure the employee engagement despite the rational and emotional components available. There exists several survey instruments that have been used in measuring the employee engagement. This paper however uses the Q12 survey system which was developed by the Gallup Corporation.
            The Q12 survey involves asking 12 questions which had strong linkages to high performance and measured how well the companies were meeting core requirements for the employees. According to this survey, a high score on the 12 items always reflected the underlying emotional engagement among the employees who took the survey. This engagement leads to improvement in business results, as well as increased levels of productivity, employee retention and profitability (Walker, 2012)
            When dealing with employee engagement, there are a number of related concepts which must be put into consideration. The four related areas with the employee engagement include organizational citizenship behaviour, job satisfaction, work engagement and organizational commitment. These four go hand in hand to ensure that proper understanding of the employee engagement as well as its importance.
            Organizational citizenship behaviour for a long time has always been referred to as the extra role behaviour. The organizational citizenship behaviour can be defined as the behaviour of an individual which is not explicitly recognized by the formal reward system and in the end promotes the efficient and effective functioning of the organization concerned. Practically, the organizational citizenship behaviour improves efficiency and the effectiveness of an organization by supplying support to transformations, adaptations and innovations within the organization. Studying the organizational citizenship behaviour from a macro perspective, it's found out that it helps to supply direct support to the organization and the individuals found in the organization. This indirectly supports the organization (Anderson & Williams, 1991).
            The organizational citizenship behaviour can be divided into many subcategories that gives a common dimension. The sub components includes self-development, organizational loyalty, sportsmanship, helping behaviour, civic virtue, individual initiative and organizational compliance. When a critical review is done on the definitions of the components mentioned above, it's realized that their definitions is more or less the same as that of employee engagement. The helping behaviour talked about shows or implies an act of voluntary helping others and thus preventing the occurrence of any work related problem. Organizational loyalty on the other hand aims at remaining committed to an individual's work even during tough situations.
            However, the component which tends to show strong relationship with the employee engagement is the individual initiative. It can be defined as the persistence one puts on a job with extra enthusiasm or it can be said to be volunteering to perform extra responsibilities as well as encouraging others within the same organization to follow suit (Podsakoff et al, 2000).
            Job satisfaction, is also another concept related to the employee engagement. A number of scholars have tried to come up with a wholesome definition of job satisfaction. According to Brief and Weiss, 2002, they described it as pleasurable or the positive and emotional state that results from recognizing one's job or the experience from the job. There existed a number of disagreements whether the initially presumed definition was the exact one. It was found that there were so many shortcomings with the Brief and Weiss definition. This made Weiss to modify the definition. Job satisfaction came to be described as the positive or negative evaluation that a person makes about his or her job situation (Weiss, 2002). From time to time, the definition has always updated so as to include a cognitive component in the measurement of job satisfaction.
            Work engagement is the third component related to the employee engagement. Work engagement of employees measured or looked at into different categories. It involves vigor, absorption and dedication. Starting with vigour, it can be described as being fully charged with energy as well as resilience in job even during the days when nothing serious happens. Dedication involves one being proud of their work and getting convinced that whatever activity an individual undertakes is significant. Lastly, absorption as a concept means being carried away work to the extent that one forgets everything in the surrounding (Hallberg, 2005).
            Lastly, the fourth concept related to the employee engagement is the organizational commitment. This concept entails the process that is gone through when obtaining the goals of an organization's multiple constituencies. The goals ranges from a broad organizational goals and their values to a more specific formulation. Organizational commitment may also be defined as the willingness to persist in a course of action as well as the reluctance to change plans while keeping the main goal to stay on course. Both the definitions highlight the fact that people are committed to multiple entities. These multiple entities involve emotional and rational components (Vance, 2005). The emotional concept is defined as the positive feeling towards an entity while thee rational component means the state of being conscious as well as thoughtful in planning and executing actions that fulfill commitments.
            Having dealt with that, it's crucial that factors which keep employee engaged are looked into in details. There are three main vital ingredients that make employee engaged. First is the leadership of any particular business organization. The leaders any an organization must set standards that in terms of dedication and then rubs it off to the rest of the employees. The leaders must be able to make difficult decisions correctly and fairly. Furthermore, they should be competent and show consistency in whatever they do. In areas where this is not displayed by the leaders, the employee always feels looked and upon and as result they are always not engaged in whatever activity they undertake. The employees always talk and so poor leadership may be used as the stepping stone to quit any particular job. Good leadership makes an organization to have a very strong employee engagement hence better results (Taylor, 2014).
            Secondly, communication and transparency is also a factor or an ingredient that may make your employee engaged or not. This factor however has been underestimated by many and taken for granted. Senior people in an organization always have a notion that employees concern themselves with earning their wages to a larger extent and care very little for other things (Taylor, 2014). The truth of the matter however is that large majority of employees put a lot of emphasis on whether they are regularly being kept in the loop. It always doesn't matter to them whether it concerns their own development or big decisions of the organization. What actually matters is that it concerns everyone. Openness and good communication makes the employees to feel highly appreciated and hence part of the organization. They don't feel detached. This makes the organization a better place to be in.
            Lastly, enjoyment is also a key ingredient for engaging employees. The most important aspect of employee engagement is considering the fact that they are human beings. The organization does not run at a loss when they introduce elements of fun in the work place. The fun and enjoyment may range from a number of activities like a dress down party on Fridays, monthly trips, or any other thing that appeals to your employees.
            The aim of such enjoyment is to make employees feel like they want to work. This will thus make them stay as long as they want. This is however not the case with many jobs. Not many employees always want to make their employees have fun. This makes people have negative attitude towards such jobs leading to very few people doing such jobs. On many occasions, work does not necessarily have to be done with a serious mood at all times. The only way an employer can make the employees feel engaged it to make them feel as if work is something that should be enjoyed rather than being a chore (Taylor, 2014).
            It's therefore clear that employee engagement can be grouped into two main broad categories or rather approach. There is the philosophical approach and the pragmatic approach. The philosophical approach deals with the management philosophy that are considered when making overall decisions of a human resource. The pragmatic approach on the other hand deals with the dedication programmes for employee engagement. Here, measurement of engagement is done. None of the approaches either is stated to provide a clear winner when trying to achieve an engaged work force (Shaw, 2005).
            Having placed more emphasis on the engaged employees, it's now prudent to talk about the disengaged employees. It's documented that stress is one of the factors that can dislodge a highly engaged worker from conducting his or her duties without other workers or the organization getting aware of the in depth of the problem. Historically, many organizations have not done an in depth survey on how to deal with stress or other emotional problems.
            The former acting manager of the Freddie Mae, David Kellerman, committed suicide due to stress April 22, 2009. His death was attributed to the organizations failure to respond to the signs he was showing. The government seized his company after running at a loss of $108 billion. The work environment was also stressing. As if that was not enough, he always received so much criticism from the media. All these prompted him to commit suicide. This is the worst that happens when employees are not engaged.
Recommendations for managers
            From the readings and research done, the following are some of the recommendations that ought to be considered by managers to ensure a proper way of promoting customer engagement.
            The managers should take specific actions or steps to achieve success. While doing this, they must always remember that each and every company is unique and therefore the action they take should be specific to that particular company. The customers should always be provided with as much information as possible to help make them engaged.
            The managers should always know the approach that their organization ought to take and why that approach is important. The employees should also be given the approach used by the organization. When this is done, it makes them know why it's done. This makes them feel part and parcel of the organization and hence promotes the level of employee engagement. Mutual agreement should also be made with the employees. This makes them know what is expected of them.
            Rechanneling of extensive time and resources should be done by the employers. This always forms the basis of creating a new employee engagement initiative. A company may be working on the already made initiatives. These initiatives may be giving forth good results. Coming up with a whole new initiative might lead to misdirection in a healthy focus which has been in existence for a long time and thus would lower the progress of a company. Engaging in such activities should be avoided at all cost.
Conclusion
            The concept of employee engagement is one that is very wide. The engagement of employees affects different levels of an organization ranging from micro and macro levels. So as to reduce the existing ambiguity when it comes to matters of the employee engagement, a lot more need to be done in this area. Any organization willing to get better results from applying the issue of employee engagement should do so with a lot of caution. Anything done be based on the strengths and weaknesses found, any related concept as well as all the unveiled fields in the issue of employee engagemen
References
(2006). Gallup Study: Engaged employees inspire company innovation. Gallup Management Journal, retrieved from http://gmj.gallup.com/content/defaut.aspx?ci=24880&pg=1.
Hagerty, J. & Fields, G. (2009). A Fallen Mortgage Titan, Tragedy amid the Turmoil. Wall Street Journal 6- 5-2009
Hallberg, U. (2005). A thesis on fire: Studies of work engagement, type a behaviour and burnout. Department of Psychology, Stockhlom University, ISBN 91-7155-171-9
Podsakoff, P., Mackenzie, S., Paine, J., Bachrach, D. (2000). Organizational citizenship behavours: A critical review of the theoretical and Empirical literature suggestions for future research. Journal of Management, 26, 51, 1-56.
Shaw, K. (2005). Employment engagement, how to build a high performance workforce. Journal on Human Resource, 0-9547741-3-2.Taylor, R. (2014). Maximising employee engagement. Journal of Leadership. 23-05, 47474
Walker, S. (2012). Employee engagement and communication research measurement, strategy and action. London: Kogan Page.
Williams, L. & Anderson, S. (1991). Job satisfaction and organizational commitment as predictors of organizational citizenship and in role behaviours. Journal of Management, 17, 3, 601-617