Human Resource Information Systems
Remember! This is just a sample.
You can get your custom paper by one of our expert writers.
Get custom essay
71 writers online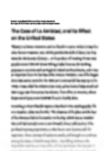 1. "Suggest how HR professionals can use online recruiting to more effectively support recruitment activities while reducing organizational costs." Retaining and acquiring talent with high qualities is crucial to an organization's success. "As the economy and job market heats up, so has the market for corporate recruiting and recruiting service and consultants" (Bersin, 2013). Therefore, the labor force becomes more competitive and available skills become more diverse, HR professionals need to be more selective when choosing the right candidate. Poor decisions made by recruiters can result into negative effects for the company. Another thing that can impact an organization as well as an employee's morale is high training and development cost. For this reason alone, many companies have turned to e-Recruiting. "Online recruiting involves less human interaction, reaches a much broader audience, files records electronically, and provides selection tools electronically" (Friend, 2014).
Companies can conduct everything online while spending less money sending all employees to a training session or meeting off-site. Just by conducting meetings, training, etc. online saves the company a lot of money. For example, new hires really make up the majority of the cost because they need to be trained in every aspect of the job they are taking on. Also, training occurs with other employees besides new hires when a new product or service surfaces within the company. All employees need to learn about the new products or services in order to promote them to their clients. Online recruiting comes in handy since it's a real money saver by having employees do everything online via internet instead of meeting each time for different things. Online recruiting is not only cost effective but it's quick and easy to do. HR professionals can posts job postings anywhere there is an internet connection and receive responses just as quickly. Online recruiting can become very convenient.
2. "Recommend four (4) strategies to mitigate the unintended consequences associated with e-Recruiting." Four strategies to mitigate the unintended consequences associated with e-Recruiting include: Ensuring consistent high customer satisfaction online and maintaining consistent high service When e-recruiting, recruit and select applicants who appear to have out-going personalities that fit within the organizational culture This can be determined from likes/dislikes
Express that training and incentives will be provided in order to encourage loyalty, motivation, and focus on doing whatever it may be to meet the needs of the customer, and create Create a consistent set of HR practices that work together to create a culture of customer service. A strategy is not always planned and HR professionals usually have to adopt this strategic plan. Maintaining excellent service and high customer satisfaction is a good look for the company. Also, it's a great strategy to have to meet all the needs of the customers to ensure their returned business and for them to spread the good comments about the company to their family, friends, and co-workers. The last strategy to mitigate the unintended consequences is for HR to get their practices to work together for the good of the company. HR needs to put a process in place that will be successful and beneficial to the employees and the company.
3. "Propose one (1) approach in which online recruitment can help ensure the employee's psychological contracts are fulfilled." According to Kavanagh, Thite, & Johnson (2012), psychological contract fulfillment, employee satisfaction, and retention rates are three other important goals of the recruitment process. The employees' beliefs about the obligations and promises between them and their companies are what the psychological contract refers to. It's going to be important to explore the extent to which online recruitment can help ensure that employees' psychological contracts are fulfilled. Information that is collected and distributed during the recruitment process shapes the expectancy that leads to psychological contract fulfillment, which directly affects employee satisfaction and retention rates. The numerous expectations that shape the psychological contract include the work role, such as job performance; social relations, such as co-worker and customer interactions; economic rewards (raises, monetary incentives), and company culture. According to Heneman and Judge (2006), one approach to use to ensure psychological contracts are filled is a realistic recruitment message.
4. "Suggest three (3) strategies you would use to attract high-quality candidates and members of diverse groups using an e-Recruitment approach." One strategy to use to attract candidates would be through social media. Examples of social media would be Facebook, Twitter, Instagram, and even email such as Hotmail, Yahoo, and Google, etc. Today's world is very technical savvy and most people now use the internet for everything, these medias would be perfect for announcing job vacancies and announcements. For example, when I used to work for State Farm I made a Facebook page for the company and promoted different products and services that we offered.
Another strategy I would use is at the end of applicants completing their work history, etc. before submitting to the job, a series of detailed questions would be asked that relates to specific job in which they are applying for such as years of experience performing that particular job, and skill competencies, etc., this would eliminate applicants that don't have the necessary experience and skills and alleviate unwanted applications. One last strategy I would use to determine diverse groups is have the applicant fill out an optional survey informing of their race, gender, etc. The survey if completed or not would not have an impact on whether or not the applicant is interviewed and the applicant would also be informed of this as well. This would only be for survey purpose that will allow the organization to see if and how many people from diverse backgrounds are applying.
5. "Take a stand on whether or not the attributes of a Website (attractiveness, quality, and ease of use) would affect your motivation to apply for a job at that company. Justify your position with specific examples from two (2) business Websites that you are familiar with." In my opinion, I find that when applying for positions the company's attractive quality and ease of use website is very important. This lets me know that the company takes pride in their name and what to make an impression on the candidates that are applying. Even though they are the ones that are hiring, they need employees to work as well as a candidate needs a job. The first impression is a lasting impression, and if I'm impressed with the Website then chances are I'm going to be impressed with the company and would want to work for them.
Two websites that I'm familiar with are www.indeed.com and www.careerbuilder.com. I used these two websites frequently because they always have up to date posts on their websites every day and have a variety of positions available. Both sites are colorful, and allow you to type in key words related to the job of interest along with the city and state. Next, it will display jobs related to the key words that are entered. The jobs that are displayed list the job title, company name, and a brief description of the job that includes the range in job salary, for some. Both search engines are easy to navigate, the content of the information is relevant to what I'm looking for. Also, usability is a plus, because they both allow you to receive job alerts, creat user accounts, and answer frequently asked questions.
6. "Propose four (4) security controls you would put into place to prevent unauthorized access to data and unauthorized disclosure of data when using e-Recruiting systems." One security control I would use is each applicant would have to set up their own personal username and access code. This should ease the mind of the applicant, because this is information that only the applicant would use and have access to. Next, I would design a security control that is time sensitive and require the user to sign back in if the computer is idled for a certain amount of it the user spends too much time in one area without moving on to the next area. Third, I would use an online security system that would prevent hackers and unauthorized access to applicant's information.
"The last security control that I might put in place would be some type of software where you have to answer personal related questions about your past that only that specific person would know" (Zeidner, 2007). For example, a multiple choice question might pop up and ask which of the following are related to you and the employee that is trying to gain access would have to answer the question correctly. According to Kavanagh et al, I would develop privacy protection policies that (1) restrict access to data, (2) restrict disclosure of data, and (3) ensure that only job-relevant data are collected for decision-making purposes. Everyone has to be careful nowadays, because hacking into computers is just as easy as breaking into a house nowadays.
References
Bersin, J. (2013, May 23). Corporate Recruiting Explodes: A New Breed of
Service Provders. Retrieved from Forbes: http://www.forbes.com/sites/joshbersin/2013/05/23/corporate-recruitment-transformed-new-breed-of-service-providers/ Friend, L. (2014). Advantages of Online Recruiting. Retrieved from Chron: http://smallbusiness.chron.com/advantages-online-recruiting-3093.html Heneman, H.G., & Judge, T. A. (2006). Staffing Organizations (5th ed). Boston: McGraw Hill (nd). Introduction to Online Recruitment. HRM: Guide Human Resource Management. Retrieved from: http://www.hrmguide.co.uk/recruitment/introduction_to_online_recruitement.htm Kavanagh, M. J., Thite, M., & Johnson, R. D. (2012). Human Resource Information Systems (2nd ed.). Thousand Oaks, CA: Sage Publications, Inc. Zeidner, R. (2007, December 1). HR Magazine: Making Online Recruiting More Secure. Retrieved from SHRM: http://www.shrm.org/Publications/hrmagazine/EditorialContent/Pages/1207hrtech.aspx