Impact of Incoming Casinos in Massachusetts State
Published:
7 October 2015
Remember! This is just a sample.
You can get your custom paper by one of our expert writers.
Get custom essay
96 writers online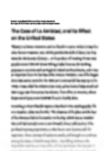 Impact of Incoming Casinos in MassachusettsState
Introduction
            Finally, the government of state of Massachusetts signed the bill into law authorizing casino gambling in the state. The signing of the bill into law softened the intense and rigorous debate between critics and proponents of commissioning of the casino gaming in the state (Arsenault, Mark). Massachusetts is a state that has for long gabbled with financial crises, unemployment and economical decay and, therefore, the law was viewed by many as a messianic savory to resuscitate the state.
            Proponents championing the establishment of casinos claim that resort casinos will rejuvenate local commerce, create employments and deter the high crime rate. Besides, they articulate that the resort casinos will resolve most of the social problems such as addictions, crime and social dilapidation. On the other hand, critics propose proliferation of organized criminal gangs which is potentially resulting to expensive law enforcement within the state (Barrow, Clyde, and Matthew, 328). As a result, the astronomically proposed revenues will be wiped out by an expensive law enforcement agency. This paper analyzes the economic, social and environmental impact of incoming casinos in Massachusetts.
            Already, large casino gaming multinational corporations have set their eyes on Massachusetts State. They are drooling fancifully and seductively approaching the state government for licensing to establish destination casino resorts. For instance, MGM Resorts International rolled out plans to construct an $800 million destination casino resort. The mega project envisions an entertainment complex, a gambling resort and a housing development. Indeed, this development in downtown Springfield mirrors an ambitious development that will transform the grotesque salvage of 2011 tornado (Greater Boston Chamber of Commerce, 5). The project will environmentally conserve, preserve and cushion Springfield face lifting its façade against natural threats such as future tornados. This proposal concentrating on the western side of the state will attract further investments into the area. Similar proposals are underway for various parts of the state such as Palmer.
            Construction of the casinos in Massachusetts State is anticipated to affect the value of property in their neighborhood and the peripheral. Chicago based Appraisal Research Consultants posted that the value of a property such as a house is likely to be affected by developments in its vicinity and neighborhood. The value may fall or rise. On average, 501 households will be affected in Milford within a locus of one mile from the construction site of the casino resorts. The value of property around this region is anticipated to peak to $334,641 setting the highest value of property neighboring the casino. Similar sentiments were shared by Gaming Market advisors, appointed casino consultants. In Aurora, home property values within a two mile radius from Hollywood Casino peaked by 31.3% between 2000 and 2013.
            The onset of casinos in Massachusetts State is envisioned to usurp employment niches. On average, each casino is expected to create 4000 job positions. Therefore, three to four casinos in the entire state will create between 17,000 and 21,000 employment niches. This is a relieving pill to the state government that has been grappling with staggering high unemployment. The net employment income anticipated to be generated from this employment totals to about $2.15 billion. These postulations are embarked or based on GGR and employments at mega casino establishments (Bandopadhyaya, 126). Concentration of destination casino resorts in Atlantic City and Nevada realized huge developments in these two urban centers incomparable to the development potential in Massachusetts.
            Notwithstanding, construction of these casino establishments in Greater Boston, Western and Southern Massachusetts will hire laborers during construction. In initial constructions, it is estimated that 30,100 to 34,400 laborer-years. These ranges are obtained from relative construction cost. Dividing the worker demand in each laborer-year by a tripartite construction period yields an estimated 10,000 to 11,500 job niches in the construction of the developments (MacDonald). Notwithstanding, transportation segment will also create jobs for the residents of Massachusetts. Overall, it is projected that $4.3 billion will be spent on hiring construction laborers. The average earning for the employees in the casinos will be subject to degree of interaction and level of responsibility with regard to clients. The average annual income figures are projected at between $36,000 and $44,000.
            The financial earnings to the state government in Massachusetts arising from casino gaming is projected at $2 billion annually. Notwithstanding, the Governor will charge a threshold $200 million to the casino bidders interested in each of the three regions. Still, operating license payments charged to the casino operators will provide a steady stream of annual cash flow to the state government. The casino gaming is expected to eat into the lottery earnings and operations but this will not significantly affect them and they are projected to erode 5% of the lottery clients. Recent surveys posited that 31% of the residents of Massachusetts participated in casino gambling within the past year. The largest portion of Milford casino gamblers are residents of state of Massachusetts and establishment of the casinos is set to drive them in droves into the Massachusetts casinos.
            Pathological gambling features as a major social problem that affects both the gamblers as individuals as well as their families. For example, gamblers may develop addiction to gambling and result to spending time at the casino away from their employment. Consequently, there is loss of financial income as well as laborer productivity (Scott). Besides, gamblers are more susceptible to criminal acts so as to finance their accumulating debts and payments. Proliferation of criminal activities in casino establishments and neighborhoods is a long term repercussion. Crime activities increase with the aging of the casino establishment. For instance, it is projected from different states' statistics that in the fifth year from the opening of casino doors, auto theft increased by 78%, robberies 136%, burglary 50%, aggravated assaults 91%, rape 21% and larceny 38%.
            Legalization of casinos in Massachusetts State ushered in the reign of various social costs. Casinos come about with serious addiction effects that may result to costly behaviors. These include suicide, smoking, depressions, child neglect, domestic violence, crime as well as traumatic stress. Often, gambling addiction had been dismissed as an unfortunate, insufficient but manageable problem. Besides, most gamblers addicted to this gaming do not acknowledge, recognize or admit their social problem. Nonetheless, the National Gaming Impact Study Commission postulates that a third of active gamblers have mild, moderate and severe problem. According to the commission, half of the problematic cases of gambling face alcoholism drinking problems. Incidentally, over a third of the distress calls for help within the state of Massachusetts reported were associated to gambling problem in spite of absence of casinos in the state.
            Still, establishment of casino developments and resorts in Massachusetts will definitely erode the commercial interests in the area. Firstly, casino gaming will eat into the lottery clientele as well as other commercial establishments. This is because casinos provide a channel for spending monies that could be spent in movie entertainment, restaurants as well as home improvements.
References
Arsenault, Mark. "Vast casino plan for Springfield MGM proposal would remake city's downtown." The Boston Globe. N.p., 12 Aug. 2012. Web. 14 Dec. 2013. <http://www.boston.com/news/local/massachusetts/2012/08/21/mgm-proposes-million-gambling-resort-downtown-springfield/Rzbroz2pi5qXeIAq2aWPKN/story.html>.
Barrow, Clyde W., and Matthew Hirschy. "The Persistence Of Pseudo-Facts In The U.S. Casino Debate: The Case Of Massachusetts." Gaming Law Review and Economics 12.4 (2010): 318-336. Print.
Casino gaming in Massachusetts: an economic, fiscal & social analysis. Boston, Mass.: Greater Boston Chamber of Commerce, 2008. Print.
Bandopadhyaya, Arindam . "Dice or No Dice: The Casino Debate in Massa chusetts." Financial Services Forum. University of Massachusetts . Boston Auditorium, Boston. 22 Aug. 2011. Reading.
MacDonald, Mary. "Casino Consultants: No Negative Impact on Housing Values." Milford Patch. N.p., 5 Aug. 2012. Web. 14 Dec. 2013. <http://milford-ma.patch.com/groups/business-news/p/casino-consultants-no-negative-impact-on-housing-values>.
Scott, Dylan. "How Does Opening a Casino Impact Public Health?." How Does Opening a Casino Impact Public Health?. N.p., 23 Oct. 2012. Web. 14 Dec. 2013. <http://www.governing.com/blogs/view/gov-how-does-opening-a-casino-impact-public-health.html>.