Informatics Solution Proposal: Problem Identificatio
Remember! This is just a sample.
You can get your custom paper by one of our expert writers.
Get custom essay
92 writers online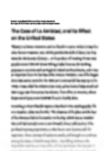 It is no surprise that customer satisfaction is the primary focus for successful delivery of healthcare. The health care industry is booming with technological trends and consumer empowerment is evident. Patients are able to shop around for the best health care available at the right cost, forcing facilities to upgrade to the latest technology in order to compete. The problem is patients often get confused keeping up with different providers and different facilities. On top of that are expected to remember their medications and complete health history, along with diagnosis, different exams and lab testing. Health care costs are on the rise because of repeat tests and data is lost in the shuffle. Our goal is to find a technical solution providing patients with an easily accessible, comprehensive overview of their entire health history. The patient deserves access to their health records, health education at their fingertips, and most of an organized system to provide the best health care possible. Our best solution is the personal health records category. Personal health information can be easily accessed online wherever internet is provided. There can be one or multiple databases that safely stores their information and with easy access, patients won't feel so frustrated having to wait for a healthcare worker. Another rationale is that personal health record systems can offer multiple functions for the patients, such as paying their medical bills, renewing their medications, and more.
Designing the appropriate PHR system can provide an endless amount of functions to help meet patients' needs. Finally, a PHR can save patients and providers both time and money. PHR systems can decrease the labor needed to provide patients with information while still maintaining effective communication between providers and patients (Kaelber & Pan, 2008). Some ethical issues to consider would be protecting patient privacy. Information entered into the iPad, even something such as calling the front desk, must go through a server (or a third party). This may compromise privacy. It could end up in the iCloud, or even be hacked. Visitors in the room may see sensitive information. Additionally, expecting an older population to use an iPad could be seen as discriminatory According to Hebda, and Czar (2013), legal issues for interactive applications of consumer health information involving PHI include protecting privacy and security of PHI. Many consumer health web sites are lacking in protection of healthcare information. Some issues included lack of anonymity, poor protection for privacy policies and health information as well as inadequate privacy policies. Special attention will have to be made to adhere to the HON code of conduct for protecting users with the implementation of interactive health care technologies. As part of the American Recovery and Reinvestment Act of 2009, Congress directed the Federal Trade Commission (FTC) to rule on the use of electronic health information and the devices and systems used to access this information. The final ruling requires vendors of PHR's and related services to notify the FTC, potential involved consumers, and associated services providers of any breach in security as this information is now to be covered by the Health Insurance Portability and Accountability Act (HIPAA) (FTC, 2009). This ruling also provides for consultation on potential privacy and security breaches between the FTC and the Department of Health and Human Services (FTC, 2009).
Project Overview:
The purpose of the Informatics Solution Proposal is to promote nursing students' comfort and knowledge with informatics and technology products for the health care workplace setting. Students review the functionality of various products and select one that best meets the needs of a health care setting.
Learning Teams collaborate to identify a clinical or administrative issue and propose an informatics solution. Each week, Learning Teams work on an element of this project. In Week Five, teams compile their work into a proposal appropriate for the directors of a health care organization.
Project Elements:
Week Two: Problem Identification
Collaborate with your Learning Team to identify an issue in a health care workplace that could be resolved by implementing an informatics or technology solution. The issue could be an administrative issue or a clinical issue.
Draft a letter or memo to a nursing administrator informing her or him of the clinical or administrative problem, why it is a concern, and a request for permission to propose a solution. Support your letter with at least three peer-reviewed resources.
Format the letter consistent with APA guidelines for formal business correspondence.
Provide an APA-formatted reference page for all resources used.
Note. Do not send the letter.
Week Three: General Solution
Collaborate with your Learning Team to determine a category of informatics or technology that could be implemented to solve the clinical or administrative issue.
Compose a 350- to 500-word summary of the benefits of selecting a product from this category of technology or informatics system.
Address the following:
Identify a category of informatics or technology solution that may be appropriate for the identified workplace.
Note. Select a category of solution but not a specific product.
Provide rationale for why this category of solution may help address the clinical or administrative problem. Describe regulatory, legal, or ethical issues this category of solution may cause or resolve.
Include a minimum of three peer-reviewed references, and develop an APA-formatted reference page.
Format your paper consistent with APA guidelines.
Week Four: Areas of Evaluation
Select two products from the category that your Learning Team identified in Week Three. For example, if you selected the category of EHRs, then identify two specific EHR products.
Describe a minimum of five criteria with which to evaluate the functionality of the two products.
Ease of use
Clarity
Time
Select two or more additional features to evaluate.
Include a minimum of three references. References may include product websites or other reputable sources in addition to peer-reviewed resources. Faculty approval is required for sources other than peer-reviewed resources.
Provide an APA-formatted reference page for all resources used.
Week Five: Specific Solution Proposal
Develop a proposal in which you evaluate two specific products from the general category previously selected. The goal is to persuade the directors of the health care workplace to implement your chosen informatics solution.
Address the following details:
Brief description of the administrative or clinical issue
Concise overview of the two products (include evaluation of all relevant features of each product) Clear explanation of why one product is chosen for implementation (not both) Two suggestions of how the chosen product could be implemented Two suggestions for how the chosen product would be evaluated after implementation (one qualitative and one quantitative)
Identify a future trend in this area
Develop a presentation using one of the following formats:
Microsoft® PowerPoint® Presentation including 15–20 slides and speaker's notes Oral presentation including appropriate visual aid (for example, a handout or brochure) Prezi® Presentation
Another format approved by your facilitator
Include a minimum of seven peer-reviewed references, and develop an APA-formatted reference page.
Format your proposal and reference page consistent with APA guidelines.
References
Federal Trade Commission. (August 17, 2009). FTC Issues Final Breach Notification Rule for Electronic Health Information. Retrieved from http://www.ftc.gov/news-events/press-releases/2009/08/ftc-issues-final-breach-notification-rule-electronic-health Hebda, T., & Czar, P. (2013). Handbook of informatics for nurses & healthcare professionals (5th ed.). Upper Saddle River, NJ: Pearson Prentice Hall. Kaelber, D. & Pan, E.C. (2008). The value of personal health record (PHR) systems. Retrieved from http://www.ncbi.nlm.nih.gov/pmc/articles/PMC2655982/. Informatics Solution Proposal Overview