Inside marketing: practices, ideologies, devices
Published:
30 September 2015
Remember! This is just a sample.
You can get your custom paper by one of our expert writers.
Get custom essay
90 writers online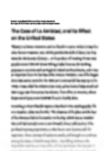 Marketing
Introduction
            Marketing refers to functions carried out by an organization and the processes set for communicating, creating and delivering services to customers (Gundlach, 2009: p.259). The essence of marketing is to influence customers' behavior or precipitate behavioral change. Marketing practitioners needs to understand consumer behavior and have better market analysis and segmentation. This helps in managing customer relationships in ways that are beneficial to the shareholders and the organization. However, these activities involve interaction where both the buyer and seller enter into an agreement concerning the price of a given commodity. On 24th October 2013, I happened to visit Bet Electronic Company Limited. The company deals in different electronic items both households and industrial supplies and installations the aim was to purchase a home computer.
            In every market, a new customer needs to have a marketing orientation. This gives the customer a general overview of the company and some information concerning the product at hand. Before I started negotiating about the price of the computer, the attendant did two orientations, product and selling orientation.
Product orientation
            He explained about the quality and the benefits of purchasing the hp computer. The company believed that their computers were of the best quality than any other. Their products have two years guarantee, and they offer after sales services such as convenient distribution to customer premises.
Selling orientation
            The company uses applies both face to face and e- selling when dealing with their products. We had face to face conversation where the sales department manager appeared to have all skills required. They sell their products even through the internet. In this situation, I met with one customer from Britain. He assured that the company sells high quality products being their customer for two years.
Understanding customers
            Though it was very hard to make the decision, their approach and understanding of customers influenced my decision. They contributed to the evaluation and better selection of computer.
Situational analysis
Pricing
            This plays a very important role in every marketing situation. The price of products affects both the customer and the marketer (Amaldoss, 2010: p.32). BET company uses customer based pricing. Through the orientation, I realized that they set their final prices considering the customer willingness and the company profit. The initial price of the home computer was $525, but my offer was $350. Considering the cost of production and distribution, $350 was not profitable to the company. Through long bargaining, we came to an agreement of $450 as the price of the computer.
Distribution
            This involves the channels used by a business to either distribute goods to the market or to customer premises (Shen, 2009: p.5885). The business has means of transporting goods to the required destinations. During the product orientation stage, the company promised of convenient distribution of the product to the customer's premises. This contributed to my decision of purchasing the computer from BET Company. This is a very essential marketing mix that the company has adopted to ensure better customer services. After purchasing the computer, I left it but later it was transported to my house four kilometers from the market.
Internal and micro-environments
            These refer to the factors in the immediate area of operations in the organization (Takahashi, 2007: p.5). These factors include customers, competitors, suppliers, distribution channels and the general public. They affect the freedom of decision-making and performance of the business. BET Company considers all these factors when conducting its operations. The company is located in a market full of competitors. This led the company to accept my terms as they feared that their competitors might offer the same item at a lower price. Distribution channels were used to ensure that goods are at their respective destinations on time.
Macro-environment
            Refers to uncontrollable and major external factors that influence decision making in the business, and affects its strategies and performance (Gala, 2008: p.273). These factors are demographics, economic factors, political, legal, technological changes, social conditions, and natural forces.
Economic factors
            It is a very important aspect that marketers need to apply when influencing the buying and spending patterns of the consumer. BET Company applied factors such as the price to influence customers to purchase their products. The better terms offered such as guarantees and distribution of the goods to customers' premises was very economical and attractive.
Ethical implications
            These are assumed consequences that result from a moral/ethical action (Weaver, 2010: p.951). In the case of BET Company limited, there are some present ethical implications.
Pricing ethical issues
            Marketing mix has many areas that lead to interaction between marketers and customers. Those involved in marketing should bear in mind that these implications has effects in the success of the business. On issues concerning pricing, BET Company practiced unethical issue in pricing its products. Due to high competition that prevailed in the market, they have decided to offer their goods at low prices. The intention behind is to outdo the other firms in the market and attract more customers. The cost of the computer was supposed to be $600 the final price according to the other companies. Though this is beneficial to the customers, it might have future implications. After all the other companies are eliminated from the market, BET Company will charge high prices due to their monopolistic power.
            Marketing strategy allows an organization to direct its resources on the optimal opportunities available (Varadarajan, 2010: p.119). The aim is to achieve sustainable competitive advantage and increase sales. BET Company should find a relevant and efficient marketing strategy that will lead to sales increase and have a competitive advantage.
            Marketers need to have marketing knowledge and how to segment their markets for effective operations and better customer relations. BET Company should learn other ways of attracting customers rather than reducing their prices below the market price. This will create a favorable environment and increase their profits. They should use marketing practice such as market communication. This involves activities such as advertising, sales promotion, personal selling and public relations. This will enable them to increase their sales through reaching more customers both the existing and potential customers.
            They should sub-divide their market into small manageable portions that will reach their potential customers. They can achieve this through use of distribution channels and agents located in different areas. They should also focus on micro-environment to ensure that they create better customer relationship and favorable competition. Distribution channels should also be enhanced to facilitate transportation of goods both to the market and consumer premises. Another focus is on consumer behavior. This is very crucial as the marketer has to understand the consumer behavior and how it can be influenced. They should focus on dissonance-reducing buying behavior. This will help consumers to differentiate different brands of their goods for effective buying. In their marketing mix, they should improve the quality of their products, have better pricing strategy, and enhance distribution channels and their marketing communications
References
Blythe, J. (2009). Key concepts in marketing. Los Angeles, Calif.: SAGE.
Blythe, J. (2013). Consumer behaviour (2. ed.). Los Angeles, Calif. ; London: SAGE.
Fox, S. C. (2009). E-riches 2.0 next-generation marketing strategies for making millions online. New York: American Management Association.
Richter, T. (2010).Marketing mix standardisation in international marketing: an empirical investigation of the degree of marketing programmestandardisation in German companies and its internal and external correlates. Frankfurt am Main: Peter Lang.
Solomon, M. R. (2011). Consumer behaviour: a European perspective (3rd ed.). Harlow, England: Financial Times/Prentice Hall.
Weinstein, A. (2012). Handbook of market segmentation: strategic targeting for business and technology firms (3rd ed.). New York: Haworth Press.
Zwick, D. (2011). Inside marketing: practices, ideologies, devices. Oxford [England: Oxford University Press.