Integration Of Goals
Published:
29 February 2016
Remember! This is just a sample.
You can get your custom paper by one of our expert writers.
Get custom essay
99 writers online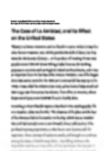 What is meant by the term 'degree of integration of goals' and how can we achieve true integration? Goals can be define as the overall objectives, purpose and the desire result that a person or organization will plan to achieve. Organization goals, management goals and personal goals differ from each other. The extent that individuals and groups perceive their own goals as being satisfied by the accomplishment of organizational goals is the degree of integration of goals. In every organization it is very important to achieve the true integration for the success but then it's not a simple task that can be achieved overnight. True integration can only be achieve when goals of management, goals and employees and goals of organization is achieved. The closer we can get the individual's goals and objectives to the organization's goals, the greater will be the organizational performance. So for this the goal of the organization should be clear and achievable enough so that the management and employees become well aware and set their goals accordingly. One of the popular approaches to achieve true integration is management by objective where the objectives of different parties are defined so that management and employees agree to the objective and understand what they need to do in organization in order to achieve them. The employees get strong input to identifying their objectives, time lines for completion and it includes ongoing tracking and feedback in the process to reach objectives. Making the employees participate in the goal setting can also help achieving the desire goals. These types of participation will help them to create sense of self-actualization. Similarly the style and effectiveness of leadership plays a vital role in achieving true integration. They should be able to influence the behavior of the employees and achieve the desire goal.