International markets small business in USA
Published:
26 September 2015
Remember! This is just a sample.
You can get your custom paper by one of our expert writers.
Get custom essay
70 writers online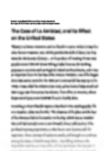 International markets& small business in USA
Introduction
            Venture capitalists invest massive of money to companies that want to expand but have no enough access to public funds. They are willing to invest in such companies because they earn massive benefit when the company succeeds. Consequently, venture capitalists look for firms with strong management staff, large markets and unique goods with high competitive advantage (Gladstone & Gladstone 2004). They are driven by the desire to own a large portion of the company so that they can influence its direction.
            International markets are complex due to their vast geographical coverage in the worlds rapidly changing and growing nations. The basics for international markers ranging from diverse culture and languages, handling issues related to business ethics, selection of distribution and global marketing channels and international communication. They are the key issues that guide the operationality of worldwide markets (Omar, Abduh, & Sukmana, 2013)
            This situation represent personal and professional dilemma where by the personal and professional interests that are simultaneously conflicting. I will use the principles of ethical decision making process seek supervision self mirror image and illumination of the process will also consider legal obligation that supersedes my professional and personal ethics (Wueste,1994). I will talk both the boss and supervisor to examine their feeling about my situation as that pertain my professional ethics.
            The small businesses are important in US economy in many aspects. They employ many people, actually about the half of the total workforce in there a key in driving the economy as opposed to giant multi-billion dollar companies (White House Committee on Small Business, 1962).They are instrumental in stabilizing forces in the economy .the owners are backbone for creativity innovation production and value creation in United States. The small business is actually what stimulates the economy.
References
Gladstone, D., & Gladstone, L. (2004). Venture capital investing: The complete handbook for investing in private businesses for outstanding profits. Upper Saddle River, NJ: Prentice Hall/Financial Times
Omar, A., Abduh, M., & Sukmana, R. (2013). Fundamentals of Islamic money and capital markets. Singapore: John Wiley
White House Committee on Small Business (U.S.). (1962). Small business in the American economy: Its contributions and its problems [and] the role of the Federal Government. Washington.
Wueste, D. E. (1994). Professional ethics and social responsibility. Lanham, Md: Rowman and Littlefield.