Invictus
Remember! This is just a sample.
You can get your custom paper by one of our expert writers.
Get custom essay
75 writers online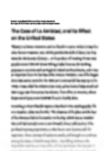 Invictus a movie that touches on a lot of issues Nelson Mandela and the South African people faced as a nation. Nelson Mandela was faced with bringing a nation separated due to racial segregation and he accomplished this goal by helping the South African rugby team win the world cup. This movie can be closely related with our class because Nelson Mandela is one of the greatest leaders of all time and too see how he implemented his leadership to help the Rugby is just a fragment to what he actually accomplished. Throughout this movie you can go think about what we learned in class its goes hand and hand. To give a complete analysis to this movie from the prospective of Nelson Mandela being a leader in the sports world in this essay I will explain the different styles of leadership Nelson Mandela implemented, group dynamics, communication, managing difficulties, issues of diversity. All of these where present in this movie and a direct correlation to how Nelson Mandela was a leader in sports. In this movie Nelson Mandela wasn't the only called upon to be a leader in sports South African rugby Captain Francois Pienaar also played a major role a leading his rugby team through a very difficult season to becoming a great team and family. Without the help of Francois Pienaar I don't feel as if Nelson Mandela's plan to unite the nation would have went so smooth.
Throughout the movie Nelson Mandela used a couple of different styles of leadership, this shows to be a great leader you have to mix and match different leadership styles. In Mandela's case being the president of South Africa in the mist of segregation you have to appeal and lead many different types of people, some of the groups don't respond like the others forcing him to differ from his nitch of democratic leadership. To reach the different kinds of groups he realized he would have to be stern sometimes and be more of a autocratic leader. Nelson Mandela being a South African native faced a very hard decision when he walked into a rally by some of the black population who were against the name of the rugby team and felt very strongly about changing it. Mandela being the leader he was realized the Springbok name was sacred to the Africana (white population) and to bring the nation together the name had to stay. After this decision was clear to Mandela to keep the Springbok name based off the knowledge he gained while being incarcerated he knew that he was a minority and it would be tuff to get voted. Thus he implemented autocratic leadership style walked into the rally gave them all the background information on the name then told his follower the name will stay. Mandela knew what he was doing would be good in the long run but still asked for the support of his followers and of the rally he had one person that was on his side.
Throughout the movie he also was forced to inhibit the Laissez-Faire leadership style against his own will. Bringing a nation together can sometimes become overwhelming and with his strenuous schedule Mandela overworked himself to the point he blacked out. After his accident he was forced to relax and take a back seat for a couple of days. For the period of his recovery he was helpless and had to go with the flow being forced into the laissez-faire leadership style. Nelson Mandela middle name should be democratic, that is how strongly he embraces this leadership style. He just wanted everyone in South Africa to be equal and get along, while trying to accomplish this he took different ideas from co-workers and people of South Africa.
A recurring theme in the movie is Nelson Mandela's wise words to his followers and friends at the most opportune times bringing encouragement, support, wisdom and comfortably. In the beginning of the movie he steps into his presidential chambers where all of the workers were at and began to give them a speech, most of these workers were Africana's from the previous South African president. Now here comes this black political guy fresh from jail into the presidents office, so most of these workers didn't plan on staying and didn't believe in Mandela. He gives them a speech with great compassion and knowledge treated all of them as equals and ends the speech with " if you guys stay you would be doing me and your country a great service". Mandela gave all his workers the opportunity to leave but after his great speech he didn't lose not one worker, this give you and example how strong and powerful his words could be.
Communication in my eyes is 10 percent verbal and 90 percent non-verbal, a person can say all the right things but if they don't give eye contact and have bad body language it can automatically negate everything they just said. Africana's were really hard on Mandela but he continuously gave them reasons to love and respect him, when he went to the first Springbok game a fan throw a can at Mandela that barley missed him but he didn't even flinch. That fan wanted nothing more than for Mandela to react and get out of character but Mandela just ignored it showing them his mental strength. Its easy for a person to react by it takes a real leader to preserve them selves and ignore ignorance.
Nelson Mandela was forced to manage difficulties through the whole movie trying to evolve his nation to bring blacks and whites together, enlighten people including his own daughter and help the Springbok win the world cup. What I learned from Mandela about managing difficulties is that sometimes you don't have to automatically attack the problem head on and sometimes you should just relax and let things fall into place by making strategic moves. When Mandela knew what was best for the nation he made a group of very smart decisions to bring the rugby team back to relevancy and their winning culture. The best example of this was making the Springboks do clinics in near by villages. By inviting Francois Pienaar to tea he installed these values and coached him up to be a better leader to his team so he can also manage difficulties he was going to be facing. Francois Pienaar was faced with manage this difficult team that was ok with losing and not being connected to the rest of the South Africans. Pienaar followed in Mandela's footsteps and introduce the team to new things little by little, such as learning the national anthem, bring them to the prison to see what Mandela and others went through.
Invictus in a nutshell is about the issue of diversity in South Africa and how a pride for their national team can unite a country. Mandela was facing the issue of diversity his whole life and even spent a period of his life behind bars to fight for it. From his first day in office as the president he had to face the issue of diversity by having a majority of his office workers being white and not knowing if they where going to stay, but thankfully for his enhanced commination skills he persuaded them to stay. Another character that was forced with great issue of diversity was Chester being the only black player on the Springboks had to be tough on him and his team mates fro example when they did the clinics all the kids flocked to Chester and ignored his teammates. Francois Pienaar was faced with issues of diversity as well like when he tried to teach the players the national anthem by the were very closed at first due to the complexity of the different languages of the black South Africans.
In conclusion Invictus was great movie showcasing the leadership of Nelson Mandela and Francois Pienaar both in very different situations but faced with some of the same issues. Mandela was faced with bring the nation together and Pienaar was faced with bring the Springboks together that was like a little nation in its own. The rugby team was like a little nation due to different races, conflicting ideas, and stubbornness to change their ways. Every team is like that and to manage that you have to be a leader in recreational settings to bring a team together and be successful. This movie taught me a couple of life lesson that I will inhibit to my everyday life and pass on to other such ass make strategic moves, really think before making any moves. 1 smart decision is better than 2 dumb reactions.