Job Characteristic Model Technical Coordinator Apple's Research and Development
Published:
17 December 2015
Remember! This is just a sample.
You can get your custom paper by one of our expert writers.
Get custom essay
70 writers online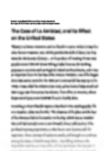 Job Characteristic Model: Technical Coordinator Apple's Research and Development
Introduction
Skill Variety
            The position of a technical coordinator at the Apple's Research and development is increasingly demanding. As a requirement, my stay entails me to develop skills and talents, which responds to a high coordination strategy that responds to the elementary needs and routine. As a result, my skills variety impacted on the on the activities of establishing, guiding, encouraging, engaging and tackling critical research and administrative responsibilities.
Task Identity
            Significantly, my roles influence other workers positively, in that my intervention encourages workers to be involved rapidly in the project rather than concentrate on an individual unit. For that reason, it is possible to complete the whole piece of work from the beginning to the end. It is possible to respond to these requirements since the team examines needs of the customer before commencing on a given activity.
Task Significance:
            Given the operative nature of the job, it is possible to respond to requirements of the department since the team is involved psychologically at the process. Mentally, the team is made to understand the significance of each stage of the activity. To achieve that, the overall mission of the organization is broken down to ensure that the team gets first-hand needs of the organization, before commencing on the job.
Autonomy:
            The characteristic enables employees to pursue milestone in a free but objected zone. Programmers, designers, researchers, and marketers are empowered by autonomous decision to independently choose what is to be performed. Hence, my role is to steer independent operation. I am, therefore, obliged to decide on how to time the performance.
Feedback
             The characteristic enables me to determine the feedback mechanism that allows my team to have more information about the effectiveness of their performance. My role is to engage units in communication, using the organization ERP system.
            To enhance my motivation potential, I will be required to communicate with different team players on the way forward when it comes to making critical decisions. I will motivate and influence team players by requesting job progress daily. This way, I will show them I am part of the team
References
Juricek, J. (2014). Agile Project Management Principles. Lecture Notes on Software Engineering, 172-175.