Job Evaluation at Whole Foods Market
Remember! This is just a sample.
You can get your custom paper by one of our expert writers.
Get custom essay
88 writers online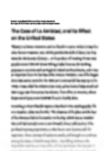 Introduction
The goal of any company is to attract and retain employees who share their core values. Whole Foods Core Values include selling the highest quality natural and organic products, satisfying and delighting customers, supporting their Team Members (Whole Food Employees) happiness and growth, creating wealth through profits and growth, caring about the communities and our environment, creating win-win partnerships with their suppliers and promoting the health of their stakeholders through healthy eating education. I will take these core values and apply them to the job analysis and prepared job descriptions when determining the job structure at Whole Foods.
Evaluation of Jobs and Job Structure
In looking at the job descriptions provided in the case study, I was able to assign job titles in the following manner:
Job A- Prepared Foods Team Member
Job B- Customer Service Team Member
Job C- Prepared Foods Department Team Leader
Job D- Prepared Foods Supervisor
Job E- Dishwasher
Job F-Customer Service Front End Supervisor
Job G- Prepared Foods Associate Team Leader
Job H- Associate Store Team Leader
Job I-Grocery Retail Team Member
The job structure that I came up with put the above jobs into two categories: Managerial and Store Support. In the Managerial structure I would place Job C, Job D, Job F, Job G and Job H. In the Store Support I would place Job A, Job B, Job E, and Job I.
Process, Techniques and Factors
The Job evaluation technique I used in my case study is the job ranking method. My reason for choosing this technique was simple. While looking at the Whole Foods website and their career paths page, the job opportunities in each store appeared to be hierarchal in nature. While Whole Foods itself is quite a large corporation, per the information on the company website; there are less than thirty different job classifications. While this is the simplest method of job evaluation, Whole Foods themselves have placed the jobs in order, ranging from the highest, Store Team Leaders, Facility Team Leaders, Regional Presidents, and Presidents at the top and Team Members or Specialized Team Members at the lowest or entry level.
The compensable factors that I used in determining these job rankings based on the job descriptions provided: job responsibility, skill, knowledge and ability. While Whole Foods does have various departments in their stores, with distinct job requirements, these types of jobs can be grouped into one classification and put into a predetermined grade. My meaning with this is that a Team Member in Bakery has the basic skills and knowledge as a Team Member in Meat. The respsonabilities may be different, bakery versus meat, but at Whole Foods the responsibilities and qualifications are the same. Excellent customer service and maintaining the departments that they are working are a few that come to mind.
As Whole Foods is a team focused working environment, placing more value on one job versus another goes against their core values. Of course there will be different pay scales based on the person's position in the hierarchy; it is not something that makes one person more important than another. Per their own company website, "Whole Foods seek individuals who believe in their mission of Whole Foods, Whole Foods, Whole People, Whole Planet-people who are enthusiastic about food and our products, and who want to join a culture of shared fate" (Whole FoodsMarket.com). Therefore, individuals who work for Whole Food realize they are valued and with the training and development programs that are offered, a person can promote to a higher level with the experience, knowledge and skills they have obtained in their positions.
Evaluation of Job Descriptions
The job descriptions in this case study could use more structure. I found it very difficult to decipher some of the information within the job description. Even after going to the WholeFoodsMarket.com website to compare, I had difficulty giving a job title to some of the descriptions. While the job descriptions themselves did have most of the information needed to help a person place a job title with the description, they could have been better written. These job descriptions did not give a very general position overview which would have been helpful. For example, for Job A, the position overview could have listed some of the tasks the job has. The following is taken from the Prepared Foods Team Member position description under the position overview: "Performs in the Prepared Food Department all of the following tasks: preparation, counter service, sanitation and stocking of products. Maintains a positive company image by providing courteous, friendly, and efficient Customer Service. Supports team leader and regional coordinator in training and maintaining regional standards". (WholeFoodsMarket.com)
Instead of listing all of the job duties under "Kind of Work", listing them out in a responsibilities section would have made it much easier for the reader. The requirements sections were sufficient. Listing out the reporting structure for each position also would have been helpful. All the information that was listed in the job descriptions I used to compare to the actual job descriptions on the Whole Foods Market website; it was just a difficult process without a better layout. The knowledge, skills and abilities needed for each job should have been listed in its own section for a proper job description. Having had these, it would have been a much smoother process in assigning job titles.
Conclusion
As this is my first attempt at assigning job titles and job structure, I found it to be a difficult process. When you do not have the best job descriptions available to you, or the opportunity to job shadow a person in the position, the realization that a lot of work needs to be done on the front end. It starts by collecting and summarizing all the job information for each position at a company. By having all the possible information needed to complete a proper job description, a compensation specialist can properly determine the value of the job, assess the relative value of the job and place it in a job structure that is clear and concise to all stakeholders. (Milovic, Newman and Gearhart) This case study showed me what happens when things are not done properly in the beginning.
References
http://www.wholefoodsmarket.com/. Whole Foods Market
http://www.wholefoodsmarket.com/values/corevalues.php. Whole Foods Market
core values http://www.wholefoodsmarket.com/careers/index.php. Whole Foods Marker careers Milkovich, Newman and Gerhart. Compensation, 10th Edition