Journey On The North Coast
Remember! This is just a sample.
You can get your custom paper by one of our expert writers.
Get custom essay
102 writers online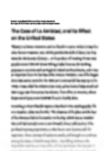 Language Techniques:
Colloquial phrases which specify a location and suggests a sense of time. He starts in the middle of a sentence
Adverbs_ sequential ordering the different stages of the journey (now the man is gone)
Prepositions (eg I was on board) authenticates the experience. Shows you exactly what he is doing.
Active verbs – he embraces the present experiences that allow for past memory to be recalled (eg. I see from where I'm bent, one of those bright crockery days)
Written in free verse – irregularity, run on lines, enjambment
First Persona and subjective imagery: he is rested. The journey has renewed him – rejuvenated him. Persona creates an immediacy in the shared experience.
Rhythm of the train: soaring, evokes imagery of rapid changing landscape – the diversity of Australia, kinesthetic movement that supports the onomatopoeia makes it so immediate and dramatic. Eg the rattling of the train. Simple diction to suggest immediate everyday engagement of common experiences to be shared. Anecdotal experiences about the 'other' person and his reaction. The effect of the periodic structure of the sentences dramatictizes the idea and suggests its importance – first three lines we think he could be on a boat. Describing something then four lines later he will tell you the most important thing. This builds the tension.
Shelve the most important idea. Language is used to show the relationship and the bond formed between place and object and experience. Words such as now (preposition and adverb of time). Symbiotic experiences between events inside the train, influenced by the movement of train. Tone is excited, animated and joyful at recalling memory of a childhood. Metaphoric: crockery days. Immediately links to a happy childhood. Crockery day = significant day. Combining the idea of synergy and perfect form in feeling completely restored by a journey – uses jagged images which disconnect to show that each separate perception – supports the whole experience.