KFC Marketing plan
Remember! This is just a sample.
You can get your custom paper by one of our expert writers.
Get custom essay
74 writers online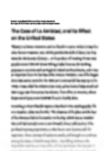 Executive summary:
Kentucky Fried Chicken (KFC) continues to be recognized as an earliest franchising company around the world(Teampaperwarehouse.com,2014,2014). Approximately half of KFC's worldwide restaurant businesses are owned and operated by independent businessmen and women, KFC franchisees(George L,Paugh III,studymode.com,2011). Today KFC is the leading fast food chain and has been successful in creating a renowned international reputation. Since 1960 KFC has targeted many foreign markets and is able to expand in multiple continents in which they have initiated a new challenge in conquering Asia. It has served in more than 80 countries and 25 percent of its restaurants are operated and run by the Company. The report is based on information from range of data sources, including newspapers, magazines, company reports, books and academic journals.
Introduction
Swot Analysis helps to know a firm where they are lacking behind and what Internal and External factors they are or can face in future.By taking the time to conduct this analysis you will gain a fresh prespective on what KFC offers, what obstacles KFC face, what competitive challenges it have to overcome, and what barriers to growth exist now or might exist going forward. KFC has been an established business but it can also face some problems which SWOT Analysis helps firms to recover. KFC operates in 74 countries and territories throughout the world. It was by Colonel Harland in Corbin, Kentucky. The business was then sold to two Louisville businessmen. In 1966 KFC was listed in New York Stock Exchange.Heublein Inc. acquired KFC in 1971 but soon after conflicts arose between Colonel and Heublein over quality control and cleanliness issues. In 1986, Pepsi Co acquired KFC, by that time KFC had expanded to 55 countries with over 6600 units.
Due to strategic reasons, in 1997 PepsiCo spun off its restaurant businesses (Pizza Hut, Taco Bell and KFC) into a new company called Tricon Global Restaurants, Inc. Today KFC is an iconic brand that is recognized in nearly every country around the world. The competitors of KFC have taken over a large market share. According to findings McDonalds about 35 percent of the share in Sandwich Segment while the Burger King owns about 16 percent of the market share in fast-food industry. The local restaurants in different countries where KFC has presence pose a threat to the company. KFC outsanding brand recognition, experienced management, high quality food, advanced operational systems and unique global infrastructure position help them to capitalize on global opportunities (Panda123,2013,Business and Economics).
References:
http://www.termpaperwarehouse.com/essay-on/Kentucky-Fried-Chicken-Kfc/38247 viewed on 25th April 2014 Functions of Management by Gpaugh [online] Available at http://www.studymode.com/essays/Functions-Of-Management-620143.html viewd on 25th April 2014 Antiessays.com.(2014).Strategic Management of Kfc – Essays by Panda123.[online] Available at http://www.antiessays.com/free-essays/strategic managment-ofokfc-193565.html viewed on 26th April 2014 Marketing mix Available at www.entreprenuer.com/artcle/70824[online] viewed on 26th April 2014 Postioning.(2014) Available at www.strategicmanagmentinsight.com viewed on 28th April 2014 The Economic Times.(2005).KFC target women customer.[online]Available at http://articles.economictimes.indiatimes.com/2003-07-16/27531245_1_kfc-soul-food-chicken viewed on 27th April 2014 Tracy, B.(2014).Marketing.business-The 7 Ps of Marketing.[onlione] Entreprenuer.Available at http://www.entreprenuer.com/articles/70824