Kobe Bean Bryant
Published:
29 February 2016
Remember! This is just a sample.
You can get your custom paper by one of our expert writers.
Get custom essay
73 writers online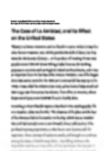 Kobe Bean Bryant nicknamed the "Black Mamba" is a professional basketball play who plays in the National Basketball Association (NBA). He was born on August 23, 1978. He was drafted right out of high school to play for the Charlotte Hornets, but soon was traded to the Los Angeles Lakers, never playing in Charlotte. Bryant is a five-time champion with the Lakers and a two-time Olympic gold medalist with the USA national team.
Bryant was born on August 23 in Philadelphia. Bryant was named after a Japanese steakhouse. He is son of a former NBA player Joe "Jellybean" Bryant. After the elder Bryant finished his NBA career he took his family overseas where he played in an Italian league. Growing up in Italy where soccer was the most popular sport Bryant grew up loving two sports. He would stay all day playing soccer on the pavement fields all day, then after all the kids went home he worked on perfecting his mid-range jumper. Kobe later returned to Philadelphia where he played in high school with Lower Merion High School. Eyeing the NBA he workout with the nearby NBA team the Philadelphia 76ers. Kobe decided to skip college and head straight to the NBA. He was drafted by the Charlotte Hornets and subsequently traded to the Los Angeles where his career ignited. (Biography.com/Kobe Bryant).
Kobe Bryant career did not take long to start in a good manner. In his second year in the NBA as a shooting guard, at the age of 19, he was voted to play in the NBA's all-star game, becoming the youngest player to appear in the game. Later with the help of Shaquille O'neal the Lakers won three consecutive championships in 2000, 2001, 2002. As he reached the prime of his career without Shaq he had some lackluster season as his team didn't even nearly compete at the level Kobe was. He was outstanding on January 22, 2006 he scored 81 points and achieving the second highest scoring game in NBA history, only second to Wilt Chamberlain's 100 point game. Although his race for a title was not yet over in 2008 he linked up with seven footer Pau Gasol reaching to the NBA finals. They did not win that year but the following year they did in 2009. In 2010 their season was just as great reaching to the NBA finals for a third straight time as Kobe was leading the way. They met their arch rivals again in the games most important stage. They beat the Boston Celtics in a thrilling seven game series.
Kobe was named Finals MVP for both of the seasons that they had won the NBA championship. He is now a five-time NBA champion and is still seeking more titles. In the 2013 season he became the youngest player to reach 30000 points at the age of 34. Kobe Bryant is one of the greatest basketball player to ever play the game and will one day be a Hall of Famer.
Kobe Bryant has a foundation, "The Kobe and Vanessa Bryant Family Foundation", that is dedicated to improving the lives of youth and families in need, both domestically and globally. By providing financial resources and developing unique programs, the foundation strives to strengthen communities through educational and cultural enrichment opportunities.
Kobe Bryant is admired by the NBA fans all over the world. They love the excitement he brings to game with his incredible clutch shots and amazing plays. Kobe is also admired for the help he brings to the less fortunate. By helping the financially or educationally. Overall Kobe Bean Bryant is someone you could look up to on and off the court.