Safety of stored information and easier retrieval
Published:
4 January 2016
Remember! This is just a sample.
You can get your custom paper by one of our expert writers.
Get custom essay
78 writers online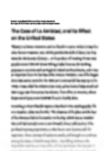 Task 1: strengthen the information systems to enhance effective communication within the business and in all departments.
Benefits of effective technological systems (Sanders & Bok 2013).
This facilitates effective communication with the departments in the business. The daily operations of the business need effective communication. Senior departmental managers need to communicate with supervisors and other subordinates. Communication channels such telephones and computer links facilitates transmission of information from one area to another. This saves time as managers and supervisors don't take time moving from one section to the other.
Safety of stored information and easier retrieval (Target, Grimshow & Powel 2009).
They facilitate better storage of information within the organization. It reduces paper work and bunch of files stored in the offices. Computers stores information which can be retrieved easily through use of logs and personal codes, when they are keyed information is displayed easily.
Task 2: improve the existing markets and expand through opening new branches throughout the world.
Benefits of proper marketing strategies (Kerin, Hartley & Rudelius 2009).
Marketing is a very essential aspect in every business. Strategies such as integrate online and offline advertising, message adaptation and contests and discounts. Proper marketing facilitates better customer relations and increase in sales. This being the key goal of any business organization, it facilitates growth and development.
Meeting customer needs (Bettencourt 2010).
Organizations are required to meet the needs of the customers for competitive advantages. Customers' satisfaction helps the business to maintain customers both in the long-run and short-run. Distribution of the products within the required time in the markets and proper pricing enhances customers' maintenance are reaching the potential customers.
Task 3: use of online marketing and product promotion
          There are many ways of reaching out customers and promoting products in the market. Use of website links and online transactions enables an organization to reach more customers all over the world. Forms of product promotions such as advertising through electronic commutations such as radios and TV, use of billboards and personal selling also helps in reaching out customers. This is very beneficial to an organization as it gets enjoys economies of scale through increased production and sales.
Value added by the role of my CPO.
          My role adds a significant role in my CPO. For clear understanding of this role is added and what it is about, the learner have to be well informed on matters concerning proper marketing strategies, how to apply them and the benefits associated with such strategies. This comprises of the ways that a business put into consideration with an aim of reaching more customers and increasing the sales. Proper marketing strategies are very beneficial to the business both for proper control of internal and external environments (Fisher 2008). Some of the benefits involved include; market expansion both local and international, competitive advantages as the business is able to acquire large market share and meet the needs of the customers. My role in regard to adding value to my CPO is based on my knowledge concerning the marketing mix and segmentation. This is an area that is must have full knowledge concerning how a market is well segmented, the tools of marketing mix such as products, price, promotion and distribution. This knowledge will help me in preparing a good report to be presented to the marketing manager for better installation and implementation of the required strategies. The strategies should be based on the individuals and target groups in relation to their needs, knowledge and cultural activities (Augustine 2009). For my CPO to have a value addition, I must have full knowledge concerning the strategies used by other industries/competitors, the marketing trends and the needs of the customer. This will facilitate and enhance a better delivery of findings and recommendations to the clients and have qualities and important information that helps the marketing teams. My role is to ensure there is a proper interrelationship between the three departments that is IT, transport and marketing. They help the organization to pursue their interests effectively. Resolving allowed these departments adds value to my CPO as it enables me to come up with better and effective strategies that are beneficial to an organization.
LG3
Nature of relationships incorporated in my CPO during the completion of my task.
Effective completion of tasks requires proper involvement of all the employees and the management. Employees are provided with the necessary skills across all the tasks carried out in the business. This enables an employee to perform any task across all departments. I always interacts with the marketing department when having a discussion with them on how to improve their operation or resolving an issue. I have acquired more knowledge through my team leader as I have always accompanied him when carrying out daily operations. This has enabled me to establish a strong marketing team and enhance good relationships. Proper communication that is done horizontally from the team leader to supervisors and the people on the ground. Receiving information concerning the progress of the market and the issues affecting them is another task I do carry in the organization.
Organizational chart
Ideas on how my CPO may effectively manage the organizational internal relationships.
The marketing department has a well established IT and transport systems. This becomes an advantage as communication is well facilitated and goods are transported to the respective markets.
Internal environment gaps; questions that will help me in developing an understanding of the internal environment.
Are all the departments well resourced with the required facilitates?
For effective implementation and carrying out of the activities, the overall departments have to be equipped well.
Are all departmental managers well skilled with the required knowledge?
This will help me in determining if there is need to have training of all the departmental attendants.
What are the strategies used by the competitor?
Are the strategies used in the organization more effective compared to those of the competitors?
Key facts concerning my industry sector
          Strategic market planning is a marketing body that is focused on the content of strategy and formulation process at the unit level of a business (Kumar 2010). It also compares the role of marketing in the organizational activity's sphere. This marketing body helps me in analyzing key facts concerning key facts of my organization.
Skills of employees
          Employees are the key players in the organizational marketing. They need to be well skilled as they are the ones who interact with customers on their daily basis.
Product packaging and branding
          Product appearance is very vital to the eyes of the customer. The organization facilitates better packaging by using amounts affordable by the customers of all aspects.
Issues faced by the business world
          Political instability; Most of the countries in the world are faced with political instability. Such events are associated with chaos hence creating unfavorable marketing conditions.
Market diversification: many businesses are located in different parts of the world. To have effective cooperation and proper management, the business world is facing problems of meeting the customer demands. My CPO provides strategies of ensuring that the organization has well manageable markets.
External stakeholders and their significance in the relationship.
          Governmental agencies of NZ, Agencies such as the tax authority and the licensing board influences the marketing operations of the business. Tax levies and restrictions imposed by the licensing board affects the rate at which the organization opens up new markets.
LG 3.3 topic: entrepreneurship and communication
Product promotion:
          It is an area that has contributed a lot towards reaching out customers in different corners of the world. It is an area that requires a lot of skills and confidentiality as it can either assist the business in reaching more customers or can lead to loss of confidence towards the business. It has been an area of my interest, as it is closely associated with my CPO's discipline in its industry sector.
Online transaction
          Carrying out online transactions assists the business to have safer operations. In AUT business school, I acquired knowledge and skills necessary for carrying out online transactions. It facilitates the growth of the business and should be adopted by the organization. I finds it easy to operate as it has closer connection with my CPO and its industry.
Learning goal 4: ethical and social responsibility facing society and business
          Ethical means to do with what is wrong and right, based on morality (Cafoliete 2010). Social responsibility is refers to an ethical theory that an individual or organization has an obligation to act for societal benefits (Amaeshi 2013). An ethical decision facilitates better services and creates a good image of an organization. My CPO and industry may consider offering training on how to ethical business characteristics and ensures customer needs are fully met (Bates 2013). Lack of enough skills may lead to a challenge in my CPO on making business decision that is ethical.
LG 5: work collaboratively
Developing business communication skills
          Communication is a key factor in every business organization. Communication enhances better relationships with others in the industry thus facilitating work collaborations. My strength in this aspect is that my CPO consists of the largest communication department which links with other external organizations. The major weakness is on the poor communication skills currently displayed by many of the departmental attendants. My goal is to ensure that communication has been enhanced and effective channels installed. The strategies to be put in place include; in-service training and workshops should be held regularly, installation of communication devices in all departments and skilled managers employed. In order to assess whether the goals have been achieved, it should be measured in terms of profit margin and the number of customers.
Aspect 2: working effectively in teams
          Team work is a key tool in enhancing effective operations and increased productivity. It brings unity thus enhancing collaboration with others. The strengths in this aspect are that majority of the group members are of the same age thus works well as a group. The weakness is on the team leadership as my CPO industry has a few experienced managers. My goal is to develop the strongest working team in the industry. The strategies set include ensuring that more skilled managers are employed, workshops held to regular basis to train members on how to have strong working teams. Though it is hard to assess the strength of a team, my industry will check on the interrelationship between the internal and external environments to assess whether the goal has been met.
References
Amaeshi, K., & Nnodim, P. (2013). Corporate Social Responsibility, Entrepreneurship, and Innovation. Hoboken: Taylor and Francis.
Bettencourt, L. (2010). Service innovation how to go from customer needs to breakthrough services. New York: McGraw-Hill.
Bok, D. C. (2013). Universities in the marketplace: the commercialization of higher education (45 ed.). Princeton, N.J.: Princeton University Press.
Kerin, R. A., Hartley, S. W., & Rudelius, W. (2009). Marketing (9/e [9th ed.). Boston: McGraw-Hill/Irwin.
Kumar, D. (2010). Enterprise Growth Strategy Vision, Planning and Execution.. Farnham: Ashgate Pub..
Oliver, S. (2010). Public relations strategy (3rd ed.). London: Kogan Page/CIPR.
Targett, D., Grimshaw, D. J., & Powell, P. (2009). IT in business a manager's casebook. Oxford: Butterworth-Heinemann
Amaeshi, K., & Nnodim, P. (2013). Corporate Social Responsibility, Entrepreneurship, and Innovation. Hoboken: Taylor and Francis.
Augustine, C. H. (2009). Improving school leadership the promise of cohesive leadership systems. Santa Monica, CA: RAND.
Bates, C. G. (2013). Global social issues an encyclopedia. Armonk, NY: M.E. Sharpe.
Bender, T. (2012). Discussion-based online teaching to enhance student learning: theory, practice, and assessment (2nd ed.). Sterling, Va.: Stylys.