Learning To Play Piano
Published:
28 February 2016
Remember! This is just a sample.
You can get your custom paper by one of our expert writers.
Get custom essay
83 writers online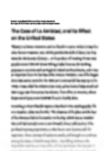 I have always been interested in art since I was young so it did not take me too much time to decide the general area for my project. Drawing, singing or dancing have been growing with me since I was little. However, to make this project more challenging and interesting, I will try to do something I have never done before. At the end, I come up with the idea why don't I try to learn how to play piano. Piano is a pretty popular instrument that lots of people play so I think that this is a good chance for me to start learning something new. I choose to go with this project because I have strong connection with art so somehow this will help me. Learning how to play piano is not as easy as it seems. To become successful, there are so many steps and challenges you may obstruct with. Briefly, my project will include four parts. First, I need to learn how to put my hand position correctly on the keyboard. Second, I will learn how to read the note precisely and where does it go. Third, I will start playing short music sheets to get used to moving my fingers around. And finally, the most challenging part, I will learn to play a long music sheet smoothly. Since I have been singing when I was young, I think that this will help me with reading the notes faster and understand how the melody goes throughout the music. At the end, I hope that I will not make any mistakes in playing wrong notes and everything will be fluent. However, nothing will be successful without effort. It will take a lot of time to finish this so I need to plan everything ahead and start early. As you can see, to be a good pianist, it takes people from years to years to actually play beautifully. Another obstacle is being patient. I am not a very kind of patient person so I think it will be hard for me to read all the notes slowly, also practice and practice again every day. The last problem I think that not so many people struggle with is that my fingers are really small so it is hard for me to surf on the keyboard and they are also easy to get tired. Despite all these disadvantages, I will still try my best to work on it. There are many learning goals I hope that I can achieve after finishing the project.
Hopefully, I will find my interest in piano and keep playing for a long time so I can play some famous classical sheets. To achieve this, I cannot just go straight to the piano and start playing it. First of all, I need to do some research about how to play the piano such as looking up some videos people playing it. Then, I have to spend a little time from every day to practice so by the time of presentation, I can play it beautifully. Besides the learning part, I will also look for some information about how piano has grown up throughout our lives and how it affects so many people in the world. I will also talk about some famous pianists. Since I cannot handle all of these by myself so I think that I really need someone's help. With no doubt, my best friend, Tony, I think he will be the perfect teacher for me because he has been playing piano for about ten years. Ten years is long enough for me to believe that he will be a very good "expert". He will help me a lot in finishing this project. In the first week, I will learn how to read the notes. Then, he will fix my hand position so that I can play the keyboard easier and more correct. He will also help me keeping the melody and beats in track and make sure that everything is going right. At the end, to make this project more special and interesting, we are going to play a song together on the piano. With all the problems we have gone through, I hope that the audience will be interested in my project. For the budget section, luckily, I have most of things are available for me. I can go the PA building because there are free pianos there for me to practice. I just need to set up my schedule to spend time going there. I may need to go to the library to borrow some books to look up some information about "how to play piano" and its history. To consider my project as "significant" I think that at least I need to achieve all the goals I have above and especially make the audience feel interested and excited after the presentation, make them actually want to learn how to play it, too.
Since art is a very common area that lots of people will do so I think it is necessary that I need to make it special and unique. Although this project may not be meaningful for my long term carrier because my major is not about art, but it gives me another hobby so that I can have fun with, add beauty and entertain to my life. Playing the piano is also an excellent way to strengthen eye-hand coordination and fine motor skills, and people who take piano lessons learn a lot about discipline, dedication and the rewards of hard work. To demonstrate to the review panel that I met my learning goals, I will record everything that I did from the beginning to the end so that they can see how I have improved and what did I really achieve. Since my project takes a lot of time to finish, I need to start it early. I will spend at least an hour most of everyday to practice. First, I need to spend hours to do the research about history of piano and how it continues throughout these years. Then, I also need to look up for the music sheets that I am going to play. As I plan, I will need to learn how to read short music sheet first, then Tony will help me with the hand position and start playing around with random notes. It might take one or two days for me to get used to it. After that, I will start with playing single notes with each hand. This may take up two or three days. Finally, I will learn how to play both hands together. I think this part is the most difficult and will take a lot of time so I will spend for the whole week to play two short easy music sheets for beginners. Then, after getting used to with everything, I will start learn how to play a longer and faster music sheet to show how much work I have put into this. I will meet up my "expert" maybe twice or three times a week so he can help me checkup things and if there is any problem, I can ask him to spend time together a lot to practice, understand each other so that we can both finish the song fluently. Since his and my study schedule at school is different so it is hard for us to find free time to study together. Therefore, I think that it will take even much longer time for us to finish studying the sheet, at least for two or three weeks. In conclusion, to make this project successful and significant, I have to spend lots of effort, courage, and time. Planning ahead is a very important thing to do so that the presentation will be finished on time. Hopefully, my project can make the audience find their interest and know more about piano. Also, for me, this project will be something meaningful and special for my life goals.