Legal Basis of Implementation of K to 12
Remember! This is just a sample.
You can get your custom paper by one of our expert writers.
Get custom essay
75 writers online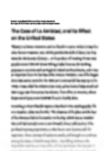 LEGAL BASIS OF IMPLEMENTATION OF K TO 12
1. THE WHY OF OUR BEING HERE TODAY ….
2. * THE ENABLED FILIPINO
* THE LEGAL BASIS 1987 Constitution – Article XIV, Section 1 – Article XIV, Section 2.1 R.A. 7160 (Local Gov't Code ) * THE K+12 BASIC EDUCATION REFORM
* THE SYNTHESIS
3. The enabled/empowered value-driven, visionary Filipino is the greatest treasure of this nation, a vision shared by every segment of our society, a vision achieved through quality education.
4. Article XIV, Section 1. – The State shall protect and promote the right of all citizens to quality education at all levels and shall take appropriate steps to make such education accessible to all. Article XIV, Section 2 (1). – The State shall establish, maintain and support a complete, adequate and integrated system of education relevant to the needs of the people and the society.
5. WHERE ARE WE AT NOW? Insufficient mastery of basic competencies due to congested curriculum High school graduates (< 18 years) lack basic competencies and maturity
6. Locally, only 6 of every 1,000 Grade 6 elementary students are prepared to enter high school. Only 2 of every 100 4 th year high school graduates are fit for college.
7. Internationally, Filipino youths rank 41st in Science and 42 and in Math among 45 countries.
8. Millions of Overseas Filipino Workers (OFW) especially the professionals and those who intend to study abroad are at a disadvantage. Our graduates are not automatically recognized as professionals abroad. The Washington Accord and the Bologna Accord prescribe 12 yrs of basic education for university admission.
9. The Philippines is the only remaining country in Asia with a 10-year pre-university program Source: Adapted from SEAMEO-INNOTECH Table 3 Comparative Data on the Pre-University Education in Asia Country Basic Education Cycle Total Brunei 12 Cambodia 12 Indonesia 12 Lao PDR 12 Malaysia 12 Myanmar 11 Philippines 10 Singapore 11 Thailand 12 Timor-Leste 12 Vietnam 12 Mongolia recently added grades to make basic education 12 years.
10. Why Add Two Years? Decongest and enhance the basic education curriculum Better quality education for all
11. "We need to add two years to our basic education. Those who can afford pay up to fourteen years of schooling before university. Thus, their children are getting into the best universities and the best jobs after graduation. I want at least 12 years for our public school children to give them an even chance at succeeding." – President Benigno S. Aquino III
12. K+12 is not new. The proposal to expand the basic education dates back to 1925.
13. WHAT IS K+12? K+12 mean Kindergarten and the 12 years of elementary and secondary education. Kindergarten refers to the 5-year old cohort that takes a standardized kinder curriculum.
14. K+12 Education Vision Graduates of Enhanced K+12 Basic Education Program will: Acquire mastery of basic competencies. Be more emotionally mature. Be socially aware, pro-active, involved in public and civic affairs. Be adequately prepared for the world of work or entrepreneurship or higher education. Be legally employable with potential for better earnings. Be globally competitive.
15. Studies in the Philippines have shown that an additional year of schooling increases individual earnings by 7.5%.
16. What Will the Society Gain from K+12? K+12 will facilitate an accelerated economic growth. K+12 will facilitate mutual recognition of Filipino graduates and professionals in other countries. A better educated society provides a sound foundation for long-term socio-economic development.
17. What Will the LGUs Benefit from K+12? EVERY CHILD A PRIDE OF THE LOCALITY Increase employment locally and globally Increase business enterprises More entrepreneurs and investors Improved family income Improved LGU income 18. Studies validate that improvements in the quality of education will increase GDP growth by 2% to 2.2%.
19. How Do We Add the Two Years? Proposed Model: K-6-4-2 Model Senior High School Grades 11 to 12 (16-17 years old) Junior High School Grades 7 to 10 (12-15 years old) Elementary School Grades 1 to 6 (6-11 years old) Kindergarten (5 years old)
20. What is Senior High School? 2 years to consolidate academic skills and competencies and allow in-depth specialization for students depending on the occupation/career track they wish to pursue Skills and competencies relevant to the job market
21. Implementation Plan (proposed)
22. Summary Change is two-fold: curriculum enhancement and transition management. K+12 is a less costly alternative to the present system of education. We have 5 years to address shortages before implementation.
23. * 1987 Constitution Art. XIV, Sec. 1 Art. XIV, Sec.2.1 * R.A. 7160 THE ENABLED FILIPINO: VISION & VALUE DRIVEN
* Highly competent; Highly skilled; Emotionally mature; Highly productive K+12 ENHANCED BASIC EDUCATION (K+ 6 + 4 +2) Local Government Units Other Government Agencies THE ENABLED FILIPINO
24. Therefore, this is the perfect time for the K+12 Enhanced Basic Education Reform. It cannot wait any longer.
25. WE COUNT ON YOU!!! Make K+12 your LEGACY!!!
26. Team 4A Dr. Carmelita T. Dulangon Dr. Caredad Labe Dr. Ma. Milagros Velez Dr. Rosalie Pasaol Mr. Bianito Dagatan
27. THANK YOU!!!