Literature Review on Assertiveness
Published:
17 October 2015
Remember! This is just a sample.
You can get your custom paper by one of our expert writers.
Get custom essay
81 writers online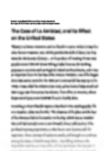 Literature  Review on Assertiveness
Introduction
            Assertiveness is the ability to express one's point of view, feelings, thoughts and needs while keeping the rights of others peoples in mind. An assertive individual learns which response to select, whether it can be acting non-assertively, aggressive or assertive on a case by case basis. Nevertheless, acting assertively is not usually the best selection in accomplishing the best possible results. An assertive individual has the capacity to stop and think what is in his or her best interest as well as the interest of others (Peneva, 2013).
            The study of assertiveness began in the middle of the 20thcentury whereby it was associated with clinical practice. The clinical psychologists accepted non-assertiveness as a reason for some of the mental illnesses and thus to treat them, they implemented several programs with the main aim of developing assertiveness. In the 70s, when the civil rights movement in America was growing, some psychologists concentrated on assertiveness as a way of protecting the rights of individuals. They claimed that the capability to protect individual human rights in a humane and democratic manner, without prejudice to the fundamentals of others was among the significant features of assertive conduct. Therefore, the political and social associations during the 80s and 90s of the 20th century promoted the interest in assertiveness as a way of strengthening the human potential and attaining maximum individual fulfillment (Peneva, 2013). Various periodicals were published targeting professionals and incorporating theoretical description of training programs and studies as well as theoretical positions. The first study on assertiveness was performed by an American psychologist Andrew Salter in 1949 with the main aim of discovering the causes of uncertainty and find a mean to treat or reduce its neurotic influence (Peneva, 2013). According to him, uncertainty occurred due to the prevalence of retention processes over stimulation process in the nervous system. He also claimed that most people in the contemporary society suffered from a disorder of the balance nerve. This formed the theory of assertion, which is based in the premise that every person have certain basic human rights such as the right to make errors.
            People who are assertive has characteristics such; emotionality of speech, expressiveness of speech, potential to oppose and counter others suggestions, accepting praises, and impulsive in own actions and refusal. On the other hand, individuals who are non-assertive lack the ability to maintain adequate boundaries between his or her rights and those of others. Non-assertiveness happen when one permits his or her boundaries to be restricted. A non-assertive person tends to internalize tensions and feelings and to experience such emotions as anxiety, fear, fatigue, nervousness and depression (Ames, 2008).
            The review on assertiveness brought about other associated concepts such as professional light, assertive communication, self-confidence and conflict management. Assertiveness has been claimed as the background for understanding these concepts and their independence in assertiveness.Lizarraga.M et al, examined the impacts of teaching self-regulation, assertiveness, and empathy to forty middle school students in a compulsory education setting (Lizarraga et al, 2003). The study involved a quasi-experimental design, which utilized pre and post-test measurement. According to them, assertiveness refer's to an individual capability to express and advocate interests, ideas and feelings easily without anxiety, but maintaining respect for other people.
            Assertiveness is also connectedto self-esteem and self confidence because peoples who feel self-assured and competence interact more naturally and sincerely in establishing relationships. Anna Deltsidou in "Undergraduate nursing students' level of assertiveness in Greece," examined the assertive behavior in students' interaction with each other as well as their studies in the first and second semester. According to Anna, the concept of assertiveness acquired meaning when defined in terms of chosen indicators such as autonomy, relationship and authenticity (Deltsidou, 2008). The study involved an assertiveness scale that measured assertiveness in relationships, which proved to be valid and reliable to a significant extent.It was concluded that nurses interact with colleagues, patients and other health care professionals whereby the interaction is improved when nurses have a good assertive communication skills.
            Having the same idea with Anna, Amir Abbassi and Raghu claimed that assertiveness acquire meaning through autonomy, courage, and authenticity (Abbassi& Raghu, 2006). Furthermore, they claimed that assertiveness is a significant notion in counseling, sociology and psychology for dealing with matters in individual characteristics required for functioning various roles in the society. They concluded by claiming that autonomy, courage, and authenticity are interconnected to each other, which are the primary indicators of assertiveness and latter give meaning to assertiveness.
            There is a comprehensive body of literature on assertiveness and assertiveness training. All the same, assertiveness is defined as the practice of traits that enables individuals to act in their best interest, express themselves and stand for themselves without denying the rights of others. ArvindSinghal and MotokoNagoya presented the definition of assertiveness in the similar manner through their study on "Assertive as Communication Competence," which claimed that there is significant variation between individuals' attitudes toward performing assertive behaviors (Singhal& Nagao, 1993). Nevertheless, it is clear that some people are more assertive than others. They also argued that assertive communication competence is situational and contextual whereby it vary from situation to situation depending on the gender, and concluded by claiming that there is a need for further investigation on assertiveness as a tool for measuring communication competence in intercultural settings.
            Daniel R. Ames explored the varying levels of assertiveness in negotiations and interpersonal conflicts in his article, "Assertive Expectancies". According to him, assertiveness is a healthy and desirable behavior for all individuals who interact in a group situation insofar as it militates against personal powerlessness and can lead to personal empowerment, and ultimately benefit the workplace as a whole (Ames, 2008). According to Ames, individuals make idiosyncratic prediction of the social and instrumental implications of a given acquiescent behavior, which is in line with theories of personality that claims that outcomes expectancies shape behavior (Ames, 2008). Thus, it is possible that assertiveness is predominantly the product of expectancies and values, meaning that individuals who expect high assertiveness to be harmful could simply be more concerned with preserving relationships. He concluded by arguing that assertiveness there are many definitions of assertiveness that differ in accordance to the particular perspective or the purpose of the definer as well as the context. However, the meaning of assertiveness must concerns confidence, and behavioral pattern, which are the fundamental components of assertiveness.
            In describing the behavior of consumer, ClaesFornel and Robertperformed an exploratory study of assertiveness, aggressiveness, and consumer complaining behavior. They defined assertiveness as a complex of behaviors that are produced by an individual in an interpersonal context, which shows an individual feelings, opinions, attitude, wishes, firmly and honestly while preserving the attitude, wishes, rights and opinions of others (Fornell& Robert, 1979). Moreover, they suggested that assertiveness does not concern an undue or excessive amount of fear and anxiety, but represents the standing up of an individual rights without violating the rights of others. This is in line with arguments of mental health scholars who argue that assertiveness is learned and depend on the situation to situation. Likewise, the impacts of assertive training involve increased positive response from others, increased self-esteem and decline in social situations for individuals having gone through a training program.
            As the above literature review reveals, it is clear that the definition and source of assertiveness depend on an individual perception and the situation to situation. The key indicators of assertiveness are courage, autonomy and authenticity.
References
Abbassi.A, & Singh N, Raghu (2006) Aseertiveness in Marital Relationship Among Asians Indians in the United States. The Family Jounal.14.392-398 Retrived from http://www.sagepub.comAmes, R, D (2008) Assertiveness Expectancies: How Hard People Push Depends on the Consequences They Predict. The Journal of Personality and Social Psychology.6. 1541-1557 Retrieved from http://www.columbia.eduDeltsidou, A (2008). Undergraduate nursing students' level of assertiveness in Greece: a Queaionnaire survey. Journal of Nurs Education in Practice 9. 322-330Retrived from http://www.researchgate.netFornell, C & Robert.(1979) An Exploratory Study of Assertiveness, Agressiveness, and Consumer Complaining Behavior.Th Journal for Association for Consumer.6: 105-110
Lizarraga. M, Ugarte. M, Cardelle-Elawar, Iriarte.M &Baquedano.M (2003).Enhancement of Self-regulation, assertiveness, and empathy.Jounral of Learning and Instruction 13. 423-439. Retrived from http// www.elsevier.com/Peneva, I &Mavrodiev (2013).A Historical Approach to Assertiveness.The Journal of Psychology Thought. 6(1) 3-26
Singhal.A, & Nagao, M (1993). Assertiveness as Communication Competence: A Comparison of the Communication Styles of American and Japanese Students. Asian Journal of Communication. 3. 1-17 Retrieved from http://utminers.utep.edu