Living Alone at an Old Age
Remember! This is just a sample.
You can get your custom paper by one of our expert writers.
Get custom essay
96 writers online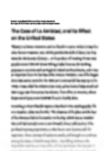 Living alone has many advantages as well as disadvantages especially when at the old age. Being 80 years old is no easy task staying alone, according to the Administration on Aging, approximately 11 million aged-adults lived alone in the US in the year 2010 and the numbers are soaring up at a swift pace (Stevenson). However, many argue that age is just but a number and the older one becomes the wiser he or she gets thus can be able to take good care of self. The next paragraph will focus on the various cons and pros of living alone at an old age.
Unlike living in a nursing home or with the children, living alone grants one the opportunity to make rules in the house reducing accountability responsibility to others. One is able to decorate the house as he or she pleases without receiving judgments or criticisms from others. In nursing homes one lacks the privacy he or she needs, there are people all over and the noise is too much, when alone one does not need to compromise with such situations. However, there are cons of living alone such as when one has poor eyesight it is risky to live alone. Additionally, when on medication or sick living alone is not an option. One may experience some social isolation when alone and at times forget important appointments as well as keeping up with the daily chores. Though it may sound promising to live alone when in good health at an old age, when ailments start kicking in, it is advisable to live in a Nursing home or with the children in order to live safely(Stratford).
References
Stevenson, Sarah. 'Dangers Of Seniors Living Alone'. Senior Living News and Trends | A Place for Mom. N. p., 2013. Web. 26 May. 2014.
Stratford, Kathryn. 'Many Of The Benefits Of Living Alone'.HubPages. N. p., 2013. Web. 26 May. 2014.