Identity, image, and reputation: an interdisciplinary framework and suggested terminology
Published:
28 December 2015
Remember! This is just a sample.
You can get your custom paper by one of our expert writers.
Get custom essay
96 writers online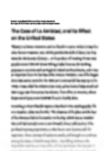 Building a vibrant and positive corporate reputation is the endeavor of every company, whether it is large-scale or small-scale. Indeed, the growth and development of the company is edged in its ability to enact feasible mechanisms of enhancing corporate reputation. Both internal and external stakeholders depend on corporate reputation to measure a company's performance. It is from the corporate reputation that a company can define its fundamental place in the market. Ryanair, an Irish airline company with an expansive European market displays the impact of corporate reputation on the performance of the company. Despite the company's growth over the years, reputational challenges have rocked its performance in a highly competitive business environment. Customer satisfaction, corporate image and corporate identity have suffered heavily because of its negative corporate reputation. In an effort to bolster its affairs with major stakeholders, Michael O' Leary, the company's CEO has sought to find ways of effectively managing the company's corporate reputation. This report identifies the reputational challenges affecting Ryanair, and recommending corporate communication frameworks of improving customer service, enhancing corporate image and identity, developing positive publicity and building a strong corporate reputation for the company.
Managing Corporate Reputation
        Today's business environment is extremely dynamic and competitive in nature; a company's corporate success depends on a myriad of factors. Among these factors is corporate reputation. A company's reputation fundamentally defines its performance and jurisdiction in the market place. A company's internal and external environments play instrumental roles in influencing its corporate reputation's index. In essence, corporate reputation influences the trends that the company's stakeholders develop towards it, for instance, it affects customer satisfaction, customer loyalty and employee retention (Chun 2005, p 91). In an age whereby businesses are facing numerous challenges, managing corporate reputation is an imperative business strategy, as it will certainly develop internal and external corporate portfolios to initiate success.
Managing corporate reputation entails the deliberate articulation of feasible leadership structures and developing coherent internal and external business environments, which consequently result into quality products and services. Moreover, a robust corporate reputation is significant in establishing a vibrant relationship between a company and its stakeholders. According to corporate reputation theory, managing a company's corporate reputation requires an integration of the fundamental elements that influence its corporate image and identity. Hence, according to Institute of Directors (1999), a positive corporate reputation is a valuable intangible asset that attracts a large customer base and invites investments from potential shareholders. Ryanair is an Irish airline company that since its inception has continued to influence the European airline industry. Despite its far-reaching influence in the market, Ryanair has corporate reputation issues that affect its corporate image and identity, which has strained its stakeholder relations. Addressing the corporate reputation issues require a revamp of its systems in order to build a strong corporate reputation.
2.0 Application
2.1 Reputational challenges
        Since its inception in 1984, Ryanair has experienced commendable growth from being a small airline to one of Europe's largest airline companies. A pertinent aspect that has enabled Ryanair to have an exponential growth in the industry in its low-cost business model; it currently cuts across 28 European countries. With over 8,500 staff members, Ryanair has certainly been establishing itself as a potential destination for airline customers. Despite its massive expansion, reputational challenges continue to rock the company. Customer satisfaction is on the decline, with customers expressing concerns about its awful services. Inconsiderate treatment of customers has damaged the reputation of the company and jeopardizes its ability to grow. For example, customers on business travels continuously express their concerns because of delays and unprofessional ways of handling customers.
Moreover, a communication lapse between Ryanair and its major stakeholders has threatened its corporate reputation. Poor communication services with its customers have resulted into degraded services and negative feedback, thus further damaging the company's corporate image. Decreased profits precipitated by the prevailing corporate trends in the company have also raised eyebrows among its key stakeholders. The decline in the company's profit index poses a negative corporate reputation since financial stability is an imperative aspect of defining a business' success. Thus, the reputational challenges call for necessary interventions in resurfacing the company.
2.2 Current situation
        Currently, Ryanair's major stakeholders are not satisfied with the diminishing corporate reputation of the company. Stakeholders are the parties that contribute in the running of a business; they are the people who influence or are influenced by the decisions of the company. The stakeholder theory gives a framework for identifying the interested parties in the business, as well as how the management should accord value to the parties that influence the running of the business (Phillips 2011 p 25). The stakeholders' concerns stem from the current stunted growth in the company, and its inability to make further breakthroughs in the market. The company's diminishing corporate image jeopardizes its potential for growth in a competitive market. In view of the stakeholder theory, Ryanair's management has failed in its mandate to satisfy customers, who are the major stakeholder.
Customer satisfaction is on a decreasing streak. Surveys are constantly showing that Ryanair is trailing behind its major competitors in the industry. This is attributed to the high dissatisfaction levels expressed by its customers, in respect to customer services. Provision of quality services is an impetus to market expansion and a large customer base. The absence of this factor has resulted into poor feedback from the customers.
Also, Michael O' Leary, the CEO of the company has noted that there is a need to break from the historical business models and introduce viable and strategic models that fit in today's corporate world. The concerns of the external stakeholders including shareholders and customers have contributed to the current position of the airline company's management. Based on a strategic management model, the management of the company is mandated to readjust its internal and external business environments to meet its objectives.
3.0 The challenge
3.1 Scope of the challenge
        The biggest challenge affecting Ryanair is a negative corporate reputation in the airline industry. The negative reputation has virtually affected its corporate image and identity. A company's corporate image refers to what its external stakeholders see (Chun 2005 p 95). For example, the relationship between a company and its customers defines the way they view it. Conversely, corporate identity, describes the strategic values of a company edged in its vision, mission and philosophy (Chun 2005, p 97). Moreover, due to the company's poor service delivery to customers, negative publicity has certainly taken shape; hence, affecting its relationship with stakeholders. A critical analysis of the current situations facing Ryanair shows that both the internal and external environments of the company face negative effects from the reputational issues.
From a strategic perspective, the reputational challenges that Ryanair faces threaten to put it on the losing end of competitive advantage. Competitive advantage is the ability to win out competition in a highly competitive market (Castellion 2010 p 935). Though it is a low-cost airline, the services it offers are not satisfactory to many of its customers; hence, it stands to lose potential customers to other high quality competitors like British Airways. In addition, from a strategic management perspective, the corporate reputational challenges affecting the company pose threats and increases operational weaknesses, which limit its potential growth in the market.
From an organizational perspective, the inability of a company to have viable platforms of controlling its resources exposes it to negative consequences including shrinking its corporate identity portfolio (Fombrun & Riel 2004 p 17). The objectives of a company cannot be realized without adequate organizational management. Ryanair's short-sightedness in its corporate image is attributed to its inability to manage its resources well. Additionally, the failure of instituting a coherent way of integrating the organizational functions of the company negatively affects its overall performance.
3.2 Impact of reputational issues on the organization and its stakeholders
        The reputational issues have far-reaching effects on the organization as well as its stakeholders. The enterprise risks losing its customers to other airline companies because of its inability to provide quality services. Customer satisfaction is an important aspect in meeting the clients' needs, the major stakeholders in a company (Jacobson & Mizik 2009 p 815-817). Based on the case, the company's casual way of handling customers has the potential of damaging its corporate image. Moreover, the company's vision and objectives cannot be met with precision because of its blurred potential to make a breakthrough in the market. Reduced profits reported by the company implies that its financial stability faces a major blow; hence, affecting its operations greatly.
Shareholders, who are important stakeholders in the company, will certainly be affected by the reduction of the shares value. The reputational challenges affecting Ryanair pose a huge risk on its market share. Additionally, customers fail to get value for their money, and shift their focus on alternative service providers. Suppliers of pertinent resources to the airline company also face the risk of losing the business relationship because of the heightened loss of corporate image and identity.
4.0 Proposal
        Based on the case study, Ryanair, through the leadership of its CEO, Michael O' Leary should enact feasible communication platforms of intervening in the corporate reputation challenges affecting the company. Enacting viable communication channels with its stakeholders will certainly play an instrumental role in restoring a positive corporate reputation. Thus, improving the company's customer service, identity and image, restoring positive publicity and developing a strong corporate reputation for the company will require a sound communication portfolio with its major stakeholders.
Improving the company's customer service, identity and image
        This will require deliberate efforts from the company's management. Empowering the staff is vital in improving customer services. Zeithaml, V. (2000) asserts that investing in adequate human resource frameworks that increase the capacity of the staff is considerable in improving customer service relations. Training employees on the most proficient ways of serving customers are instrumental in developing viable communication links. This will consequently improve the company's relationship with its customers, who are imperative external stakeholders. Of importance still, investing in a highly empowered human resource will enhance the company's corporate identity by meeting its goals and objectives. Meeting the clients' needs by availing quality services will greatly help in establishing a cohesive business relationship.
Brown et al. (2005), highlight that a customer's delight is in receiving value for his money. Through providing quality airline services, the company is certainly communicating its desire to meet the needs of its customers. Indeed, the customers' satisfaction is a way of expressing a continuous and successful business relationship. Consequently, this will undoubtedly improve the company's corporate image by meeting the customers' expectations.
Instituting a communication platform among the key stakeholders will be pertinent in addressing the reputational issues of the airline company. Based on the expansive nature of Ryanair, it is significant to have an online and accessible feedback platform whereby the company's management can communicate with its customers. This will enhance the company's sensitivity to its customers' needs and make them their primary concern. This is a practical way of enhancing customer service and building a strong corporate image and identity.
Gaining positive publicity
        Gaining a positive public image is an important step towards the change that Ryanair needs to implement. Having a positive public image is a major boost in the success of any business (Caruana and Chircop 2000, pp 45-50). Given the large European market that Ryanair operates in, embracing a positive public image will enhance its chances of success. Firstly, the management of the company needs to develop organizational management frameworks that control the resources of the company with utmost proficiency. The management of the company is vital in disseminating a company's functions to the relevant parties. The management, being a major stakeholder in the company has the obligation of ensuring that the internal environment of the company is articulating management issues vehemently. This calls for the employees to work collaboratively with the management in affecting the external stakeholders positively. The effective business communication grounding between the management and employees will produce results that will precipitate positive publicity for Ryanair.
As a result, the considerable organizational management will influence positive publicity by increasing customer confidence. An increase in customer confidence is sufficient in arousing the airline's public image; hence, gaining positive publicity. Customer confidence in the management portfolio of the company will be crucial in diversifying its market jurisdiction. On the same note, advertising agencies and suppliers who form a key component of the company's external stakeholders will play a crucial role in improving Ryanair's positive publicity. With credible communication platforms between the external stakeholders and the company, it is without a doubt that the company will develop a positive publicity.
Developing a strong corporate reputation
        Developing a strong corporate reputation is a fundamental tool in ensuring that Ryanair remains a reputable airline company in the industry. Indeed, this calls for compelling communication frameworks among the stakeholders of the company. True, the airline industry features as extremely diverse; hence, the need for investing in the best publicity platforms. Spreading information is an aspect of publicity that should be implemented with ease in order for the company to increase its chances of success. Information about structural changes in the airline industry should be communicated in the best way possible for the purpose of initiating viable communication structures between the internal and external stakeholders. Thus, initiating feasible publicity frameworks is a credible way of surfacing a strong corporate reputation by improving communication among the key stakeholders in Ryanair airlines.
Crisis control in the company is a pertinent aspect in securing a strong corporate reputation in the company. The management of the company should set up platforms for ensuring that crisis management is articulated vehemently. Chun and Davies (2006) point out that the crisis management is imperative in any ambitious company because risks are inevitable in the global market. In this respect, reputational risk management for Ryanair is an integral base in the staging of a strong corporate reputation. Through amicable communication platforms, the internal stakeholders of the company have the capacity to address the reputational issues affecting it.
It is necessary to bring together the functions of the management and employees with the expectations of the external stakeholders. This creates a cordial business relation that undoubtedly builds a strong corporate reputation. In essence, in order to enhance the company's reputational competence, there is a need for the diverse stakeholders to work together in tandem.
5.0 Conclusion
        In conclusion, it is evidently clear that managing corporate reputation is an important function of any ambitious company. In the case of Ryanair airlines, its expansive market calls for feasible communication strategies to secure a solid corporate reputation portfolio. The success of the company fundamentally depends on its ability to initiate practical corporate reputation strategies. Training employees, providing quality services and securing effective communication platforms will certainly enhance customer satisfaction and build the company's identity and image. Thus, this calls for prioritizing the needs of the customers and making them principal stakeholders. Additionally, the need for a credible publicity is significant in the growth expansion of the company's positive publicity. Lastly, building a strong corporate reputation requires the collaborative actions of all major stakeholders.
References
Brown, T.J., Dacin, P.A., Pratt, M.G. and Whetten, D.A. (2005). Identity, image, and reputation: an interdisciplinary framework and suggested terminology. Paper presented at the Academy of Marketing Science Conference, Tampa, FL.
Chun, R. (2005). Corporate reputation: Meaning and measurement. International Journal of Management Reviews Volume 7 Issue 2 pp. 91–109.
Caruana, A. and Chircop, S. (2000). Measuring corporate reputation: a case example. Corporate
Reputation Review, 3(1), 43–57.
Chun, R. and Davies, G. (2006). The influence of corporate character on customers and employees: exploring similarities and differences. Journal of Academy of Marketing Science (JAMS), 34(2)
Castellion, G. (2010). The Design of Business: Why Design Thinking Is the Next Competitive Advantage by Roger Martin and Design-Driven Innovation: Changing the Rules of Competition by Radically Innovating What Things Mean by Roberto Verganti. Journal of Product Innovation Management, 27(6), 931-935.Fombrun, C. J., & Riel, C. B. (2004). Fame & fortune how successful companies build winning reputations. Upper Saddle River, NJ: Pearson Education.Institute of Directors (IOD) (1999). Reputation Management: Strategies for Protecting Companies, their Brands and their Directors. London: Director Publications (Director's Guide Series).
Jacobson, R., & Mizik, N. (2009). The Financial Markets and Customer Satisfaction: Reexamining Possible Financial Market Mispricing of Customer Satisfaction. Marketing Science, 28(5), 810-819.Phillips, R. (2011). Stakeholder theory. Cheltenham, Elgar.Zeithaml, V. (2000). Service quality, profitability, and the economic worth of customers: what we know and what we need to learn. Journal of the Academy of Marketing Science, 28(1), 67–85.