March Madness
Remember! This is just a sample.
You can get your custom paper by one of our expert writers.
Get custom essay
74 writers online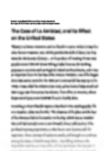 March is one of the craziest, fun-filled, exciting months of the year, especially for people who love basketball. St. Patrick's Day arrives, the warmth is just starting to come back; but that is not the best part, it's all the March Madness. The NCAA Basketball Tournament brings happiness, laughter and upsets to some people and teams. Every Division 1 Basketball team in the country plays to eventually make it to the Sweet Sixteen on the bracket, in hopes of being the new NCAA Basketball Champions. Some teams struggle, while others come out on top. "The Game That Saved March Madness" written by Sean Gregory, Time staff writer who has been writing about sports for about a decade, and Alexander Wolff, a writer for Sports Illustrated, talks about the legendary game between the Georgetown and Princeton Men's basketball teams in 1989 that saved the tradition of what is known as March Madness today.
This game meant so much to the NCAA and fans who love the game of basketball because it was somewhat of a rebirth for college basketball. They talk about how Princeton, who was a number 16 seed in their division, played extremely well and almost won the game against the number 1 seed, Georgetown. Even though they fell one point short in the last few seconds, they made history and brought this tournament back to life because never has a seed that low in a division ever put up that great of a game against a top team in the country. People who like basketball should read this article because Gregory and Wolff give the history of March Madness and they interest the reader with intricate details of this event.
History is an important part of everything in this world, whether it be culture, religion, or even sports. Gregory and Wolff incorporate a lot of history in this article, which makes it worth reading. They talk about the background of the tournament. In 1939, the National Association of Basketball Coaches founded March Madness, which is the NCAA Men's Basketball tournament. For the first twelve years, there were only 8 active teams. The tournament started to increase in popularity and gained over 60 teams within 3 decades (Gregory and Wolff). They also explain how in 1989, the game between Georgetown and Princeton "saved" March Madness, and slowly but surely became the most popular sporting event, right behind the Super Bowl. Before 1989, the March Madness tournament was starting to become predictable, and there was a real controversy concerning teams with low rankings being involved in the tournament because they would have "no chance" of winning a title.
Gregory and Wolff say "A St. Patrick's Day audience, then the largest ever for a college basketball game on a young network called ESPN, was going to see a 16th seed–the lowest in the tournament–beat a No. 1 for the first time". Before this game, no one in college basketball had witnessed this happen. Bob Scrabis, the senior captain of the Princeton Tigers basically changed the game forever. Princeton, being the lowest ranked team in tournament, gave Georgetown a run for their money. With one second left in the game and down one point, Scrabis took the shot of lifetime, but missed. Even though the Tigers did not beat the number one seeded Georgetown Hoyas, they proved that any team, ranked low or high, could provide the entertainment of a good game and possibly future upsets. When basketball fans read this, they learn the background of one the most notorious sporting events that caused an uproar in college basketball and opened the eyes to many. They would also realize how March Madness as a tournament has changed and has become as big as it is now.
Although the history of the game is very important, Gregory and Wolff are so knowledgable in the game of basketball that the way they describe this game makes readers feel like they could close their eyes and see the action happen. Details can make or break a story, and in this case they made it. One way they showed details were by describing the conversation of the sports analysts Dick Vitale and John Saunders, who were calling the game. Dick Vitale said "that if Princeton won, he would hitchhike from ESPN's offices in Bristol, Conn., to Providence and lead the Tigers' cheerleaders for the second-round game" (Gregory and Wolff). This was a While comparing the two teams, Gregory and Wolff say:
The teams also had contrasting styles. The Hoyas pushed the tempo and pressured the ball full-court. "We had a very nasty disposition about us," says Mourning. "We played hard-nosed, rough, very defensive-minded, in-your-face basketball." The Tigers slowed the pace in an attempt to neutralize the physical gap with other teams. "You had to do something to take some minutes off the clock," says Carril. "To shorten the game." Carril's squad ran an intricate offense designed to lull defenses to sleep. The moment they conked out, the Tigers deployed their signature play: a backdoor cut behind an unsuspecting opponent, often for an easy layup. They include details to show readers how the teams have played, which helps readers understand why and how this was such an important game to not just these two teams, but the whole college basketball community, as well. Another way they went into great detail is when they spoke about the outcome of the game. Some people are impatient and want to just get to the point. Others, actually want to know every little detail to help them really understand why and what is going on. Gregory and Wolff said:
But Georgetown didn't wilt. Behind Mourning, the Hoyas clawed back until they were up by a point with one second remaining. Princeton in-bounder Matt Lapin passed to teammate Kit Mueller, who quickly put up a shot before time ran out. Mourning got a piece–of what, we don't know. Something blew … but it wasn't a whistle to send Mueller to the foul line. It was the horn, to officially end the game. Georgetown 50, Princeton 49. This part of the article makes readers feel at the edge of their seats, waiting for the outcome of the game, just like they were watching it on TV. When authors like Wolff and Gregory include details like that, it brings life to the story that makes basketball fans want to keep reading more because it is just so intense and interesting to see how far college basketball has become.
In spite of the fact that this game is a big part of college basketball history and it includes many details not everyone would want to read this article. People that do not like basketball would not read this because they would just simply not understand the content. If someone has never watched or have been around basketball before, they would not understand what the authors were talking about and why it matter in the society of basketball. They would probably think this is just another "game" that was blown out of proportion and made to seem like a big deal. You cant understand something if you do no pay it any attention. Whether it be golf, tennis, volleyball or even football, if you have not watched that sport, you just would not comprehend what Sean and Alexander were talking about. Also, some people choose other hobbies rather than sports. They could be into other things like video games, art and music. Even though those people might not actually like basketball or any other sports at that, they could enjoy watching underdogs come up and beat predicted teams and they could also have a very high level of school spirit, so they would still support their school.
March Madness as a tournament has come a long way. Gregory and Wolff do a great job of explaining the history of the NCAA Men's Basketball Tournament, making it easy to understand how the game unfolded, and putting in details that bring the article to life. Basketball fans should definitely read "The Game That Saved March Madness" by Sean Gregory and Alexander Wolff because they will gain knowledge about one of the most popular sporting events of this time and understand why it was so important.
Works Cited
Gregory, Sean, and Alexander Wolff. "The Game That Saved March Madness." Time 183.11 (2014): 50. Academic Search Complete. Web. 17 Apr. 2014.