Marijuana Persuasive
Published:
27 February 2016
Remember! This is just a sample.
You can get your custom paper by one of our expert writers.
Get custom essay
93 writers online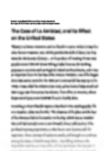 Do you believe the negative effects of marijuana are more damaging than alcohol and tobacco? Personally, I really don't think the effects are any worse, and seeing as though alcohol and tobacco are legal; so should marijuana. Presently, it is illegal to consume, grow, and/or sell any amount of marijuana in the United States of America for any reason; with the exception of fourteen states, which uses it strictly for medicinal purposes. Yes, I said medicinal purpose. Crazy how an herb that is capable of helping to cure you can be illegal while another that kills over 3 million a year can be legal (Charltan, 2004).
Marijuana is a hallucinogen that has been around for many years, initially used for recreational purposes. In recent years, doctors have come to realize that it can actually help with diseases such as cancer, Alzheimer's, multiple sclerosis (MS), glaucoma, and more ("Drug Free America Foundation, Inc."). The active ingredient in marijuana, delta-9-tetrahydrocannabinol, has been proven to prevent the increase of rate "Alzheimer plaques" in patients ("Marijuana may help stave off Alzheimer's"). It has been known to work more efficiently than any other commercial drug presently being marketed, but many people still have qualms about the idea. They believe marijuana is just a drug that has bad side effects, when in reality; tobacco and alcohol have worse effects.
In contrast to marijuana; alcohol and tobacco are legal. Although there is an age limit to consume both, 21 and 18 respectively, the use is not prohibited. When it comes down to lasting effects on the body and organ damage; tobacco does way more damage than marijuana. Tobacco causes emphysema, cavities, gum disease, and it is responsible for 9 out of 10 lung cancer deaths ("Cigarette Smoking, 2009"). People are warned of the negative effects of tobacco on a daily basis, but yet they smoke packs of cigarettes continuously, and you may wonder why this is so. I concluded that the reason why they smoke cigarettes is because they're legal, point blank. If marijuana was legal I guarantee no one would ever smoke a cigarette again, and as a result, there would be less cases of lung cancer, emphysema, and oral cancer altogether.
In the case of what drugs should and should not be legal, this argument is very astonishing. Just how tobacco; such a harmful herb, with barely any health benefits can be legal and available to everyone. The lasting effects are so harsh; I cannot understand how people do not see my point of view. While tobacco causes cancer, marijuana helps cure it. For one to say that legalizing marijuana is a ridiculous idea, it would be like saying using a band-aid on a cut is pointless. It should be legalized and officially recognized as a medicine. All states, not only fourteen, should sign off on this topic. Marijuana is treatment for many diseases and it is what a band-aid is to a cut. Many people need it and are afraid to obtain it because of possible repercussions. That should no longer be an issue in this country.
Works Cited.
Centers for Disease Control and Prevention (CDC). Annual smoking-attributable mortality, years of potential life lost, and economic costs — United States, 1995–1999. 2002;51(14);300–303. MMWR Morb Mort Wkly Rep. Accessed at www.cdc.gov/mmwr/preview/mmwrhtml/mm5114a2.htm on September 17, 2009. Charlton, Ann. (2004). Medicinal use of tobacco in history. Retrieved from http://www.ncbi.nlm.nih.gov/pmc/articles/PMC1079499/ Marijuana may help stave off Alzheimer's. (2006, October 10). Retrieved from http://www.msnbc.msn.com/id/15145917/#storyContinued