Marks & Spencer SWOT and PEST
Published:
26 February 2016
Remember! This is just a sample.
You can get your custom paper by one of our expert writers.
Get custom essay
80 writers online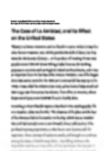 Marks and Spencer is the British multinational retail company that specializes on producing clothing and high-quality food. Being the dominant force on the UK market Marks and Spencer owns 600 stores in the home country and over 225 stores worldwide. Bird (1986) claims Marks and Spencer to be the most powerful image of Great Britain; the company currently being the most profitable UK organization also is one of the most innovative in the world. Two main features of the Marks and Spencer are centralization and simplicity. The firm tends to use centralized organizational structure and tries to keep everything simple avoiding the complexity in any aspect of systematic applications (Howells, 1981).
Strengths:
Marks and Spencer has been known for its highest standards of fair-trading, which include acquiring strong contacts with current suppliers, producing and proposing high-quality food, being friendly to the staff and having a flexible exchange policy for existing customers (Grayson, 2011). Having a stable and positive reputation is inevitable for the big worldwide brands. The company being initially only focused on producing garments lately diversified its market to the other sectors, such as food, electronics and furniture (Hamil, Crosbie, 1990). Diversification guaranteed bigger amount of customers for the company and expanded its growth. The company tends to locate its stores in the high streets which leads to obtaining large amount of customers every day and therefore larger profit. (Bird, Witherwick, 1986). Furthermore, Marks and Spencer does not rent the premises, it owns stores eliminating the possible rental costs. Marks and Spencer is an international retailer which owns more than thousand shops approximately in forty countries, covering market of such a big size is beneficial for the company's income (Salmon, Tordjman, 1989). According to Doyle (1982), Marks and Spencer is the Britain's strongest and most successful brand that makes company well known around the world and differentiates it from competitors making it unique.
Weaknesses:
Marks and Spencer due to diversification and operating in more than one market (garments, food, furniture) is not concentrated on any particular segment, unlike its main competitors such as Tesco and Sainsbury's which retail only food (Lewis, Thomas, 1990). The lack of the focus and concentration may lead to the reduced innovations and scarcity of the expertise in one particular market area. When Marks and Spencer tried to expand their market adding the clothing line for younger people, it experienced loss and failure, as it wasn't able to follow latest fashion trends to satisfy younger audience and kept a reputation of the retailing brand mainly for elder women (Fletcher, 2007). According to Alon (2000), Marks and Spencer experienced lack of inventory control which led to the underperforming other major British companies by 25% in 1998. The average price comparison made by Telegraph in 2008 has shown that the prices on the Marks and Spencer's food exceed those in Asda by 3.6%. The company is considered high-priced and looses large amount of customers from middle and lower class, who prefer daily shopping in other big retail chains like Asda, Sainsbury's and Tesco, where prices are much cheaper and more reasonable (Avery, 2011).
Political factors:
Each company which desires to maximize its profit should develop within the governmental policies. Marks and Spencer is not an exception, as the company believes that engagement with the government is beneficial for the organization's income. According to Marks and Spencer's official website, company tends to communicate with the political audiences either directly or through the trade memberships. After the "green" governmental policy in 2008, Marks and Spencer introduced the 5p charge for the plastic bags across its stores (Vaughan, 2011). Marks and Spencer is located in the UK, which has stable political background and tax policies (McGrattan, 2005). However, in 2005 the company experienced losses in the EU area and appealed to the court for the opportunity to deduct international losses from its UK tax bill (European Commission Legal Services, 2005). After European Court of Justice announced that Marks and Spencer and other UK companies have the right to counterpoise British tax bill, Marks and Spencer has won this case receiving 30 million tax relief (BBC, 2005).
Economic factors:
The majority of international companies are considering the USA a perfect area of franchising due to the big population and large size of the market. Marks and Spencer was among the first British retailers who considered expanding its business to the North America (Alexander, 1995). However, the September 11 attacks have caused economic crisis and change in the purchasing behavior of American citizens which led to the extreme losses experienced by Marks and Spencer throughout the following year imposing the company to close the non-core branch in North America (BBC, 2002). Due to the financial crisis taking place in 2007-2008 (Barrel, 2008) and later severe crisis in Eurozone, the sales of Marks and Spencer has significantly decreased, as the salaries of the middle-class didn't math the high-priced food and garments offered by the retailer (Rayner, 2008).
Social factors:
According to Marks and Spencer's official website, company is focused on applying ethical trading, producing nontoxic food and employing responsible use of an energy, as the company believes that adapting CSR is vital for the development of business. Company is especially focused on the animal welfare, being the first UK retailer to sell only free-range eggs in its stores (Jones, 2005) and along with several other British retailers promotes food without additives (Jones, 2007). However, several years ago Marks and Spencer was accused in using the child labour in Morocco which might have damaged the company's reputation (Frankental, 2001). According to Moore (1995) and Campbell (2010) Marks and Spencer over the past years has increased the amount of advertisement using different types of commercials. Nevertheless, the company was not been able to satisfy customers' needs, while producing their clothing line for young people which led to the losses of profit (Jobber, 1999).
Technological factors:
According to Butler (2013), Marks and Spencer is the only big British food retailer that does not have an online shopping service, while other companies like Sainsbury's and Morrison are making millions of pounds through the web. The company for the long time is using RFID (Radio Frequency Identification) technology that helped to achieve more efficient supply chain system. After the success with Marks and Spencer other British supermarkets implemented this technology in order to reduce costs and improve customer service (Jones, 2005). In 2012 Marks and Spencer announced the new marketing plan that included the wi-fi connection throughout its stores, planning that the customers would be able to see the full stock of products on their devises which would simplify searching for the preferable item (Raddick, 2012).
Conclusion:
Marks and Spencer is the powerful international retailer that can maximize its future profit taking into consideration further opportunities and threats of substitutes. Marks and Spencer should consider adding online shopping for its food products, as the other British food retailers like Tesco and Sainsbury's already have this feature that gives a big percentage of companies' income. Another way for developing company may be expanding to the Asian market which can guarantee huge profit due to the big size of population. One of the main threats caused by economic crisis both in USA and European Union is the loss of bargaining power of customers. People find it hard to afford the high prices offered by Marks and Spencer and therefore try to search for a cheaper alternative. Retailer in future should adapt to the social changes when producing their clothing line for younger people in order to satisfy this audience.