Mayella Violet Ewell
Published:
27 February 2016
Remember! This is just a sample.
You can get your custom paper by one of our expert writers.
Get custom essay
95 writers online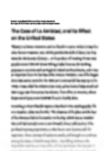 Mayella Violet Ewell is Tom Robinson's 19-and-a-half-year-old accuser and the eldest daughter of Bob Ewell; she has to take care of her siblings (such as Burris Ewell) due to Bob Ewell's alcoholism. Before the trial, Mayella is noted for growing red geraniums outside her otherwise dirty home. Due to her family's living situation, Mayella has no opportunity for human contact or love, and she eventually gets so desperate that she attempts to seduce a black man, Tom Robinson. Her father sees this through a window, and in punishment he beats her. Ewell then finds the sheriff, Heck Tate, and tells him that his daughter has been raped and beaten by Tom. At the trial, Atticus proves that it was her father who beat her by pointing out that the bruises are on the right side of her face only.
This is important because Tom's left hand is mangled and useless, while Bob Ewell is left handed. When Atticus Finch asks her if she has any friends, she becomes confused because she does not know what a friend is. During her testimony, she is confused by Atticus' polite speech and thinks that his use of "Miss Mayella" is meant to mock her. By testifying against Tom Robinson, Mayella is trying to destroy the evidence suggesting that she had attempted to seduce him, and to do what her father wants her to do so that he won't hurt her — to eliminate her own guilt and fear of breaking a 'rigid and time-honored code'. Mayella is played by Collin Wilcox in the movie.