Workplace Security Essentials: A Guide for Helping Organizations Create Safe Work Environments
Published:
14 December 2015
Remember! This is just a sample.
You can get your custom paper by one of our expert writers.
Get custom essay
97 writers online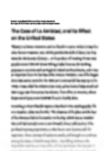 MEMO
Introduction
            This is to address the need of workplace surveillance for the benefit of both the employees and the employer. It is an important practice because it helps to prevent and reduces cases of theft, and also to monitor what the employees are engaging in during working hours. This is not any way targeting to infringe the employees' rights of privacy. Video filming for surveillance will be done at sensitive departments only as allowed by the law and such areas include entrance and exits.
Controversies
            The issue of workplace surveillance has raised controversies in the implementation because of the different interests of the employers and employees. Most of the employees are always not in agreement with the surveillance measures taken at their work place (Smith, 2010). These employees argue that surveillance has a negative effect on their productivity as it denies them freedom to work without fear of being watched. However, employers believe that surveillance is important as it keeps employees focused and more productive. It also reduces theft cases, which is beneficial to both the employer and the employees. Legislation
            Employees should enjoy some privacy rights at their workplace despite the presence surveillance by the employer (Stam, 2013). There are some places within the workplaces that employees cannot be monitored. Example of areas where surveillance cannot be done include the toilets and the changing rooms. If this legislation is not respected then the employees should sue the company for privacy rights infringement.
Future Direction
            It is both important to have workplace surveillance and also give the employees their privacy rights as stipulated by the law. The company should in future harmonize the employees privacy needs with the need for surveillance in order to create a good working environment that serves both their interests. It is important for the company to monitor business communication to ensure that employees are doing the right thing (Staples, 2011). At the same time employees should enjoy their privacy at social places such as the tea room for their own talks out of the work area. Harmonizing the employer and employee needs, will create a better working environment. This increases the employers trust and makes the employees more productive due to job satisfaction
References
Smith, E. (2010). Workplace Security Essentials: A Guide for Helping Organizations Create Safe Work Environments. New York: Butterworth-Heinemann.
Stam, K. (2013). The Visible Employee: Using Workplace Monitoring and Surveillance to Protect Information Assets-Without Compromising Employee Privacy or Trust . New York: Information Inc.
Staples, W. (2011). Everyday Surveillance: Vigilance and Visibility in Postmodern Life. Cambridge: Cambridge University Press.