Memo letter. Arbitration advocacy
Published:
30 September 2015
Remember! This is just a sample.
You can get your custom paper by one of our expert writers.
Get custom essay
90 writers online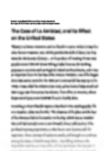 Memo
Introduction
            Dear All, it is with great pleasure that I would like to bring to your attention that the company has reached a decision on implementing a MANDATORY ARBITRATION AGREEMENT, which is to take effect as from the start of next month of November 2014. The decision was reached after lengthy discussions and consultations with major stakeholders within and outside the company, as well as your labour union representatives.
            There are various benefits or advantages of arbitration which will arise when it comes into effects. These advantages will include:
            Improved relationships and harmony among employees. Arbitration will help reduce animosity and grudges since it will provide a chance for parties involved in a dispute to work out their differences, hence create an environment that supports differences(Cooley, & Lubet, 2003).
            The other advantage of arbitration is that it will help reduce the expenses that you incur when you take the disputes to court or take other measures which require use of resources (Cooley, & Lubet, 2003).
            The amount of time that is required to resolve the disputes will be less hence leaving you with a lot of time to concentrate on your duties and increase your productivity (Cooley, & Lubet, 2003).
            Therefore, based on the above advantages and many more which you will realize, it is advisable that all should embrace this new method of settling disputes for the progress of the company as well as for your personal benefits and development.
Regards,
HR Manager
Reference
Cooley, J. W., & Lubet, S. (2003). Arbitration advocacy. Notre Dame, IN: National Institute for Trial Advocacy.