Misic as communication
Published:
29 February 2016
Remember! This is just a sample.
You can get your custom paper by one of our expert writers.
Get custom essay
70 writers online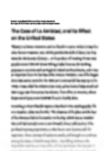 I believe music on its own is a letter and it meant to communicate to us as people. The kind of music you listen is who you are, its either you are rough, soft or just tempo. Music can also be used as a mood enhancer, when you are sad and listen to sad music you will remain sad but if you are sad and listen to positive music it will take you to some place else and make you happy. Its the one thing that can bring people together even if they don`t understand the language. When people are happy they dance and its really fun because everyone dances anyway they want because the song speaks to all but in different ways. It is about the message which was the music want to conveys on us. There are musics composed to help people to live on their own style. Infinitely, music is the every beat that pumps every heart to live. Music as what other say, the only free thing that would inspired you even your alone sitting along the corner of desperate world. Music is very important to all it can heal those broken.You can be able to see the light because of music.It will pamper everything it makes your life easier and comfortable. In generation music will change it depends on how life you have,in times of sadness and sorrow you can always be feel that the music is one of the bridge in other door to awake and open their mind. They said,that this is the window of the soul.You can share your feelings by expressing it through the different instruments that we have.
Music has an interesting effect on people. It sets moods, alters moods… I saw an amazing documentary called "The Musical Brain" and it's all about the connection between music and the brain. In it, there were many artists (Sting from the Police, Michael Bublé, Wyclef Jean, Feist) talking about how powerful music is. It's crazy! And, There are so many styles and genres out there. You can never know enough about music and how much of an impact it has on our actions and behaviour. I love it. An enormous chunk of my day is spent listening to music, acutally.