Mobile Phone Simulation
Remember! This is just a sample.
You can get your custom paper by one of our expert writers.
Get custom essay
91 writers online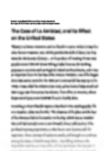 Introduction
As advancement in technology becomes more and more rapid in development that many technological electronic devices will becomes obsolete before it is sold. As the average lifecycle of the many new products in the world today becomes shorter and shorter. This is the leading cause of obsolete inventory for manufacturers and retailers, where their inventory will not sell without being mark down. The other problem is that popular products will sell as soon as they hit the shelves and cause a stock out. As retailers learned to become leaner and work with manufacturers so they can continuously replenish stock when needed. That way it will help reduce the risk for both manufacturers and retailers. The people managing the supply chain must make accurate market prediction and allocate their resource to match the prediction. For the two lines of mobile phones that will be release in to the market, we will do everything described above. We will design the phone, take advice from forecasting team and then order production. After the production are the sales and the adjustments made in reaction to the market condition. The yearend sales result will tell us how much we made and board room meeting will give us feedback on how well we did.
Design
In designing the phone for year one, we decided to use basic model with no options added, just to test how it will do and to save on the cost of adding an option. That came to the cost of $130 for model A and $150 for model B. In year two, we decided to add the option of extra battery because we believed that extra battery life will result in greater demand for the phones. That came to the cost of $150 for model A and $170 for model B. In year three, we decided to add two options, the anti-theft and the speaker options. The reason we pick anti-theft is that we believe that anti-theft would be important to anyone who relies on their phone to perform day to day task and would not like to lose their phone. The speaker option was added the extra function on the phone, which we believe could boost sales. That came to the cost of $180 for model A and $200 for model B. In year four, we decided to go with a sleek design, the super-slim. The reason we pick this option was because we did not think the other options were viable except for this one. Two of the other options the anti-theft and the speakers did not get a good response from the year before so we exclude those options. The mini-DVD option was excluded because we did not think anyone would want to watch a movie on a tiny screen. In this design only the super-slim option was added and that came to the cost of $155 for model A and $175 for model B.
Forecasting
After finishing the design for the two phones the next part to do was Forecasting. For year 1the average for model A is 60k, and for model B its 30K. We decided to put the demand estimate for model A 60k, and for model B 26k.For year 2 the average for model A is 54k, and the average for Model B 31k. We decided to put the demand for model A 50k, and for model B 30K. For year 3 the average for model A is 63k and 27 for model B. we decided to put the demand estimate at 60k for model A, and 25k for model B. for year four the average for model A was 61k, and 24k for model B. we put the demand for model at 58k, and 20k. In year 1 we made record profit 40,986k, and made 29,146k in year 2, thus in year 3 we made record low 28,873k, in year four the company finish with 40,008k.
In conclusion the information in the game helped a little. The game should give more insight information based on the customers. Besides the amount of forecast provided, little information was given in order to make a professional decision on sales.
Productions
For year one, as a team we choose to go conservative with the production approach. The things we choose to go with were Far Far Away supplier just because we really didn't want to spend 2 million dollars extra just for a month shorter. Also with the Far Far Away supplier we decided to start with the month January just because the phones came out in May, and the shipping deliver was 4 month out. Also we went with Pretty Close supplier just because they delivered on time and was a lot cheaper with the price than the other supplier. For year two we went conservative again and went with the same suppliers. With this year we ran out of supplies so we were forced to rework the shipment so we could get more phones and of course that cost 2 million dollars but in the end it was worth it. For year three we changed things up and went with the Far away Supplier and that had change things up. We basically had to change which month to start production and how much we need. We also stayed with the pretty close supplier because they were always on point. Once again with this year we had to change things around because we were over stocking the shelves, so we spent the 2 million to send fewer phones from both suppliers. For the last year we went back to the original suppliers and things went well for us. The only problem we had was that we ran out of phones half way through the year and when we notice it was too late to change the amount of shipment we needed.
Board of Director's Feedback
For the majority of the simulation, the responses from the board of directors were positive. In the first year, we received three votes from the board, but not without any constructive criticism. First time around, the board suggested that we think more about uncertainty of demand, the differences in the two products and when to over produce and when to under-produce. In the second year, we had once again received three votes from the board. This time, they suggested that we further consider the concepts of capacity allocation and production flexibility, internal dynamics and the use of overseas vs. domestic suppliers. As the third year came to an end, we again received three votes from the board. They then suggested that we consider the concepts of markdown costs as well as the correlation between the predictions from our analysts and their personalities, because their personalities may sometimes prevent them from making an accurate prediction. Finally, in the fourth year we received one less vote than the previous three years. As final pieces of advice, the board of directors stated that we need to better account for risk in making decisions, as well as to think about the differences in the two different models we were producing, and the concepts of stocking, holding and markdown costs.
Recommendations
Some recommendations to our competitors are to focus on what our company is producing, differentiate their products from ours, and new features on the devices to the changing market. Other companies must focus on our devices that we are producing. They must see what our company is producing and produce it better at a lower cost. They must also focus on our product so that they can differentiate their products from ours. If other companies can differentiate their product enough from ours and can make it a popular device then consumers will no longer want our style of phone and they'll be attracted to their devices. Finally our competitors must give their devices new innovative features and functions so that the public eye is focused on these new changes and everyone is willing to pay for these new functions in their phones. Other companies must also view who our company is marketing our devices to. Our competitors can decide if they want to market to the same target market as us or if they are willing to pick a different target market from ours. This is a big decision which can make or break their company. If our competitors decide to pick the same target market as us it will most likely result in higher marketing cost within each of our companies and both of our marketing budgets will have to go up. If our competitors decide to pick a different target market then they will have to make a decision on which market they wish to pick as their target market and our company will have to decide if we want to try to take this market from them or not.
Conclusion
In conclusion our simulation went very well; our company made good profit each year and our production line was consistent. Each year our product was obsolete so we would need to produce a new phone to keep up with changes in technology. This caused forecasting to be a major factor in our business we had to make sure we knew the right amount of each Model to be produced by our consumers. If we made any errors in forecasting we made sure to send the proper adjustments to our suppliers so that we were not left with too much surplus that would have to be marked down. It also seemed that the years that we had a shortage of a model ended up making us the most revenue. Overall the board of directors gave us positive reviews, each year we received multiple votes by the board and they had positive feedback to tell us. The simulation went very well and if we had more years we feel confident that we learned enough to maximize profits even more than we already have.