Moments of life
Published:
28 February 2016
Remember! This is just a sample.
You can get your custom paper by one of our expert writers.
Get custom essay
90 writers online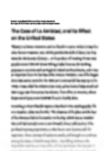 Basically, people have a different memorable socializing moment in their life. Every single minute of their life are valuable so that memorable situation might be happened anytime. Firstly, everybody likes to go to the party. There are different kinds of party which can make a nice moment such as graduation party or birthday party. To illustrate, when you are 18 years old you will have a big party from your people around you. They will create a surprising party for you. Particularly, the gifts will be amazing. Therefore, this event will be one of the best memorable socializing moments in your life. Secondly, some festivals might impress you which you will have a good experience. For instance, Christmas festival, it's apparently everyone favorable holiday which everyone can do several things on that day namely enjoying a delicious meal or opening a secret gift which is a main tradition of Christmas Day.
Hence, many people are going to memorize things they do on this day because it's a spectacular day for everyone. Eventually, everyone has many friends such as high school friends, neighbors or even upcountry friends. Unfortunately, they are not with you all the time. They live separately from you. Reunion always makes memorable time for them. For example, you have not seen your friends long time ago, and one day they all come to meet you as a reunion party. Certainly, you are definitely going to remember this event forever. Thus, this is not difficult to see that reunion is a wonderful memorable socializing moment. Conclusively, memorable moment is able to happen in every situation. It is depend on you whether you satisfy it or not.