My Autobiography
Remember! This is just a sample.
You can get your custom paper by one of our expert writers.
Get custom essay
86 writers online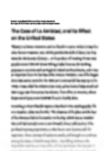 MY AUTOBIOGRAPHY
I am Gene Geralde Gonzales, I was born on May 2, 1971 at Baguio City, Philippines. We are seven siblings in the family. I am the seventh child. My mother's name is Fe Geralde Gonzales, she is from Cebu City and my father's name is Mario Dy Gonzales, he is from Legaspi, Albay. I took my elementary education as well as my secondary education at Saint Louis School of Campo Filipino located at Naguilian Road Baguio City. I have a happy childhood living with my parents and with my siblings. During weekends, we usually spend our day in the park. And we help each other in our daily activities. My family is a happy and a loving family.
During my high school days, I usually spend my free time in the library together with my friends. Our school is exclusively for girls and because of that I find it hard to communicate with the opposite sex. We usually spend our summer vacation in the hometown of my mother, which is located at Minglanilla Cebu City. My hobbies are reading books, biking, watching movies and also cross stitching. I also spend my free time hanging out with my friends. My dream was to become a nurse. I was able to pass the entrance examination given at Saint Louis University and I had my first year as a nursing student. I wasn't able to pass one of the major subjects. I have to transfer to another school. I had to take a summer class for my back subject at Pines City Educational Center and from that time I continued my studies and graduated in the year 1992 with a Bachelor of Science in Nursing. After graduation, I have my self review and took the exam for Civil Service Professional Level, wherein I was able to pass the exam. By the year 1993, together with my college friends we went to Manila to have our review and took our board exam for nursing. While waiting for the result of the board exam, I worked as a volunteer nurse at Antamok Mines.
My interpersonal skills and nursing skills were developed during my stay at Antamok Mines Hospital. After I passed the Board Exam for Nurses, by the year 1994, I worked as a private duty nurse employed by Miss Cheen Tan, wherein I took care of her father, who is 82 years of age and with Parkinson's disease. I assisted him with his daily activities, give him bath and feed him, and also I make sure to take all his medications in time. My salary as a private duty nurse is not enough to support my family financially so I decided to apply as a caretaker in Taiwan. By March 1996, I went to work in Taiwan. It was my first time to live away from my family. I had a hard time in adjusting to a new environment, with different culture and dialect as well. After six months, I can communicate with the family members of my employer in Mandarin, their native language and also I can do well with my daily activities especially cooking their Chinese dishes. I worked as a domestic helper and as a caretaker. My employer has seven family members. I took care of my employer's mother who is a stroke patient, 87 years of age and a hemiplegic.
I assist her to sit in the wheel chair and also give her daily bath. I worked there for three years. My employer wanted me to extend my contract, but unfortunately that time only three years is the maximum unless I changed my passport and use another name. I enjoyed working in Taiwan because my employer treated me not as a domestic helper but as one of their family members. I went back home to Philippines. By January 2001, I applied in Dubai as a private duty nurse, employed by Sheikh Marwan Maktoum Bin Al Maktoum. I worked in a royal family where in I took care of their first child. We are three people looking after her, two registered nurses and one registered midwife. I worked there until December 2004. By February 2005, I was hired to work as trainer at Philippine Caretaker Training Center. It is a training center for females who want to work in Hong Kong, Malaysia and Singapore as a domestic helper.
I worked there until June 2006. By July 2006, I took a month course of reflexology at AKSEM Homes Foundation and by August 2006 I worked there as a reflexology therapist until December 2006. On January 1, 2007 I was employed as a trainer at Cebu Asia Training Specialist Inc. located at Dian, Makati City. It was a training center for females who wants to work as a domestic helper for Hong Kong. By September 16, 2007 until October 25, 2011, I worked as a staff nurse in Dar Elhekma Clinic located in Salihia Street, Riyadh Saudi Arabia. After working in Saudi Arabia for 4 years I decided to go home since both of my parents passed away in the same year. I spend my whole life working for my family especially for my parents, because they are sick and they need to take medication for their maintenance. After I came home from Saudi Arabia, with my savings my family house was renovated.
I have to work to support myself and my two sisters; by August 13, 2012, I was re-hired as a trainer in Philippine Caretaker Training and Assessment Center Inc. I worked there until June 29, 2013. I resigned because of the poor management; the manager tends to bring down the staff instead of encouraging them to grow professionally. My plan is to save for my future since I have no family and I am single.