My Dream House
Published:
29 February 2016
Remember! This is just a sample.
You can get your custom paper by one of our expert writers.
Get custom essay
74 writers online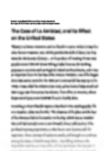 Living life large as people may say it, is my kind of lifestyle, my dream is to make it big and enjoy the finest things in life. Indeed, this can only come with dedication, hard work and a master plan. My dream house can be described in two words, classy and comfortable. Ever since I was twelve years old, I have known what kind of house I wanted to live in. It would be simply unimaginable, beautiful and great in splendor like a dreamland. There is no harm in dreaming, especially if the dream provides the driving force to turn fantasy into fact. One of the most important details about a house is the location. I would like my ideal house to be situated either on one of the residential estates, right outside the bustle of the city center, or preferably on one of the coast roads so that the cool breezes from the ever beautiful sea could waft through my windows. The structure of a house is a very important part of construction of the house. The house is going to have two stories. The exterior of my home would have great large beams trimmed in gold. The design would be a mixture of the old and modern architecture and would rise above the ground by large beacons. The high rise would ensure that the trees do not block my ocean view. The color used for the exterior of the house would be sky blue, that would match and blend with the nearby ocean waters and which also happens to be my favorite color. The roofing would be fitted in a way that it is able to monitor the beach and ocean activities. The gardens, with which it would be surrounded, would be very beautiful, full of colorful tropical flowers; orchids and canna lilies and with many glowing flowering shrubs such as bougainvillea and frangipani. There would be tall leafy trees for shade and underneath them, my private swimming bath would be built, where my family and i could relax and swim in the heat of the day. There would be pleasant paths winding through the green grass and comfortable seats where my family and I could rest, when the day's toil was over. In the inside, the plain white color would brace the walls with paintings from exhibitions. The main sitting-room would lead off from the patio divided from it by sliding glass doors. Here, there would be comfortable 'easy chairs' in bright gay colors, many occasional tables and a cocktail cabinet, so that I could conveniently serve drinks to my friends.
From the sitting-room, the dining room would lead. This too would be suitably furnished in bright, cool colors. Both these rooms would have large electric fans from the ceilings and many standing fans besides. They would not be air-conditioned because this, all through the day creates too artificial a contrast with the temperature outside and would not, therefore, be healthy. The kitchen would lead off from the dining room and be connected to it by a long passage so that neither the noise nor the smells from the part of the house would reach our living quarters. The kitchen would be very modern and up-to-date with every mechanical device that money could buy. Washing machines, cookers, refrigerators, mixers, garbage disposal units; none of them would be stranger to my kitchen. All would be work-saving and cool so that I and my children's work in the kitchen would be a pleasure. On the second floor, I would have three air-conditioned bedrooms, each one with an attached bathroom and a shower. These bedrooms, two for my family and one for visitors would be carpeted and furnished with comfortable beds. One of the rooms would be equipped as a nursery with gaily decorated furniture and walls bright with flowers, so that the hearts of my children would be glad. The walls in the rest of the house would be in plain pastel colors. At the back of the house, I would have a double garage with water pipes leading to it so that my cars would always be kept clean. Beyond this, in a scheduled spot in the garden not attached to the house at all, would be a separate building of one storey. This would be my study, sparsely furnished with just a desk and a chair and my book-shelves. Here, I would not only work, but also rest and be at peace to contemplate my ideal house and the great happiness which it had brought me.