My favorite place
Remember! This is just a sample.
You can get your custom paper by one of our expert writers.
Get custom essay
102 writers online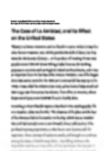 My favorite place is the Eiffel Tower. I have been there twice, and now I want to do it once again. I think it is the best place in France. Everyone knows where this beautiful construction is. All people should go there to have an amazing view and unforgettable memories. In addition, you can walk around romantic city of love, like my parents, who spend their wonderful honeymoon in the capital of France. The Eiffel Tower is a great historical construction and a very romantic place. We know that Paris is the capital of France. On the one hand, it is economic city where the government of the country is, and the most important business center; on the other hand, Paris is the city with interesting history. We can see it now in the old extant antiquities, like Notre Dame, the Eiffel Tower and others belong to this wonderful city .The Eiffel Tower is the most known construction in the world; every child can answer you where it is if you ask him about it. Tower is not only the most beautiful and known antique, it's the highest build in France it is 324 meters high. Absolutely, the Eiffel Tower is the ageless symbol of the independent country of France. Paris always can give you amazing memories for all your life. I can tell you with no doubt that it is true, because I know about all of it from my parents.
They spend their honeymoon in the city with glorious history and beautiful buildings. City atmosphere cannot leave you without romantic mood for all the time you spend in France. My parents booked the table in the Eiffel Tower restaurant, and it was wonderful evening for them. Amazing view struck them, memories from this day help them now, all the time when they have problems in our family they remind their lovely honeymoon. In conclusion, you can see the evidence that the Eiffel Tower is the national symbol of the country.
We see it on the all imagines which tell us about beautiful France. I think for everyone it is necessary to visit this amazing place twice, first time when you are young and second time when you are aged. It's two different views of the Eiffel Tour and both of them are unforgettable.