My favourite film: Avatar
Remember! This is just a sample.
You can get your custom paper by one of our expert writers.
Get custom essay
70 writers online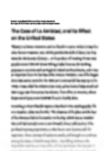 My favourite movie is Avatar which premiered in 2009. I went to see the film to the cinema as I heard earlier that it is very spectacular and it must be watched in the pictures. What's more it is a 3D movie and we needed 3D glasses to experience all the special effects it contained.
Avatar is a science fiction film written and directed by James Cameron. The film is set in 2154, when humans are mining a precious mineral called unobtanium on Pandora which is a moon. The expansion of the mining colony threatens the existence of a local tribe of Na'vi—a humanoid species indigenous to Pandora. The film's title refers to the hybrid bodies used by a team of human researchers to interact with the natives of Pandora.
The film broke several box office records during its release and became the highest-grossing film of all time in the U.S. and Canada and also worldwide. Avatar was nominated for nine Academy Awards.
The main character of the film is Jake Sully, a former Marine. When his brother is killed in a robbery, he decides to take his place in a mission on the distant world of Pandora. There he learns of greedy figurehead Parker Selfridge's intentions in which he wants to drive off the native "Na'vis" in order to mine for the precious material which can be found in their rich woodland. While Jake begins to bond with the native tribe and quickly falls in love with the beautiful alien Neytiri. Selfridge moves forward with his extermination tactics and he forces the soldier to take a stand – and fight back in an epic battle for the fate of Pandora.