My Personal Experience As The Victim Of An Injustice
Published:
29 February 2016
Remember! This is just a sample.
You can get your custom paper by one of our expert writers.
Get custom essay
76 writers online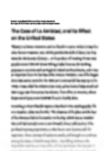 In my life I have been very fortunate that I have not been exposed to confrontational injustice. Nobody directly came to me and told me that I have for instance, not been chosen for a position because of my skin color, my age or any other characteristic of mine that makes me who I am. However, I do know that after 911 individuals, which look like people from the Middle East and or Middle Eastern names are being looked at very differently than before. Before 911 I was commonly referred to as the "prince of Persia" in my high school. After 911 I was even by good friends jokingly called a terrorist.
Growing I have lived next to an airport and used to take my dog to walk around the Hamburg airport in Germany. We went for a walk at all times and I especially enjoyed going there after dusk because of all the airport lights. Lufthansa airlines has a major mechanical facility hanger on the airport. After time I developed a great passion for airplanes. I would read anything and everything about airplanes. I would make my father take me to any air show that would be within reasonable driving distance from us. I have had spent countless hours studying the mechanics of airplanes just so I could start a career as a Lufthansa mechanic. Once I graduated High School in Germany I applied for an internship with Lufthansa. After a while I received an invitation, for a networking event for all internship applicants. Before I arrived I could have not been more ecstatic about finally meeting individuals who were just as excited about airplanes as me. May they have been master mechanics or fellow applicants. After settling in I kept on having the feeling that people were staring at me. I didn't know why but after a while I felt very uncomfortable being there and couldn't figure out why until I overheard applicants making terrorist jokes about me. Once I brought it up to one Lufthansa employees, he told me that they shouldn't have said exact those words but that they had made a great point. He went on to explain to me that I would never stand a chance of becoming an air plane mechanic because I am Persian. 911 just happened but I would have never thought on my own that I would be connected in any way or form to 911.
From that moment on I always became very aware of the way I look and what my heritage is. I strongly believe that injustice has been done to me on that day because I did change very much the path I have taken in my life and I stopped pursuing my dream. I don't think that the offender has had experienced anything negative or will experience anything negative unless someone just suits him. Even though the recruiter may has not been racist and may just sincerely wanted to help me, he made me learn that I could be excluded from things because of things I do not have any type of control over like the color of my skin. I do have to say though that I have grown personally from that experience and do not let anybody stop me from doing anything just because somebody has a wrong opinion about life, like how people from Middle Eastern decent should not be employed by airlines working on their airplanes. I am fortunate enough that I have come to understand this now but while I was younger and just heard that person say that and somehow confirming what he said in blogs it affected me very much negatively. My personal experience as the offender of justice
I think that the biggest injustice I have done in my life has been, to adopt a puppy. I adopted Dino when me and my wife first got married in Atlanta and I thought that we would live the rest of our life there. I also thought that I would be able to start my career in Atlanta within the finance industry. Unfortunately nothing worked out as I planned. While my wife and I continued to grow our love for Dino, I continued to search for a job. I finally decided that Atlanta's job market had nothing to offer and that we had to move to Chicago. Our new landlord would not accept pets and therefore we had to give our baby (Dino) for adoption. My wife and I had many arguments over that decision. Finally, we did move to Chicago and gave Dino up for adoption. My wife has been very much upset about giving up Dino and to this day misses him. Therefore, I believe that I have done my wife a huge injustice by making her give up on Dino. Looking back we didn't have to move and we didn't have to move in to that apartment. We could have had looked longer and maybe even find a place that would have let us keep Dino but my rush decision prohibited that, which I didn't comprehend back then.
I must say that I have learned from both instances and therefore become a more mature and patient person. I have learned that although I should still base my decisions on logic rather than emotion I should not totally leave out emotions either. It is rather ironic thinking back, that emotions rather than logic has been the reason why I stopped pursuing becoming a mechanic at Lufthansa.