MyAlert
Remember! This is just a sample.
You can get your custom paper by one of our expert writers.
Get custom essay
86 writers online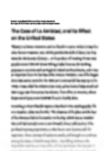 Come 1999, the international mobile data services market was ever so expanding and changing rapidly. Jorge Mata was able to hop on the bandwagon early enough to profit from this business venture as this industry was just at the beginning of a new era that would revolutionize how consumers and businesses communicated with each other. More simply stated, MyAlert was a great business idea, developing a more personalized mobile industry. Mata could not actually believe that such a business model had never been thought of in the past, but did not have to think twice before investing in the MyAlert project, becoming the first company to appear and succeed in the mobile services market in Spain. Flash forwarding to a year after its creation, figures are only representative of the huge success MyAlert was facing in terms of the service and content the company offered its customers. Figures were in the black, and more than 200.000 users were registered to the 'Alert portal' without even any substantial advertising expense. Another indicator of a good business idea is whether the creator of the company is able to find any potential investors ready to sponsor his project. In this case, Mata is the first to find enough capital (half a million euros) to launch his project. His ex-CEO at BroadVision also wanted to invest in the project, showing us just how serious and well thought of this business plan actually was.
Although the initial funds were clearly insufficient to bring MyAlert at the top of the ladder both domestically and internationally, Mata's strategy is clear-cut in the sense that the first priority was developing a project with "a top-tier management and technical team and a sound technological platform to make alerts work at the targeted scale" (p. 2). The company could effectively y use its technological platform to provide a personalized service, that at the time, was crucially needed by customers and companies who wished to stay at the top of the information chain. This was the booming time in terms of new technologies and how they could be adapted to the internet and the mobile phone. MyAlert's business idea was once again great because it could actually provide this ever so needed information to its end users. By valuing the customer and focusing on what the market needed and will need in the future, MyAlert is a perfect example of how they were able to carry out the latter and grasp a changing environment before it was too late.
The main competitive advantages that MyAlert benefit from are seen through their timing and their strong technological platform. In effect, the company benefits from a first mover advantage into the mobile data service industry. With this advantage under their belt, it is essential in for MyAlert to develop an on-going demand for their service. The customer base is large and potentially profitable and the company understood this. As I stated previously, instead of focusing itself on the product/service they deliver to the customer, MyAlert's strategy is to focus on what the customer really wants from the company. The emotional factors that the customers face are very important because they act as an experience on each individual when they decide to sign up for daily alerts on football, or stock quotes for example.
My Alert knows that by focusing on the customer base, by offering them a service that is affordable and useful, positive recommendations will then follow placing them at an advantage vis-à-vis their competitors. While focusing on the demand aspects are vital, it is also crucial for the company to concentrate on the supply scale for the competitive advantage to be sustainable. Basic services such as alerts on business headlines are interesting but MyAlert's main wish is to expand their supply with a "… number of services thanks to agreements with other content and service providers" (p. 2). By growing a significant supply scale, a broader demand from not only individual end-users will arise, but also from sources like corporations and large advertising companies. With all the information above, a value chain of MyAlert's business model is shown through this diagram:
A perfect example of this model at work is when MyAlert enters the European major markets. While replicating the entry strategy that had already worked in Spain, the company broadens its supply scale by offering free advertising services to international companies and then pursuing on to develop tight relationships with these companies so that they can offer them business services. This is a clear example of how the company intentionally expands its supply scale to attain an even larger demand (customer) base.
After the dotcom bubble crisis, companies focused on new technologies such as MyAlert, take the hardest hit. Their competitive advantage based on a strong technology is now under threat and the company has to reevaluate its strategy. I believe the merge with Buongiorno is not only positive for both companies, but a must if MyAlert wishes to stay competitive in the long run. Mauro del Rio basically says it all in his statement as he declares that the "… two absolute imperatives for ambitious European high tech companies [are]: critical mass and positive P&L" (p.4). MyAlert could no longer expand through organic growth and so this merger is a fantastic idea in terms of bringing new qualified staff, technology assets and know-how. On the flip side, the position the two companies now hold as a whole, allows them to penetrate new markets and develop synergies.
The two companies complemented each other very well in terms of My Alert bringing a strong technological platform to the table and powerful ASP services versus Buongiorno being more present in terms of marketing and advertising services. The strengths of one, replaced the weaknesses of the other. A good example of how the two companies complemented themselves really well is by analyzing the services they sold through various business models. In terms of business services, Buongiorno would lead the way offering companies other marketing services such as brand building and customer loyalty. The product range allowed a higher diversification and greatly benefited the company. The above would not have been possible to realize if MyAlert wouldn't have merged with Buongiorno because of a poorer marketing penetration. When it came to consumer services however, MyAlert would lead the way by actively investing and developing new apps carefully adapted to their customer base thanks to their strong technology. Consumer services were the new hit at the beginning of the years 2000's and Buongiorno! MyAlert was able to establish itself as a clear industry leader.
At first, intensively focusing on consumer services was not a clear target for the newly merged companies. The SMS market was in full evolution but many competitors were focusing on the benefits of developing WAP. The portal worked similarly to the WWW navigation, except it was adapted to cell phones. The main point here is that MyAlert had the necessary technology to develop this project and become a global leader but the management team made a wise decision when they decided to focus more on what the consumer actually wanted. WAP-enabled phones had huge potential, increasing to 23% in 2000, but the alarming factor was that only 3% of those users were actually using the new mobile portal. In effect, the company realized that they were found in a value added service market and that their business would mainly depend on what share they could capture from mobile operators when end-users download a song or a logo via SMS, and which marketing budget their customers could channel through them. More simply stated, the company shifted its competitive advantage from a strong technological base to a market driven, consumer targeted base.
This business model change allowed the company to develop its own kind of virtual network, linking them to diverse mobile operators' message centers. As Nomura correctly states, the company could now benefit from its new position and operate its new value chain by having higher punctuality and lower messaging costs. This diversified network the company had built with all the operators, and the flexible strategy they had put into place to be able to adapt to a changing environment, gave them a "competitive advantage and barrier to entry for any competitors trying" (p.15) to penetrate the market.
The evolvement of the business model was a crucial point for the company as they correctly analyzed the market and customer appreciation instead of focusing on a strong service (WAP) that they could've developed. If they had chosen this route, maybe things would've not been as smooth and successful for them. In this case though, the company was showing positive results and was in a continued search for new businesses and markets to enter while diversifying both in terms of their products and services. This model can only be sustainable, because as Darwin says it best "if a being wants to survive in a shifting environment, it must evolve at least as fast as the medium itself." BuonGiorno!MyAlert is perfectly equipped to do so.