Nacho Duato
Remember! This is just a sample.
You can get your custom paper by one of our expert writers.
Get custom essay
88 writers online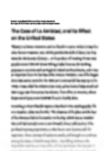 How have Nacho Duato's background and training influenced his choreography of Jardi Tancat?
Nacho Duato was born in Valencia Spain on the 8th January in 1957. His dream was always to study ballet but due to the lack of prestigious dance institutes in Spain, at the ripe age of only 16 he travelled to London and auditioned for the Ballet Rambert School. At the college he was told that he was too old to start dancing at the expected level, and had no technique and or sufficient training. However after seeing something special and unique in Duato's dancing, something that captivated the audience and the deep emotions he expressed, he was one of two boys selected to train at the school. In 1980 only three years later, he signed his first dance contract with the Cullberg Ballet in Stockland, where he commenced his dance career. A year later he transferred to Nederland's Dan's Theater in Holland, were he worked with many famous dancers and choreographers, as well as the artistic director Jiri Kiliάn. In 1983Duato created his first dance piece title Jardi Tancat, which resulted into his major success; inspired by both his Spanish culture and passion for music.
Jardi Tancat is based around a set of traditional Spanish folk songs composed by Maria del Mar Bonnet, about the traditional folk tale stories of Catalonia, which is a small region in northeastern Spain. The folk tales tell the stories of the love and struggles of couples and families who tried to survive by living of the land in times of war, drought and despair. The music expresses the mood and tone of these tales, which is deep and haunting. The music coupled with the symbolic movement are a perfect combination to portray the lives and emotions of the people of Catalonia. Within the dance, Duato portrays his Spanish identity through the music.
It is believed that his passion for music is what intensifies his work, and creates the energy and foundations that are reflected in the performances. He is noted as saying that when he listens to music, he can see the images in his mind and that his dance is an interpretation of the melody through movement. This is present in the large range of music he chooses, which varies from traditional to medieval and classical. However his choices are always represented as contemporary dance piece, as Duato has the aptitude to visualize the period of the piece and perceive it through the modern eyes of his audience.
Jiri Kiliάn was Duato's mentor through his early years as a professional dancer, but more significantly an advocate of his career as an emerging choreographer. Jiri Kiliάn was the founder of the Netherlands Dan Theatre and a huge influence on Nacho Duato. The styles and characteristics established in Kiliάn's work, such as explosive movements, technical mastery and dramatic expression are also seen in Duato's choreography Jardi Tancat. This is as a result of the two men spending years working together and sharing the similar belief that dance should be inspired by personal elements, bringing with it the challenges and inspirations that occur in life, as well as hardship and boundaries that we are faced with everyday.
Duato's Choreography often holds a clear emotional intent based around the destitutions, sorrow and pain which humans inevitably face. Duato's dance style is contemporary but with a classical base, which is very physical and musically dependent. The style is composed through a combination of ballet techniques and lines allowing the dancer to flow through quick turns and jumps, and slide freely through their partners arms. Duato's style of emerging past dance techniques with present day dancing is an influence to all-modern ballet today. Duato believes that his dancers should communicate intimately with the audience; his influences are heavily impacted from his dominant Spanish identity that he clearly expresses through his dance movement
Duato's dance themes often centralize around his Spanish heritage and the diverse shades of the culture. He was one of the first dancers to introduce Spain to ballet dancing. He is very proud of this fact and his subsequent work despite creating a revolution in dance years later. This eventuated as a result of having to work hard to fight against the embassy of Spain to introduce abstract ballet into their culture, as up to this point there was no tradition, schools or classical roots. The political issues present in Spain influenced the movement in 'Jardi Tancat'. Duato was inspired by the affect on the culture within Catalonia from the numerous invasions that battered the region.
Due to its location, Spain was invaded by many other countries, each of them bringing diversity and influences with them. Later in the fifteen-century, many of these nations were driven out when Spain was declared a Catholic nation. After the Spanish Civil War the economy took years to recover and saw Catalonia become the most industrialized part of the region, along with the Basque Country. Duato used his heritage to not only set the mood and setting of the dance, but also portray the story by means of movements and expressions.
Duato wanted more than anything to create a balance between his dance and the real life situations that take place. He took the initiative to visit the fields of Catalonia to observe the everyday lives of farmers and what they are forced to face, day in and day out. Through his experiences and intakes he was able to devise a clear intent and express the distresses faced by the farmers, as they work each day on the barren-like land, and pray to god for rain during the horrific drought. As a choreographer his belief pertains to his paramount concern regarding how his pieces depict the real life emotions and destitutions experienced and to send that clear message to the audience. Duato stated " A balance between what happens onstage and what happens outside the theatre ".
An example of this is present in 'Jardi Tancat' where Duato has adopted a varied range of motifs such as reaching up to pray, ploughing movements, and circular patterns, which all symbolise the actions seen on the fields of Catalonia. His use of stage spacing is also significant, the dancers continuously move horizontally on the stage from right to left, this represents the cycle of the day and the movement of the sun from dusk to dawn. We also see influences of his mentor Jiri Kiliάn, amongst the isolation of dancers from his time spent training at Nederland's Dan's Theater. In various sections we see a separation of genders, solo performances, and segregations of small groups and pairs, however in the end the dancers all come together as one community to represent the unity present in Catalonia.