Nature is such a beautiful place
Remember! This is just a sample.
You can get your custom paper by one of our expert writers.
Get custom essay
97 writers online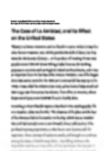 Life is getting hard and expensive as the years are passing by. The prices on food, and other utility prices are going up. People have school, work and a family to look out for and do not have the time to enjoy the simple things in life that earth has to offer which is nature.
In the essay of "An entrance to the Woods" Wendell Berry. He admits to living such a fast paste of life that is hard to come back down to the ground and enjoy what is in front of him. People pass by things so quickly and don't pay attention that they fail to appreciate them. Once a person slows down, they could see what surrounds them. Nature is a good way to find yourself because it is easy to escape from the influence society has. Nature has away of taking away the things that are stressing us and giving away a chance to become refreshed. " In the middle of the afternoon I left off being busy at work, and drove sixty or seventy miles an hour, hardly aware of the country I was passing through, because on the freeway one does not have to be. The landscape has been subdued so that one may drive over it as seventy miles per hour without any concession whatsoever to one's whereabouts. One might as well be flying. Though one is Kentucky one is not experiencing Kentucky. One is experiencing the highway, which might be in nearly any hill country east of the Mississippi." (Berry, 88)
During berry's time in the woods, he writes "A man enters and leaves the world naked. And it is only naked–or nearly so that he can enter and leave the wilderness. If he walks, that is; and if he doesn't walk it can hardly be said that he has entered. He can bring only what he can carry– the little that it takes to replace for a few hours or a few days an animal's fur and teeth and claws and functioning instincts. And comparison to the usual traveler with his dependence on machines and highways and restaurant and motels–on the economy and the government, in short–the man who walks into the wilderness is naked indeed. He leaves behind his work, his household, his duties, his comforts–even, if he comes alone, his words.
He immerses himself in what he is not. It a kind of death." (Berry, 90) We came to this world naked, and that is how we should enter and leave the wilderness. If we walk using our feet and explore the wilderness that's how we can say that we entered the wilderness. The little that we bring to survive, it is gone in a few hours or days. An animal uses its fur, teeth and animal instincts to survive versus a traveler that needs machines, highways and restaurants and motels. To be in the wilderness one has to leave behind the work, the household, duties and comforts and even his words. One has get out of its comfort zone, and use your own abilities to survive the wilderness. It is like taking a risk of death.
Wendell Berry own experience where he is up and left civilization. The work setting to enter a nature environment devoted to being self efficient on nature. Berry loved and respected nature, he wanted to develop his appreciation further, as he wanted it to evolve and understand for it. He wanted to know how nature worked, and learn it's reason for being. Berry's goal was met through this act and it was gratifying experience to escape from moderation and become organic. Berry realizes the purpose of the trip, but the connection to nature cannot replace to connection to man.
In the essay of " Why I went to the woods" by Henry David Thoreau. Thoreau tried to produce his own crops, to live from the labor of his own hands, and to get rid of all the complicating things that distracted him from life's true meaning by living in the woods. "Thoreau wanted time to read, write, and think. He wanted to make time for nature. And he wanted to test himself, to see just how much he could simplify his life, to determine how much time he could save to do what he really wanted to do with every minute of everyday"( Thoreau, 700)
Thoreau mentions that he wants to live a deliberately life. To live deliberately means to take care and think of everything that you do in life, and not to do anything just for the heck of it. Everything that we do has to have a purpose and a meaning, and that is not a waste of time. "slow down rather than to speed up, to saver a few things fully rather than sample many things fleeting, and have time to decide what, in the long run of his short life, matters most and why." (Thoreau, 700) " I went to the woods because I wished to live deliberately, to front only the essentials fact of life, and see if I could not learn what it had to teach, and not, when I came to die, discover that I had not live I did not wish to live what was not life, living is so dear; nor did I wish to proactive resignation, unless it was quite necessary.
I wanted to live deep and suck out all the marrow of life, to live so sturdily and Spartan-like as to put to rout all that was not life, to cut a broad swath and shave close, to drive life into a corner and reduce it to its lowest terms, and if it proved to be mean, why then to get the whole and genuine meanness of it and publish its meanness to the world, or if it were sublime, to know it by experience, and be able to give a true account of it in my next excursion." ( Thoreau, 701) By living in the woods he will be living a simple life away from civilization and to see his strength and weakness. By not being accustomed to that type of lifestyle he might die. When all hope is gone he realizes there are many things he have not tried. The simplest things in life could be and mean much more. Life is precious.