Negative effects on social media
Published:
22 February 2016
Remember! This is just a sample.
You can get your custom paper by one of our expert writers.
Get custom essay
102 writers online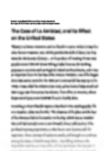 Social media plays a major part in the way today's youth are growing up. Although it may have its benefits, it causes a huge negative impact in our society. Social media has drastically changed since it was introduced in 1979 when Usenet systems were first conceived by Tom Truscott and Jim Ellis, and even since Mark Zuckerberg created "Facebook" in 2004. Social media sites such as Twitter, Instagram, Tumblr and Omegle expose today's adolescence to things they shouldn't be seeing, and it is as easy as logging in. The following paragraphs will talk about the three main negative effects that social media plays on youth today. These are; one, continuously putting users of Social Media, (and even the internet), in danger, two, damaging face to face socializing skills, and three, exposing our youth to explicit materials.
Firstly, Social media poses many threats in today's society. It is accessible from any Computer, Phone, Tablet or IPod with an internet connection. This means that it is easier for children as young as 8 or 9 to connect to a social media site. This in turn exposes them to nudity, swearing and the worst of all; pedophiles and rapists. Rheana Murray of New York Daily News stated that a whopping one in ten profiles online are fake (May 2013). This means that at least 10% or more of a child's friends on Facebook could be phony. The Carly Ryan incident in 2006 proves that the internet is a very dangerous platform for children, teenagers and even adults to be using. Unfortunately, fake profiles are not just used for using fake aliases. Even if someone has only, say 10 friends on a social media site, and know that all of these are authentic, there are still ways for hackers to access your information; such as your location, photos or even bank details. Bullying is also a huge danger to youth on the internet. Back before Social Networking was created, bullying stopped when school stopped. Now, a child being bullied is also faced with bullying in the confinement of their own home. Bullying on social media has become one of the top three reasons for teen suicide, with a further two teens saying that they had attempted suicide as a result of cyber bullying. The main problem here is that only one in ten will inform a teacher or parent of this. Social Media faces today's youth with countless dangers, it should be used carefully and decisively.
Secondly, social media today is damaging the minds of our youth by suppressing their physical socializing skills. Because most of the time teenagers communicate via text and Facebook instead of writing a letter or picking up the phone, they are subconsciously harming the part of the brain that allows them to have meaningful conversations face to face. It worsens for the generation that were born from 2005 on, as this means social media is all they grew up with. Even for teenagers in high school, social media still played a major part in their influential maturing years that the early years when social media wasn't known, don't count towards anything. For instance, studies show that 3 in 5 students are abbreviating their words to acronyms without even realizing (Jasmine Fowlkes 2010). It is also seen that youth today do not have anything else to talk about other than what they "saw on Facebook last night" or "guess who is dating who". This is a perfect example of what is happening to their socializing skills. Teens are unable to hold a decent conversation without mentioning something they saw on social media on the weekend or night before. This is going to severely damage their interviewing abilities when they want to apply for a job, or when they want to be able to stay in a relationship. It is important that people pay attention to how much they are relying on social media to communicate, and to limit themselves so they do not lose their ability to physically socialize altogether. Lastly, Social media plays a negative role on today's society by exposing them to explicit material that should not be obtainable to today's youth. Many sites have age restrictions, but it's not a challenge for young children to say they were born ten years earlier on a social media account – the desire to explore the internet will drive them to this. Children still in the 3rd grade can have access to anything they desire, and most of the time will not understand what they are looking at but will always remember the basics. This leads to them asking their parents or other young friends what it means. Which leads to more unauthorized "research". Most children at the age of five know what the the basics of sex are, and even more due to the ever expanding social network. When young children are on sites like Omegle (A video chat site where users are connected with another random user from around the globe, which are mostly naked men) they are oblivious to the negative effects that these images are doing to them. They are also exposed to rude and vulgar words which they then pick up and use as a force of habit in their everyday life. These children unfortunately are as young as six or seven. The internet needs to start using effective filters to stop this explicit material from poisoning the the minds of our future generation, and start paying more attention.
In conclusion, social media plays a negative role on today's society by continuously putting users of social media in danger, limiting face to face socializing skills, and exposing our society to explicit materials. Things need to change. There needs to be more restrictions blocking access to inappropriate sites, and security needs to drastically tighten on social media profiles, or the future generation that will be running the world will incapable of doing the job correctly. –Which effects everybody, and the generations to come.