Nelson Rolihlahla Mandela
Remember! This is just a sample.
You can get your custom paper by one of our expert writers.
Get custom essay
81 writers online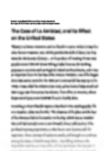 Nelson Rolihlahla Mandela was born on 18 July 1918 at Mvezo, in tiny village near the Mbashe River in the district of Umtata. In Xhosa Rolihanda means ''pulling the branch of a tree'' but also ''troublemaker'' which describes Mandela quite accurately. Nelson Mandela was born into the Thembu tribe, he was a member of the royal household but was not trained to be a ruler one day, only groomed to be of help to the rulers. Nelson was a name given by Mandela's English teacher, in that time the British had control and a more English form of education came forth. Mandela had a happy childhood but unfortunately his father died when Mandela was only nine years old.Nelson Mandela studied at Clarkebury. Later on Mandela was send to Wesleyan College in Fort Beaufort in somewhat poor sleeping and eating circumstances.
Nelson got a sense of freedom from his tribe and began searching inside himself as a person not just a tribe member or a Xhosa but as an African, but as the famous Xhosa poet Mqhay spoke at the collage and inspired Nelson to put being a Xhosa first and a African second. He later attended University Collage of Fort Hare were he got knowledge of law, English and politics. This is where the seed was planted of Nelson's tree of wisdom. Nelson Rolihlahla Mandela is one of the greatest souls to ever walk the earth, his fight for freedom and equality will be remembered for centuries more to come.
He is an icon of greatness and everything we should inspire to be. Mandela is known worldwide for his extraordinary sacrifice he made in his struggle for justice and equality in South-Africa. If you think of South-Africa without Nelson Mandela darkness comes to mind, where would we be if it wasn't for this man? I think it's a question many South-Africans would rather not answer, were just grateful that he was here. Nelson Mandela's fight against apartheid is probably the definitive moment of South-African history, the moment that were all finally after years and years equal. That is the reason why I believe Mandela is essential to South-African history.
In Nelson Mandela autobiography ''A long walk to freedom'' he categorized his life into different chapters. In these chapters we see Mandela growing, learning and creating his point of view. Mandela saw the wrong in South- Africa and he knew it had to be justified. During Rivonia trail Nelson Mandela said "I have cherished the ideal of a democratic and free society in which all persons live together in harmony and with equal opportunities. It is an ideal which I hope to live for and to achieve. But if needs be, it is an ideal for which I am prepared to die." (Mandela, 1995:215) Mandela's different chapters give us an idea of the story of how this wonderful man came to be. Mandela gives you a visual picture of his life in ''A long walk to freedom''.
We see Mandela as a little boy running around playing with the other boys, participating in stick fights and being as free as one could be, this may be when Mandela fell in love with freedom. In many occasions Mandela says that he inherited various traits of character from his father '' My father was a tall, dark-skinned man with a straight and stately posture, which I like to think I inherited'' ''My father possessed a proud rebelliousness, a stubborn sense of fairness, that I recognize in myself'' we see that Mandela and his Father had a fair amount of character traits in common, and his father played a big role in the fundament in Mandela's character. Mandela also said ''although my mother was the centre of my existence, I defined myself through my father''. (Mandela, 1995:26) Mandela didn't know it at the time but his whole world was about change. His mother informed him that he wasn't going to stay with them anymore Nelson didn't ask where he was going or why.
When he reached the place that was going to be his new home he was amazed but still felt bewildered. Nelson said ''It felt like a sapling pulled root and branch from the earth and flung into the centre of a stream whose strong current I could not resist''(Mandela, 1995:26) He was also taken by the factor of wealth ''In that instant, I saw that life might hold more for me than being a champion stick-fighter''(Mandela, 1995:26) Nelson Mandela's new home in Mqhekezweni brought many opportunities, Nelson's mother knew he would achieve much more, al Nelson Mandela's father ever wanted for Nelson was a great education so in a way his wishes were granted. At the age of sixteen the regent decided that it was time for Mandela to embrace manhood meaning circumcision. Circumcision was a ritual of transformation from boy into man.
The regent said that Mandela was not destined to work in the mine , he said Nelson would be a counsellor to Sabata, for n Nelson to be a counsellor he needed higher education so he was send to Clarkebury after he finished in some struggling, he was send to Wesleyan College in Fort Beaufort. After that 21 year Nelson Mandela was send to The University College of Fort Hare. Nelson said for him and other young black children it was like ''Oxford and Cambridge, Harvard and Yale, all rolled into one''. (Mandela, 1995:40) Nelson Mandela learned both inside and out classrooms. He competed in soccer and cross-country running. Nelson Mandela met Oliver Tambo on the soccer field. Mandela said ''it was easy to see that he was destined for great things''. (Mandela, 1995:41)
Mandela's dream at this moment was to get a degree and to earn money so that he could restore the wealth his mother lost when his father died he wanted to give them all the things they couldn't afford. Nelson Mandela was nominated to stand for Student Representative Council but not all the students were allowed to vote so Nelson and the five others decided to resign from the council. The next day they voted again with all the students present but still only twenty five could vote so the same people were appointed. They held a meeting and the five suggested that they accept office, tough nothing had changed for Mandela.
Here you can see Mandela's love for democracy shine trough. Mandela resigned for the second time and he the only one out of the six that did. He was called in by the head of university DR. Kerr, he gave Mandela a choice stay and be on the Student Representative Council or leave. Mandela chose to leave because he couldn't let his fellow student down and he had to do the right thing. Nelson Mandela returned home were the regent was very angry with Mandela. The regent also announced that his two sons will be married. This took Mandela by surprise. He and his brother fled to Johannesburg.
As they arrived at Johannesburg they went to the mines seeking work but were turned down because they knew that they ran away from home. Nelson got a job as articled law clerk at Witkin, Nelson went about life as normal went to parties met some brilliant people and learned every day. The regent came to Mandela, he wanted to know what his plans were he supported Mandela and had no intension to take him back but for his brother there was other intentions he was to come home immediately return which he refused. Six months later the regent died and Mandela was overwhelmed by guilt. Mandela began working with Guar and Walter Sisulu. In the end of 1942 Nelson Mandela got his B.A degree and he was very proud. Gaur his employer also reminded him education wasn't everything education alone wasn't going to give them freedom.
It was Guar that took Mandela to the ANC meetings. Nelson also participated in bus boycott with Guar. In 1943 the firm articled Nelson Mandela. Later on Mandela attended the University of Witwatersrand to get his LLB degree in law. The university had mostly white people and in the law faculty Nelson was the only black person, most of the people weren't very to Nelson which made him feel uncomfortable. Nelson Mandela and the other members of the ANC had enough of the negative racist benefits of being black.
They wanted to form a youth league and after visiting head of ANC Dr. Xuma provisional committee of the Youth League was formed, under the leadership of William Nkomo. Nelson says ''the primary purpose of the Youth League was to give direction to the ANC in its quest for political freedom.''(Mandela, 1995:65) During this Mandela was still studying part time. Nelson met his first wife Evelyn Mase at Walter's house. They didn't know each other very long before they got married. In 1946 70,000 African miners along the Reef went on strike for a higher salary, a union was created for the miners. The miners decided to march but this was very violently repulsed by police. After the strike, fifty-two men were arrested and prosecuted, first for incitement then for sedition.
In 1947 Nelson was elected executive committee of the Transvaal ANC. In 1948 only white people were allowed to vote. Dr. Xuma was removed as head and replaced by James Moroka, he was more committed in winning freedom. Mandela said "We had now guided the ANC to a more radical and revolutionary path." Mandela sadly failed his last year at Witwatersrand 3 times and was denied his degree. Mandela continued with protests and speeches and the government continued with arrests in masses. In 1952 Mandela was elected regional president of the ANC. On 30 July 1952, Mandela was arrested under the Suppression of Communism Act and went on trial with the 21 accused, among them Moroka, Sisulu and Dadoo, in Johannesburg. Found guilty of "statutory communism", their sentence of nine months hard labour was suspended for two years.
The ANC was split into two, the militant faction split to form a new organisation the PAC in 1961. The following year police killed 61 peaceful black protesters. The ANC and PAC was then banned. Mandela was forced to disguise himself to avoid detection. Mandela knew it was time for more drastic action. In 1961 Nelson Mandela became co-founder and leader of '' Umkhonto we Sizwe'', ''Spear of the Nation" a military branch of the ANC. Nelson later said ''It would be wrong and unrealistic for African leaders to continue preaching peace and nonviolence at a time when the government met our peaceful demands with force. It was only when all else had failed, when all channels of peaceful protest had been barred to us, that the decision was made to embark on violent forms of political struggle." Mandela launched a plan to sabotage the government.
South-Africa at this stage was declared a republic and free from British control. Mandela illegally went oversees to gain support in Ethiopia and advice from Oliver Tambo in London. On 5 December after Mandela returned he was arrested and sentence to 5 years in prison for leaving the country and for being in control of the 1961 workers' strike. This sentence would in time proven to be the least of Mandela's problems. The government raided a military hide out in Rivonia where evidence was found against Nelson and other ANC members. They were charge with sabotage, treason and violent conspiracy alongside their associates. They had a trail that lasted 8 months, the trail attracted international attention. Nelson Mandela and 7 other members were sentenced to life in jail. Mandela spent his first 18 of 27 years in jail on an island prison just a few kilometres from Cape Town called Robben Island. He was treated badly because of the colour of his skin.
Oliver Tambo began a free Nelson Mandela campaign which got the attention that they needed to free Mandela. The government made Mandela a deal release for political compromises, but he rejected them. In 1982 Nelson was moved to less secure prison, Pollsmoor Prison. The following year F. W. de Klerk was elected president and he lifted the ban against the ANC and in 1990 he ordered Nelson Mandela's release. In 1993 Nelson and de Klerk were handed the Nobel prize. In 1994 Nelson Mandela was elected president of South-Africa. F.W de Klerk was his first deputy. Nelson went on to make South-Africa a great nation, everyone equal whether your black, white, Indian or coloured It's hard to imagine a South- Africa without Nelson Mandela. His importance was seen in the moment we lost him. In his book ''Conversations with myself'' Barrack Obama wrote the foreword saying'' Like many people around the world, I came to know of Nelson Mandela from a distance, when he was imprisoned on Robben Island.
To so many of us, he was more than just a man he was a symbol of the struggle for justice, equality, and dignity in South Africa and around the globe. His sacrifice was so great that it called upon people everywhere to do what they could on behalf of human progress'' The Guardian said ''Mandela was a transformational figure; to say he was a "historical figure" would not give him his full due. Some people move through history as being the "first this or that" – just another figure in a lineage of persons. To be a transformer is to plan, to have the vision to chart the course, the skills to execute. To be transformational is to have the courage of one's convictions, to sacrifice, to risk life and limb, to lay it all on the line. "Historical figures" will reference Nelson Mandela.'' Nelson Mandela has such a great impact on South-Africa that I don't know if I would be here if it wasn't for him, none of us can say we would. If Mandela didn't do what he did we would have ended up in a war between white and black and many lives would be lost. Mandela saves millions and set millions free. Sadly Mandela died on 5 December 2013 of a recurring lung infection, although Mandela never was a smoker. South-Africa came to a standstill we had lost our hero in flesh but he will never be forgotten.
Bronnelys:
Jackson, J. 2013. Nelson Mandela changed the course of history for South-Africa and the US. The Guardian, 5 Dec. http://www.thegaurdian.com/commetisfree/2013/dec/05/nelson -mandela-changed-history-south-africa-us Date of access: 15 March. Lewis, S. 2013. Why was Mandela important. BBC newsround, 6 Dec http://www.bbc.com/newsround/25263229 Mandela N.R. 1995.A long walk to freedom. Little, Brown and Company. Boston New York London Mandela N.R foreword by Obama B. 2010. Conversations with myself. Little, Brown and Company.Boston New York London