Nestle Philippines Incorporated CSR
Published:
27 February 2016
Remember! This is just a sample.
You can get your custom paper by one of our expert writers.
Get custom essay
102 writers online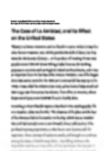 Nestlé Philippines once again demonstrated its full support to environmental protection with the formal recognition of 41 business partners who have been able to improve their environmental performance through their active participation in the Greening the Supply Chain Program (GSC), on their 11th year.
Under its Greening the Supply Chain (GSC) program, Nestlé Philippines is influencing its suppliers, vendors and other business partners to improve their level of environmental performance.
"This ensures the continuous improvement of environmental performance throughout the supply chain, from producing and purchasing of raw materials, to manufacturing, packaging, distribution and finally to the consumer." Engineer Renato Alvarado, Nestlé's Corporate Safety, Health and Environment Executive, said. Alvarado explained that the GSC program requires measures to reduce water consumption and energy efficiency initiatives.
The company, for its part, has also made substantial investments for its wastewater treatment, solid waste disposal and solid waste segregation. Construction of the new factory will start this month and is expected to be completed in March 2012. The facility will produce Coffee-Mate Non-Dairy Creamer and Bear Brand Powdered Milk Drink.
To ensure the program's effective implementation, Alvarado said they also provide free education on environmental management system and a forum for exchanging best practices for business partners. The firm also makes available its customized assistance such as initial environmental reviews and follow-up visits, he added.
"Environmental protection is a responsibility." said Alvarado. "Nestlé promotes activities which help establish awareness on the importance of environmental protection, transforming this awareness to conviction and sustainable actions among its employees, business partners and other stakeholders not only in business but even on personal level."