Netflix Case Study Analysis
Remember! This is just a sample.
You can get your custom paper by one of our expert writers.
Get custom essay
88 writers online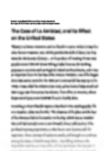 "Creativity is thinking up new things. Innovation is doing new things." — Theodore Levitt
The importance of this quote comes alive after reading the first three sentences within this case study. A statement by Reed Hastings, the founder and CEO of Netflix. "Well let's separate the market into two phases. One is the phase of DVD, which peaks in five to 10 years and last for 20 to 30 years. Then there is the phase of Internet delivery, which peaks 20 or 30 years from now and lasts for 100 years" (Cengage).
From the time Hastings founded Netflix in 1997, with his initial online DVD rental business idea, there has been many factors altering the business strategy of the company within it's internal and external environment that has allowed Netflix to grow to where it is today. Netflix took of quickly and had already achieved economies of scale in as early as 2000, which coincidently was the same year they shifted their goal from DVD rentals to streaming video. From then, Hastings knew that within time DVD's would be a thing of the past, and online instant streaming was a thing of the future. He has been creative enough to be able to gain sustainable competitive advantage with other competitors, but more importantly he has been innovative enough to stay competitive with our society's rapidly changing expectations for technology, which is a large barrier to this industry. Society's rising demand for instant Internet streaming is causing their demand for DVD's to decrease.
Therefore, it seems as though DVD rentals are starting to fall from its peak and in return instant Internet streaming is starting to climb to the very beginning of its peak. Throughout this report the focus will stay on Netflix's external environment, internal environment, current strategy, and future recommendations that keep Netflix "an e-commerce success story in an ever-changing business landscape" thanks to their early start in the subscription DVD rental industry, strong distribution capabilities, and loyal customers (Cengage). When first examining a company's Strategic Management Process it is important to evaluate their mission statement in order to recognize who they believe they are as a company as well as their vision on how they want to continue to go forward in the future. Netflix is unique for they do not have an official published mission statement, but Hastings expressed a clear vision for the future of Netflix at a conference in 2011. These points include: "becoming the best global entertainment distribution service, licensing entertainment content around the world, creating markets that are accessible to film makers, and helping content creators around the world to find a global audience".
After establishing a good understanding of the company's mission statement the PESTEL (political, environment, social, technological, economical, legal) model is a general guideline that helps to analyze the general environment of the industry. Political forces seem to be low except for the most recent issue of higher postage prices, which would drastically decrease the DVD rental revenue. Environmental influences on the industry are always present, but they have very little influence on this industry. Social factors are extremely high and compliment the Technological factors which are also very high in this industry. When Netflix first started, they were more focused on DVD rentals and conquered their strategy of providing convenient DVD shipping with more distribution centers and an efficient supply chain, which in return took over many brick and mortar DVD rental stores. However, with the rise of technology and the social pressures of having the latest forms of electronic devices there is an entirely new landscape of Wi-Fi ready entertainment devices that aids in Netflix's other market, instant Internet streaming. Economic factors are very high, but this industry seems to tackle them with efficiency and ease. Even during the drastic recession in 2009, Netflix's revenue increased to $305.7 million because of increased customer awareness and other benefits they provide.
Lastly, Legal factors are low, for the biggest legal barrier for Netflix is gaining the rights from movie studios to get the first-run content as soon as possible. Once the external environment is generalized a series of opportunities and threats are established. "The key for any player in this marketplace is to win the digital fight" and the key factors in order to do this consist of: being first to market, having the best content, and scaling benefits (Cengage). However, there are technological threats that come with developing these key factors like illegal downloads and Internet hackers. Therefore, Netflix had to stay cautious by carefully watching for signs of hackers. On the other hand, demographic trends of increasing population and expansion into foreign customers like China and India provoke certain opportunities that give Netflix the ability to create a competitive advantage. With that being said, there are five forces of competition within any industry that determine both competition and profitability. These forces are intertwined with each other and consist of: Rivalry among Competitors, Power of Buyers, Power of Suppliers, Threat of New Entrants, and Threat of Substitutable Products.
The Power of Suppliers contains two different groups. Movie studio suppliers are associated with the DVD rental aspect of Netflix's services and TV stations are associated with the Internet streaming aspect. The Power of Suppliers is fairly low for the DVD rental side of the industry because the suppliers rely mostly on companies such as Netflix to purchase their DVDs even though soon DVDs will be a thing of the past. However, Netflix is able to create deals with the movie studios to buy the DVDs in bulk and therefore achieving economies of scale. This then sets a high barrier for new entrants into this aspect of the industry. However, the suppliers are still able to maintain some power by setting the 28-day policy prohibiting the release of their titles to the public. The suppliers have the most power on the Internet streaming side, which lead to competitive disadvantages. At the moment Netflix, still considers a large chunk of their revenue from DVD rentals therefore suppliers will continue to be reluctant in allowing instant streaming rights without increasing licensing fees. In this situation, the industry is more dependent on the suppliers because they have to fulfill their customer's demands. Along with this comes the power of the buyers, which is the most constant force in the industry. Customers are in high demand for video distribution services. However, they are not loyal to the providers, they are only loyal to the content.
Therefore customers tend to have a very high degree of power in this industry that is supported with the price sensitive industry and low (if any) switching costs. According to the case "Netflix may be hard pressed to convince consumers to view content from its service as opposed to one of the other many new choices available now and expected to appear" (Cengage). As for the Substitutional Products force within the industry, Netflix does not have a substantial threat to other forms of visual entertainment. However, there is a significant lack of brand loyalty and the biggest substitution threat is seen when considering alternate content providers that offer similar services of quality and cost.
Therefore, Rivalry is high within the industry and since Netflix is a middleman distributor they have to stay competitive and innovative. In order to maintain their advantage they must ensure high streaming quality and easy accessibility along with a fair price. Cost is typically the number one aspect in which industries compete on. Since Netflix consists of two sides to their services they are able to distribute their revenue and use it to achieve economies of scale making the threat of new entrants on the DVD rental side very small since the barriers are so high. Their efficient multitude of growing distribution centers also provide added barriers as well. However, on the other side the threat of new entrants to Internet streaming is very high with very low barriers considering the widely accepted Wi-Fi capable devices with potential streaming updates. It is stated that with disregard to many opposing factors "The company is clearly focused on streaming, but executives have long maintained that DVDs, while declining, are going to be a part of its business for years to come" (GIGAOM).
Considering all of these forces, the largest problem that Netflix faces today is being a victim of their suppliers while demand for instant streaming is increasing rapidly and demand for DVD rentals is slowly but surely decreasing. This scenario leads the Power of Suppliers to increase, therefore taking a toll on Netflix's profit. However, since Netflix was able to develop a stable early advantage with their reputation after dominating the DVD rental side they now must figure out how to keep the sustainable competitive advantage on the instant Internet streaming side as well and make up for their diminishing DVD rental revenues. Next, it is crucial to evaluating the Internal Environment of the Industry while analyzing its resources, capabilities, and distinctive competencies in order to see if the industry creates value. Resources such as Financial, Physical, Human Resources, Innovation, Reputational, and Culture all played a role in Netflix and the Industry in general.
Netflix was able to be creative and innovative enough to adapt to the changing market thanks to Hastings managerial capabilities and ideas. Therefore, many of their resources proceeded to capabilities and further to core competencies, the primary resource being innovation. Innovation altered the entire supply chain's primary activities in order to stay effectively and efficiently competitive, which eventually demolished blockbuster, gave Netflix an upper hand over Redbox, and more recently and finally surpassed HBO's number of subscribers.
Netflix's strong perseverance to innovate grew with the instant Internet streaming demand by making their services applicable with up and coming Wi-Fi devices that could essentially bring the movie theater directly to your house. Their business strategy quickly developed to be a low cost streaming service. However, this strategy is getting harder for them to achieve under the same guidelines since their DVD rental revenues are dwindling. In order to stay innovative Netflix has taken into consideration their heavy reliance on the industry's suppliers and decided to provide its own original content that they would not have to depend on any for except themselves. Netflix has developed its own original series, House of Cards, which was a risk at the time and turned into a creative competitive advantage. Other recommendations would be to give the customers what they want by providing the customers with even more listings under their subscriptions.
Netflix's VP of innovation, Todd Yelling sated that "if you're not testing things that fail, you're not testing aggressively enough" (Yellin). This shows that Netflix does not always play it safe and has hence provoked more current innovation strategies. Netflix must stay innovative in order to keep their competitive edge because at this rate "Internet TV with replace Linear TV" (The Verge). Because of Hastings leadership, the company's creative and innovative capabilities have provided maximum benefit in the industry while creating a key core competency which will remain over the years to come. Works Cited
Farfan, Barbra. "NetFlix Movie Rentals Mission Statement – A Vision, A Promise and Nine Values." About.com Retail Industry. N.p., 2013. Web. 21 Oct. 2013. . Roettgers, Janko. "The Slow but Inevitable Decline of Netflix's DVD Business — Tech News and Analysis." GigaOM. N.p., 21 Oct. 2013. Web. 21 Oct. 2013. . Toor, Amar. "Netflix Has Likely Overtaken HBO in Paid US Subscribers, Analysts Say." The Verge. N.p., 21 Oct. 2013. Web. 21 Oct. 2013. .
Welch, Chris. "Netflix Innovation VP Says Bonus Content and Extras May Come to Original Shows." The Verge. N.p., 17 Oct. 2013. Web. 21 Oct. 2013.