Netflix Leading with Data:What advice would you give to the CEO of Netflix
Remember! This is just a sample.
You can get your custom paper by one of our expert writers.
Get custom essay
102 writers online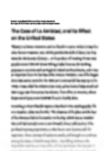 Case: Netflix Leading with Data: The Emergence of Data-Driven Video Question: What advice would you give to the CEO of Netflix?
Digital distribution market is undoubtedly the future of the video rental industry. Netflix has already taken a good lead in it but must have fresh ideas to keep its advantage in the industry. Beating its competitors in the domestic market is important, however, Netflix should jump out of its own circle into a new market to gain the first mover advantage. Looking at the global market, China is a good choice for Netflix's next station. Using the Porter's Five Forces model, Netflix can examine its advantages and disadvantages see whether entering China is good choice: * Bargaining power of customers China has a growing economy with a large group of new middle-class, who are able and willing to consume on entertainment. Nowadays, Chinese usually watch films on free websites with a low picture quality and slow Internet speed. While the number of people watching films are increasing, the picture quality is becoming more important for the viewing experience. Providing a fast, flexible and high-quality service, Netflix can persuade many customers into its subscription model.
* Bargaining power of suppliers: China's film and TV show makers have been facing a major problem: plagiarizing (including unpaid online watching), which substantially decreases their profits. They are finding a pathway to introduce their product to the customers. The advantages of plagiarizing products are the cheap prices and convenience, which Netflix can also provide. Netflix should cooperate with Chinese filmmakers to gain sources of authorized edition film databases and get a lower price since the Chinese filmmakers are eager to run out of the bad situation.
* Competitive rivalry: Under the same business model, Netflix would be the first mover in the industry. Although China has few subscription service websites, this is only a minor part of the industry. * Threat of new entrants: The potential competitors have not released any big signals showing that they will enter this industry. Apple's iTunes, as well as Amazon did poorly in China and have decided not to continue expanding. Netflix should cease this opportunity to enter and take China's market. * Threat of substitute products: China's online distribution market is dominated by "Youku", "Tudou" such online video provider; however, their profit model is advertising fees, focusing on the quantity of visitors. With distinct service, it's not hard for Netflix to occupy the market share. How to focus on the targeted group and how to persuade their potential customers, who used to enjoy cheap, even free resources online, to pay for a monthly membership, is a big concern to the corporation. To emphasize Netflix's higher quality service is of great importance.
First, Netflix's technology can help its members build up personal own style's videos at high efficiency. Besides that, compared with the existing Chinese video websites, like Youku and Toudu, Netflix does not contain any advertisement before or after a movie. Those movies and TV shows posted on Netflix are mostly high definition displays, and customers would like to pay for the HD movies, rather than trying to understand a blurry image on other websites. Furthermore, Netflix's new component called Friends allows movie buffs to share reviews and recommendations. In China, the website could cooperate with Douban, which is the largest and most influential film review website, and Renren, which is regularly called Chinese Facebook, so that Netflix could not only act as a video online leasing website, but also a social network website in China's market.
Beside the high-level quality, Netflix should offer a large quantity of movies, especially the movies from Hollywood. With the Chinese movie import policy, China only imported 55 movies in 2012. The number is comparatively small compared with the amount of movies that the Chinese audience demands. Netflix could take the advantage to offer more American movies online, which is under laxer regulation both on amount and the content examination, to gain the customers who are interested to watch more foreign movies.
——————————————–
[ 1 ]. Walker, Russell, and Mark Jeffery. "Netflix Leading with Data: The emergence of Data-Driven Video." Kellogg (2010): 6. [ 2 ]. www.douban.com
[ 3 ]. www.renren.com
[ 4 ]. China Communication research center, SARFT. Website: http://www.sarftrc.cn/cn/ [ 5 ]. 赵蓉婧,巨思嘉. "美国电影的引进对中国电影市场影响的研究"