New Hire Orientation: A New Approach
Published:
27 February 2016
Remember! This is just a sample.
You can get your custom paper by one of our expert writers.
Get custom essay
89 writers online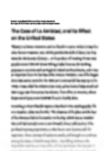 It is the first day of your new job. After arriving, suddenly you flashback to the last time you were in this situation. A dreadful feeling comes over as you recall how boring and useless that first week was. Five days of your life you will never get back. It was so awful; the thought of turning around and leaving crosses your mind. Is this job really worth it? Little do you know that this time it will be different because you are working for Peabody Energy. They have just launched an innovative New Hire Orientation program that will leave a positive impression. Never again will the words New Hire Orientation cause drowsiness! New research has proven that there are better ways to introduce new employees to a company than have been practiced in the past (Hemsley, 2012). Seeking out the most efficient and effective programs is becoming common practice with most Fortune 500 companies. It is important that they get the biggest return on investment possible in this economy (Hemsley, 2012). While there is no easy answer, the process of changing and implementing any training program is no easy task. The following analysis of Peabody Energy's New hire Orientation will describe the process in which it was developed, the content, the format in which is administered, and finally the evaluation. After consulting with Katie Schaller, Learning & Development Representative at Peabody Energy, there were many considerations that had to be assessed before they started. Taking into account all of the negative baggage that is associated with a New Hire Orientation, they started with reviewing past surveys. They also interviewed subject matter experts from each department to identify the scope of information the new employees should receive about their respective areas. These responses helped guide the new program development. Objectives are important in any project. Starting out with solid list of expectations increases your chances of success by 300% (Morris, 2009). The first step in the process, before creating the objectives, is to perform a needs assessment. This is critical to determine if the training is even necessary (Noe, 2013). This first step should confirm that the need is not a performance issue, that it covers the correct content, and that the expectations are defined (Noe, 2013). In this assessment, it is presumed that the new employee could not have a performance issue, they need to know certain information in order to function at the company, and a timeline and budget were established.
History
In the past, the New Hire Orientation at Peabody consisted of spending three full days in a conference room going over procedures, watching videos, and trying to keep your eyes open. It lacked engagement and consideration for different learning styles. This was a simple evolution of the company growing much bigger and faster than was planned. The old traditional training for a company of 50 employees needed to be restructured for a company of thousands located throughout the world. Not only did the physical locations grow, but the spectrum of talent matches. The company employs everyone from miners who work below the Earth, to Vice Presidents who hardly see the sun. Understanding that there is some common knowledge that they all need in order to be effective on the job is important. Fifty years ago, the company had less than 100 people and operated in three states. Technology was hardly a consideration. Most of the general company information was learning on the job. Having such a small pool of resources, it was fairly easy to navigate policies and procedures in different departments. In 2002, the company began expanding internationally. This brought with it many new challenges. Cultural difference, communication barriers, and logistics are just a few. It was during this time of growth that the Human Resource Department created a designated person to handle the training and development. That was not exactly a strategic goal; it just happened to fall on the person who took the most initiative. As things progressed, it was evident that a universal New Hire Training program should be established. Fast forward to 2008 when Katie Schaller joined the team with her work cut out for her. She brings with her a wealth of relevant knowledge in the training and development field.
Objectives
It is in this context that objectives were created based on the company's business goals. The goal is to onboard new employees and acclimate them to our current systems as quickly as possible using minimal resources. Focusing on that, the program needed to streamline the information and use technology. The first objective was to modify the content and consider separating certain aspect of the training into more specified sections. For instance, if they were hired for Information Technology, learning about the different types of coal mined was beside the point. Sure, it would be nice to the difference between sub-bituminous and metallurgical, but not necessary in the first days of work. Basically a list of every job description was created and the common key words became the core of what the orientation should cover. Topics, such as the example about coal types, could be studied later in follow up training and development courses, like Coal 101. The next priority considered was learning styles. According to the study done by Claxton and Murrell, there are four approaches to learning style. They are personality, information processing, social interactions, and instructional methods. Matching a student's preferred method to their learning style can improve the learning experience (Claxton & Murrell, 1987). Who doesn't want to do that? Trying to encompass all of those facets is tricky. They used the surveys to find out what matters most to the new hires and decided upon a mixed approach to appeal to the masses. It would be a computer-based training with the option of meeting in person for certain lessons. One way to implement the social interaction element is to host on-site meetings for the group of new hires in the relevant departments they will be interacting with. This will give them the opportunity to meet key contacts as well as get to know the layout of the office (Brown & Rusnak, 2011). Feeling a sense of belonging is vital to success (Brown & Rusnak, 2011).
Format
This self-paced course is designed to provide new employees with information that they need to know and also information that they might want to know as they begin their career with Peabody Energy. It is offered online to allow participates to work at their own pace, from their own computer, with optional face to face discussions. They are asked to complete the dull tax paperwork portion prior to arrival. This ensures they are not bogged down with mundane tasks right off the bat. The remainder of the course should be finished within 30 days of his or her hire date. A network lunch is offered quarterly at the St. Louis office to begin to build a network with new colleagues, team members, and other key stakeholders within our organization. As mentioned earlier, meetings will be scheduled according to schedules, in each relevant department. This will allow hands on experience with the people they will be interacting with and how the processes work. The learning objectives for this orientation training are to understand Peabody's mission, strategy, and history. Employees will become familiar with the company's Total Rewards' philosophy. They should understand how to navigate and utilize Peabody's performance evaluation process. Recognizing Peabody Energy's Leadership Pillars and how they are demonstrated on the job will be discussed. They will understand the company policies and procedures in areas such as information technology, security, human resources, and travel. Finally, new employees will learn where to go for information and find answers to their questions.
Content
Upon receiving their invitation via email, they can click on the hyperlink and sign in to begin at their convenience. At any time they can stop the training program and begin again from that point. There are 15 required subjects they need to pass and over 25 additional resource folders. The entire training of the required fields takes approximately 120 minutes. Katie Schaller welcomes with verbal instructions on how to navigate the training program and what is expected of them. Next is a recorded PowerPoint listing the course description and learning objectives. Following is a two minute welcome video from Greg Boyce, our Chairman and CEO. New employees then watch a company video discussing the importance of energy and how Peabody plays a part in the global market. Steve Callahan, Vice President of Corporate and International Human Resources, delivers a presentation explaining how Francis Peabody started the company in 1883, a historic timeline, and maps showing where our offices and mines are located around the world. The presentations continue in areas such as inclusion and diversity, company credit card and out of pocket expense policies, security, information technology, talent management, total rewards, travel policies, community relations, and compliance training. Each area is presented by someone from the respective department. After completing each section, the new employee concludes with a quiz. Upon completion of the entire training, a confidential survey is sent to the participants. This is to gain feedback on how the program was received and any improvements or changes that should be considered.
Learning Theories
The design of this training program considers several learning theories, all of which assist in the transfer of information. The main Learning Theory used for this program is the Need Theory. This theory is designed for those who need to know something (Noe, 2013). Anyone experiencing a deficiency in knowledge uses this. Because this targets new employees, they are a clean slate to absorb all the new information before them. They will feel a sense of satisfaction by completing this program. There are levels of satisfaction that have created some controversy between Alderfer and Maslow. Alderfer seems to believe that if the higher level needs of satisfaction is are not met, that employees refocus on lower level needs (Noe, 2013). Other theorists talk about achievement and standards of excellence (Noe, 2013). Reinforcement theory was actually used by the design team when they tailored the program to the results of the recent new hire surveys. They avoided certain topics and added more of what was truly needed. They used past outcomes to determine future results. The Adult learning theory, or andragogy, is another approach used because all of the new employees are, in fact, adults. There are definite attributes of adults that have an effect on how they interpret information. Adults need to understand why they are there, they need to be self-directed, and they have a problem-centered approach. Among other qualities, they bring great work experiences to the table. Most obviously, Information Processing theory was used to influence in the internal processes that happen when information is obtained (Noe, 2013). There is scientific evidence surrounding these concepts that prove how attention is affected, perceptions are created, and coding is utilized for best retention (Noe, 2013).
Evaluation
The Peabody Energy New Hire Training Program uses a level two evaluation (Noe, 2013). The primary goal for the training is to teach new employees information (Noe, 2013). Therefore, the criterion that is being measured is how much information is retained. This section will outline the stages of evaluation that Peabody used when creating this program. Finally, suggestions for improvement will follow. The first step Peabody's training team had to determine was what, if anything needed to be measured and how they were going to do that. During the initial needs assessment, they created a list of objectives, all of which can be measured. However, because this is a new-hire training specific to general organizational information, a thorough evaluation was deemed unnecessary. The next consideration was to address how the information can be found later, if needed. Paper books are expensive and difficult to update. They created a file on the network where all of the training material can be found at anytime. This is easy to update and reference as needed. Regarding measuring the objectives, following each section is a quiz which they are able to take twice. While this is not a pass/fail test, it gives them an opportunity to absorb the information. Another measurement of success is following up the training with a survey to find out how well received it was. Finally, the cost-benefit analysis cannot be measured accurately. The information covered in this training is essential for new employees to be successful. The evaluation level being used in the new hire training at Peabody is level two. The sole purpose is to give information to the employees. The nature of the training does not lend itself to a deep evaluation. Enhancements to the program could be creativity, and incentive, and group projects (Carvin, 2011). By working in small groups and staying in touch with a mentor has many benefits such as new ideas and behaviors (Carvin, 2011).
Closing Statement
In conclusion, if you are ever so lucky as to have the opportunity and experience a New Hire Training like this one, you will not forget it. The program considers individual learning styles and offering choices. The needs assessment identified requirements, created objectives, and applied learning theories. New hires are passing their quizzes and giving positive reviews. Overall, the process in which Peabody Energy follows in creating and implementing their new hire orientation is second to none. All things considered, the Peabody Energy New Hire Orientation training is a comprehensive approach for all learning styles. It utilizes Power Point presentations, auditory narration by different employees in the organization, and face to face discussion. The new hire is allowed complete it at their own pace and/or meet with SMEs within the first 30 days of employment. The information is consistent among all new employees. The only suggestion would be that current employees participate in this training so that they are up to date with company facts, policies, and procedures.
References
Brown, M., & Rusnak, C. (2010). The power of coaching. Public Manager, 39(4), 15-17. Retrieved from http://search.proquest.com/docview/856127114?accountid=8065 Carvin, B. N. (2011). The hows and whys of group mentoring. Industrial and Commercial Training, 43(1), 49-52. doi: http://dx.doi.org/10.1108/00197851111098162 Claxton, Charles S. and Murrell, Patricia H. Learning Styles: Implica-tions for Improving Education Practices. ASHE-ERIC HigherEducation Report No. 4, Washington, D.C.: Association for the Studyof Hither Education, 1987. Hemsley, S. (2012). Academy rewards. Human Resources, , 50. Retrieved from http://search.proquest.com/docview/1172596169?accountid=8065 Morris, L. (2009). Getting your money's worth from training & development. Journal of Applied Management and Entrepreneurship, 14(3), 105-107. Retrieved from http://search.proquest.com/docview/203905220?accountid=8065 Noe, R. (2013). Employee training and development. (6th ed.). New York, NY: McGraw-Hill. Rowold, J. (2008). Multiple effects of human resource development interventions. Journal of European Industrial Training, 32(1), 32-44. doi: http://dx.doi.org/10.1108/03090590810846557