Nokia's Luxury Mobile Phone for the Urban Rich Case Study Analysis
Remember! This is just a sample.
You can get your custom paper by one of our expert writers.
Get custom essay
103 writers online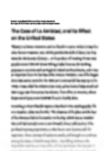 Introduction
Nokia, which is known to be a luxury cellular phone, is located in Finland and is a manufacturer of telecommunication equipment, including an extravagant mobile device. It is apparent that the cellular phone, which was originated and presented by Frank Nuovo in 1997. It appears that this luxury mobile device was directed mainly for the rich, and not the normal, everyday mobile phone user. The device is appealing to many, but is not realistically priced for the everyday individual. The manufacture of this luxury phone is Vertu, a manufacturer who aims toward luxury services, including the finest designs, engineering and manufacturing. They have put together this luxury mobile phone using innovations in the making and the technology of mobile phones, along with the normal workmanship, but at high-end prices. Vertu's headquarters are located in England and their products are in over 500 stores, across 66 countries.
Synopsis of the Situation
Nokia's CEO, Stephen Elop joined the company and within 5 months, on February 11, 2011, Stephen Elop proclaimed that Nokia was implementing a new mobile phone with Microsoft's new Windows program, which was unconfirmed as Nokia's main smart phone. After making this announcement on February 11, 2011, the stock dropped and the share price went down by 14 cents, because the market was not interested in a smart phone that had not proved itself. With the stock dropping, Elop went full force to save Nokia and partnered up with Microsoft to manufacture and introduce a new global ecosystem in a mobile phone. The partnership led Nokia to producing the Vertu Luxury cell phone. This luxury mobile device was created by Frank Nuovo.
Key Issues
Because of the 14 cent share drop in stock, Nokia had to implement a plan to better their company. Nokia's market was decreasing and this is when Stephen Elop was hired, in order to make the changes to allow the company and the product to improve. Elop decided to utilize the newer Window's technology in connection with the mobile device. This was something that was new to the market, and the market was not familiar with this sort of mobile device technology. The problems that Nokia was facing were explained in a memo as there being an absence of leadership, along with accountability and collaboration internally, leading to the inability of Nokia to sufficiently, effectively and timely provide innovative products to the people.
Define the Problem
The problem that is at hand is that Nokia had decided to take on a new technology and operating system, allowing the possibility of things going negatively and the company's shares dropping even more, because new technology and operating systems is what caused the shares to drop, to begin with. With Nokia operating with the Symbian operating system, it left it outdated because the software was one that was definitely outdated. Apple came in with a high technology and highly updated operating system, leaving Nokia in a position where they were not keeping up with the competition and having difficulty delivering innovative products quickly enough.
Selected Solution to the Problem
With this new luxury mobile device that Nokia was producing, it was rapidly growing and spreading around in the luxury mobile device market. This made the device look promising along with attracting new customers. Other brands joined the growing new market, such as Gresso and GoldVish and Mobiado. Elop knew he had to do something and he solved this problem by choosing Vertu Luxury Mobile Phone. Since both Nokia and Microsoft have been popular and present for a long period of time, they were able to join forces and develop a product which was an outstanding one. Although the cost is high and the product tends to serve just the rich, this was the plan that was put into place from the start, working and operating in an ever changing area. Apple's phones are able to be affordable and dominate its area of services, and with Nokia joining forces with Microsoft, they were able to create their luxury line for the rich.
Implementation
There was originally an entry level luxury mobile device, which Nokia had propelled, before the subsidiary of Nokia, Vertu, was released. This luxury mobile device was the Nokia branded 8800 Series which sold for $1,300. The Nokia 8800 series special edition was announced in 2006, with Aston Martin and then the 24 karat gold plated device came along, the Nokia 8800 Sirocco Gold, in 2007. Nokia continued to move forward and in 2008 they presented the Nokia 8800 Carbon Arte. As long as Nokia was able to continue to enable Vertu to lead in the high-end luxury mobile device, they were able to empower Vertu.