Non Communicable Diseases
Remember! This is just a sample.
You can get your custom paper by one of our expert writers.
Get custom essay
75 writers online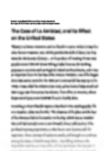 Health Promotion- Non Communicable Diseases
Non communicable diseases are leading threat to health and development. "Non communicable diseases (NCD's) outpace all other causes of morbidity and mortality each year, though most NCD's have modifiable risk factors and are preventable" (WHO, 2012). Non communicable or chronic diseases are diseases of long duration and generally slow progression. NCD's are leading causes of death worldwide and 80% of deaths occur in low and middle income countries. The four main types of NCD's are cardiovascular diseases, for instance, heart attacks and strokes, cancer, chronic respiratory diseases such as chronic obstructed pulmonary disease and asthma and diabetes. Such diseases result from genetic or lifestyle factors. Most premature deaths from NCD's are linked to common risk factors, namely tobacco use, unhealthy diet, physical inactivity, harmful use of alcohol and poverty also contribute to rising rates of NCD's. Vulnerable and socially disadvantaged people in developing countries get sicker and die sooner as a result of NCD's than people of higher socio-economic status. Non communicable diseases represent a major and growing socio-economic burden in developing world. This places undue strain on communities and health system. NCD's require multi-stakeholders solution. Government is coming up with non communicable disease intervention to bring about radical changes that are needed in order to reduce prevalence rate of NCD's. Communities have right to receive appropriate information on reducing the risk of NCD's, so that they are empowered to take the right lifestyle choices. In this assignment, the factors that contribute to the increase incidence of non communicable disease are discussed. Health promotion strategy at the community nurse's level is discussed with the significance of the use of these health promotion strategies.